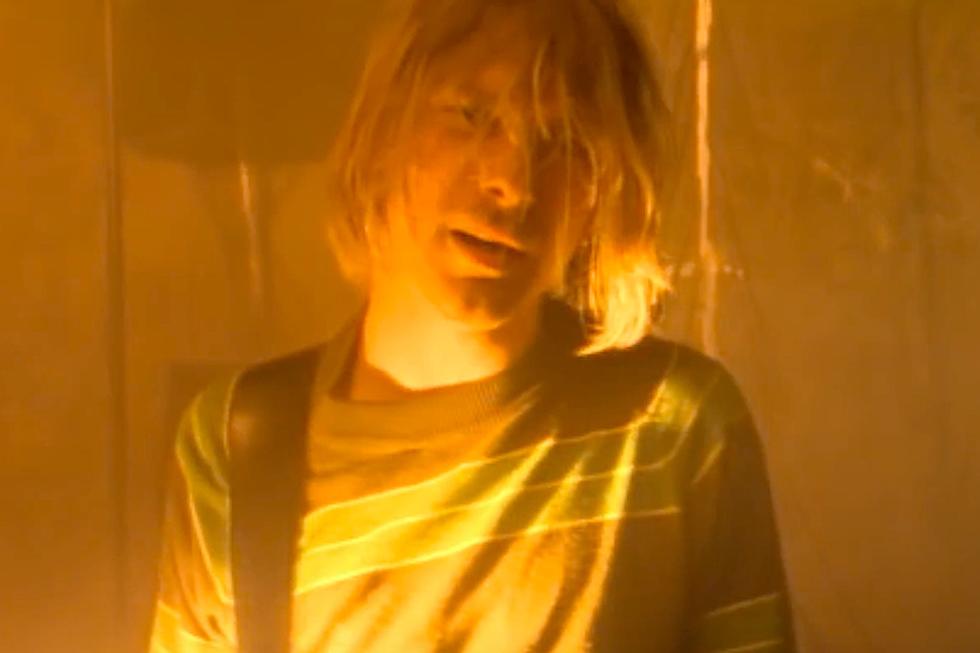 Kurt Cobain's 1969 Fender Mustang Guitar From Nirvana's 'Smells Like Teen Spirit' Goes Up for Auction
YouTube - Nirvana
Items once belonging to or associated with late Nirvana frontman Kurt Cobain seem to continually do well at auction, and there's a whole new batch of Cobain items set to go on the block as part of Julien's Auctions' upcoming "Music Icons" auction that will take place between May 20-222 at the Hard Rock Cafe in New York and online as well.
Julien's Auctions has sold numerous Cobain items in recent years as there's a new group of sure to be in demand items going on the block including Cobain's Fender Mustang electric Guitar that he played in the iconic "Smells Like Teen Spirit" video. This will be the first time the item has sold at auction.
In honor of Mental Health Awareness Month this May, a portion of the proceeds from the auction will go to the "Kicking the Stigma" initiative founded by the family of Indianapolis Colts owner Jim Irsay that raises awareness about mental health disorders.
The left-handed guitar comes in a Competition Lake Placid blue finish with a matching headstock. It is estimated to net between $600,000-$800,000 at the upcoming auction.
In Cobain's final interview with Guitar World, he said of the guitar, "I'm left-handed, and it's not very easy to find reasonably priced, high-quality left-handed guitars. But out of all the guitars in the whole world, the Fender Mustang is my favorite. I've only owned two of them." The guitar had been on display at Seattle's MoPOP Museum of Pop Culture.
As part of this item being auctioned, there will also be an exclusive NFT with a minted narration as part of the sale with Cobain's guitar tech Earnie Bailey discussing the significance of the item. The NFT will feature a 360°digital representation of the Fender guitar and it is a 1 of 1 edition item.
"This May, our Music Icons event representing the first sale of Kurt Cobain's mythic 1969 Fender electric guitar will be a once in a lifetime auction for the ages," said Darren Julien, President/Chief Executive Officer of Julien's Auctions. "To see this fabled guitar, one of the most culturally significant and historically important guitars not only of Kurt Cobain and Nirvana's legacy but in all of rock music history, come to our auction house has been one of our greatest privileges and most distinguished honors." Julien added, "Rarely do personally owned items from Kurt Cobain with this incredible and unprecedented provenance of his life and career become available for public sale. This remarkable collection consisting of one dazzling and profound prized possession after another plays like the ultimate Kurt Cobain catalog with items offered such as his beloved Dodge Dart car to his original artwork to his rare Nirvana keepsakes, as well as unique NFT collectibles from his sister and guitar tech."
There will also be other Cobain items hitting the auction block during the weekend bidding. They include Cobain's 1965 Dodge Dart 170 4-door sedan that he had named "Baby Blue." It's estimated to go for between $400,000 and $600,000. It too will come with an exclusive NFT from the collection of Cobain's sister Kim who owned the vehicle for the last 28 years.
Another NFT item will be that of Cobain's iconic personally owned and worn green Fetalini striped short-sleeve sweater that was featured in Nirvana's "Smells Like Teen Spirit" music video. The NFT will include Kim Cobain's audio narration. It's expected to fetch between $6,000 and $8,000. Cobain will also offer narration to go along with a 360° digital representation of a pair of black canvas Converse Jack Purcell shoes that were owned and worn by Kurt Cobain. The left shoe that reads "Fuhgawz" and the right shoe "Foogauzie." This NFT item is expected to net between $2,000 and $4,000.
Cobain's artwork also proves to be quite popular, and this auction will include Cobain's personally drawn 1985 Iron Maiden "Killers" skateboard deck featuring the band's mascot "Eddie." It too has an NFT and is likely to sell for between $20,000 and $40,000. Cobain also has an artistic rendering of Michael Jackson that will sell as an NFT for between $40,000 and $60,000.
Other items on the block include one of Cobain's Nirvana In Utero concert tour all access passes, a Cobain United Airlines boarding pass from Seattle to Chicago, a Nirvana Nevermind tour schedule book for their 1992 Australian tour, the singer's personally owned and bendable Pokey toy (from the children's series Gumby and Pokey), an all access tour pass to Nirvana's Nevermind tour in August 1992, and Cobain's personal Nevermind travel itinerary with backstage pass and a plane ticket stub.
Learn more about the auction here and be sure to sign up via Julien's Auctions to bid.
Nirvana: A Photo Timeline of Their Legendary Career