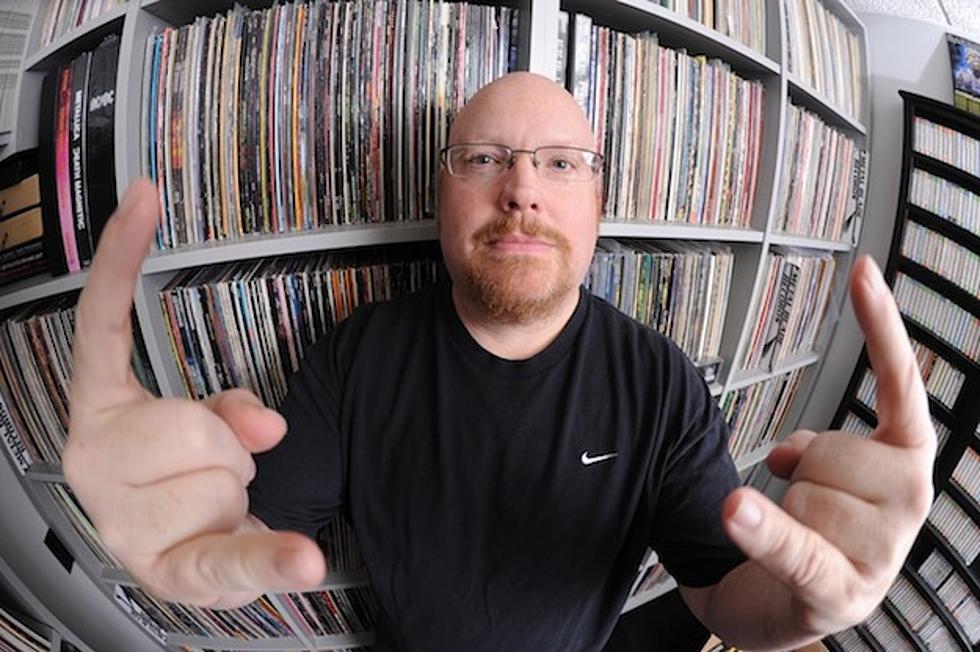 Metal Blade Records Founder Brian Slagel Talks 2012 Metal, Metallica's Very First Song + More
Metal Blade
Metal Blade Records founder Brian Slagel took some time to chat with us recently about a ton of different topics. Having had a very strong year in 2012, including releases from Between the Buried and Me, Six Feet Under, Cannibal Corpse, As I Lay Dying + many more, we got to pick the brain of Slagel about all things metal.
Along with Metal Blade's 2012 releases, Slagel spoke with us about competition in the business of metal music, GWAR continuing on after the death of guitarist Cory 'Flattus Maximus' Smoot, releasing the first ever Metallica song + much more.
Check out our exclusive interview with Metal Blade Records head honcho, Brian Slagel.
Between the Buried and Me just released 'The Parallax II: Future Sequence' and it's an amazing record. When was the moment that you knew that you needed to sign this band, once they became free agents?
I've always been a huge fan of theirs, we've had so many bands that have toured with them and I've seen them around. I've hung out with them so I always liked them not only as a band, but because they are really, really good people. Pretty much what happened was, I didn't even know that they were free agents, but one of the managers that we work with a lot, this guy named Paul Conroy, he ended up managing them and he called me up and said, "Would you be interested in signing Between the Buried and Me?" I said, "Are you kidding me? In a heartbeat!" So it came pretty quick and we were able to put it together just great because we all love those guys.
It was really that simple? Was there any sort of bidding war for them or did they just jump straight on?
Luckily for us they really wanted to be at Metal Blade, so there wasn't a huge bidding war or anything. I think basically what had happened was the band and the management decided, "Well let's go to Metal Blade if they're interested and if they just give us basically what we want then just go there!" It was really super easy and like I said, I was unbelievably happy because I always have been a huge fan of those guys.
Metal Blade has definitely had a strong year with new Cannibal Corpse, Six Feet Under and As I Lay Dying records. The new Goatwhore record is phenomenal, along with Between the Buried and Me, of course. What's your personal favorite Metal Blade release of 2012?
Oh boy, that's always difficult because I really do like all of them. I kind of go through phases; if you would have asked me six months ago I would have said Cannibal Corpse, and then if you asked me four months ago I'd probably have said Six Feet Under, and a couple of months ago it would have been As I Lay Dying. My current favorite now is the Between the Buried and Me record because I've been listening to it over and over and over again. We get these records really early so I tried not to overdo it. I wanted to wait until closer to the release date, so for the last week or two, I've been listening to it non-stop. So, as of today, I will say Between the Buried and Me.
One of your most legendary bands is Gwar and the majority of their albums have been put out on Metal Blade. They're starting another tour with their new guitarist Pustulus Maximus. How has the band been dealing with having to replace the late Cory Smoot?
That's never a fun thing to do. Cory was such a great guy and losing him so suddenly was horrible. Those guys definitely have done an amazing job of how they've handled it. I mean, it was obviously hugely difficult for them, but I think doing a tour without Cory and kind of doing it as this big tribute to him was really amazing and they've retired the character and got a new guy in there. I think that everything that they've done has been right. Whenever we talked about this stuff and they said, "Hey this is what we're thinking about doing," I said all along the way, "I think you guys are doing the right thing." So as difficult as it is I think they did a really impeccable job of remembering Cory and celebrating his life. He will always be a part of that band because he was such a huge intricate force for them for so long. I think they've done a really good job, I think they've done it classy and in the right way.
When they really got a chance to sit down, did they ever just consider remaining a four-piece or did they know they'd become a five-piece once again when they found the right guy?
Well, definitely the right guy was a huge issue. I think the way that so many of the songs were written, you need to have a five-piece, and also it takes a lot of the pressure off of Mike Derks. He's a phenomenal guitar player and I think he did a great job while they were doing it as a four-piece. He didn't really go and say, "I'm missing a lot," but they do need that extra thing there. So much of the stuff that Corey had a big hand in was stuff that you need two guitar players for, so they knew that they had to do it, but they had to get the right guy and they definitely took their time before doing it. Unfortunately, with that band, there's been a few guys in and out [Laughs] so they're a little used to that.
Another landmark for Metal Blade was when As I Lay Dying released "Frail Words Collapse," which sort of launched them into the stratosphere of metalcore. Were you surprised to see how huge that they became?
Yeah, you never think that things can get as big as they were, but we did really feel something. It's kind of funny when you look back on things; it seems like every turn of every 10 years, every decade, there seems to be some new stuff coming in. You know, we felt like with bands like As I Lay Dying and Unearth and that crop of metalcore or whatever you want to call it; bands that we felt like were something really new and cool and fresh and we love the sound, and the As I Lay Dying guys are really smart and made a good record. We knew it was going to do well, but we never would have predicted they would have become as big as they have.
I wanted to ask about one of your lesser known bands, but still a very fantastic band, Ipsissimus. What is their future with Metal Blade going to be like?
It's cool that you like them, they're an awesome band and those guys are really great dudes. It's hard to say; it's not really a "band band," so it's kind of a project, but those things are always difficult to do. They're fun to do because it's really good music, but without a lot of touring and other commitments they make, it's kind of difficult to do. So, it's a good question; it's really up to them and I think we'll see how far they want to take it and what they want to do with it.
Metal Blade was the first label to ever put out a Metallica song -- on that first 'Metal Massacre' compilation. What was it like seeing an act that was just a local band at the time turn into legitimately one of the biggest metal acts ever?
[Laughs] It's still crazy when you think about it. I was friends with Lars before there even was a band; I knew those guys before they existed, so it's still pretty surreal. I'm still friends with all of them and Lars and I are still good friends. When they get to these milestones like the Rock and Roll Hall of Fame and some of these other milestones, we end up getting together and just sitting around and going, "How did all of this happen?" It's amazing but it's also a huge testament as to how dedicated, smart, and talented those guys are. I mean, they get bashed here and there, obviously from other different things, but those guys are the same people today as they were 30 years ago -- same guys. They haven't been affected by everything else. I think they did an incredible job of kind of pulling up that flag for a long period of time so yes, it's pretty crazy. I'm just insanely grateful to play a small part in it and those guys have been nothing but great to me.
Do you credit any one band that kickstarted and really made Metal Blade records?
It's hard to say. Obviously the first 'Metal Massacre' with the Ratt, Metallica and stuff certainly helped paved the way. I think in the early days there were probably three separate things that happened; the 'Armored Saint EP' that we did and they immediately got signed at Chrysalis Records, that was the third or fourth release that we'd done. Both Chrysalis and the band were really good about giving us a lot of credit, so that really helped us in national magazines and stuff. Probably 'Show No Mercy' by Slayer was the first record that we put out where we really got to that next level, so the building process of the label kind of came, that was kind of the next step. I can't really pinpoint one thing because it was such a small growth process, but certainly the first 'Metal Massacre' and that Armored Saint release was big in giving us that exposure. Back then, independent labels were just tiny and nobody knew that we existed.
Are there any other labels you feel like you're in constant competition with in terms of continually signing great bands and releasing both classic and modern albums?
I guess theoretically we're competitors with all of the labels, but we're also all fans, so we're kind of all in this together. So whether it's Century Media, Nuclear Blast, Relapse … There are times where we compete for bands, where there's a band and there are two or three labels working with them, but it's never gets to a bidding war because I think all of us work together all the time. We have bands that do tours together, so we know everybody really well and ultimately we're all fans of the music and we all want it to be better, which I think is one of the reasons why the metal scene is pretty healthy, because we work together as opposed to "being competitors."
In your opinion, what direction do you see metal heading?
I guess I should get my crystal ball out now. [Laughs] You know, I don't know. It's always really hard to say because I wish I could predict everything perfectly, but I definitely feel that bands that have real singing; that sort of thing is coming back quite a bit. A band for example like Ghost has gotten quite a lot of success and they've gotten this huge deal and stuff. Personally, I'm like that because I lived in the '70s and '80s so I love singing stuff. So many of the new bands that are coming out are doing that, but anything that's kind of happening now all has a really big influence of the late '70s and early '80s, so whether that's the more melodic stuff or there's a lot of really cool thrash components, it's kind of coming back again, that really old school thrash. Anything that has those sort of influences, it seems like these younger bands are taking that and making something fresh and interesting out of it.