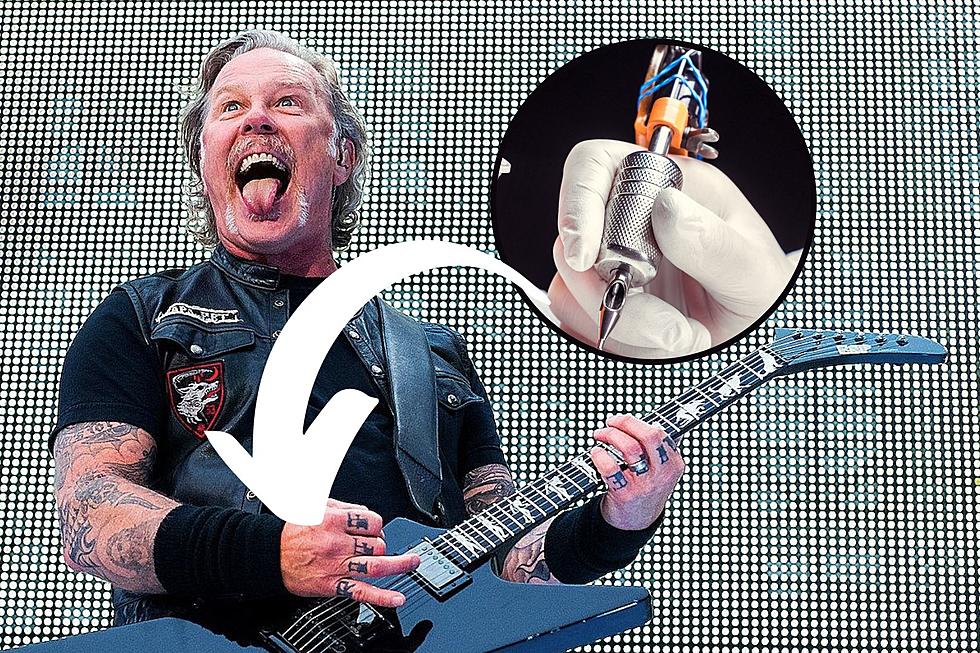 Photos – Metallica's James Hetfield Gets 'Papa Het' Tattooed on His Right Hand
Matthew Baker, Getty Images / mr_Prof, iStock/Getty Images / Canva
Metallica's James Hetfield recently got another new tattoo, this time having his nickname, "Papa Het," inked onto the top of his right hand.
In our eyes, at least, it's a pretty authoritative tattoo — Hetfield is regarded as having one of the most dominant picking hand in metal, especially when it comes to the down-picking technique, so stamping that same hand with his nickname almost makes it feel likes it's now a weapon attachment. And considering the word "riff" is tattooed across the four knuckles on his right hand, it really drives the point home.
Papa Het actually sat in the tattoo chair in mid-October and word was not as quick to spread like it did earlier this summer when Hetfield got a new neck tattoo.
This new tattoo can be seen in an Instagram slideshow post by Corey Miller, the same tattoo artist responsible for the aforementioned neck tattoo. Miller calls it a "huge honor" to work with one of "the greatest rockers in the world," noting it was a "fun hang."
Hetfield, smiling while sitting in the chair, sports a T-shirt of his son Castor's band Bastardane, flashing the horns in one of the photos with his new "Papa Het" ink clearly visible.
Swipe through the photos directly below.
READ MORE: 19 Rock + Metal Musicians Who Are Also Tattoo Artists
The Other New Tattoo James Hetfield Got This Year
In late August, Hetfield visited Miller's shop to have the words "Thy Will Not Mine Be Done" tattooed across right right side of his neck. It was the Metallica frontman's second neck tattoo, the other famously being that of a winged open-mouth skull on the left side.
See those photos below.
Despite turning 60 on Aug. 3, Hetfield has come off as rather youthful.
Onstage, he remains a force, from his inimitable guitar playing to some of his best singing in years, primed for what will be Metallica's fifth decade as they continue to support their new album, 72 Seasons, across the globe.
Metallica has a few more dates on the book this year, with more scheduled deep into 2024. See all of the band's upcoming tour dates here.
20 Rock + Metal Musicians With Tattoos of Bands
These musicians have tattoos of other musicians.
Gallery Credit: Lauryn Schaffner