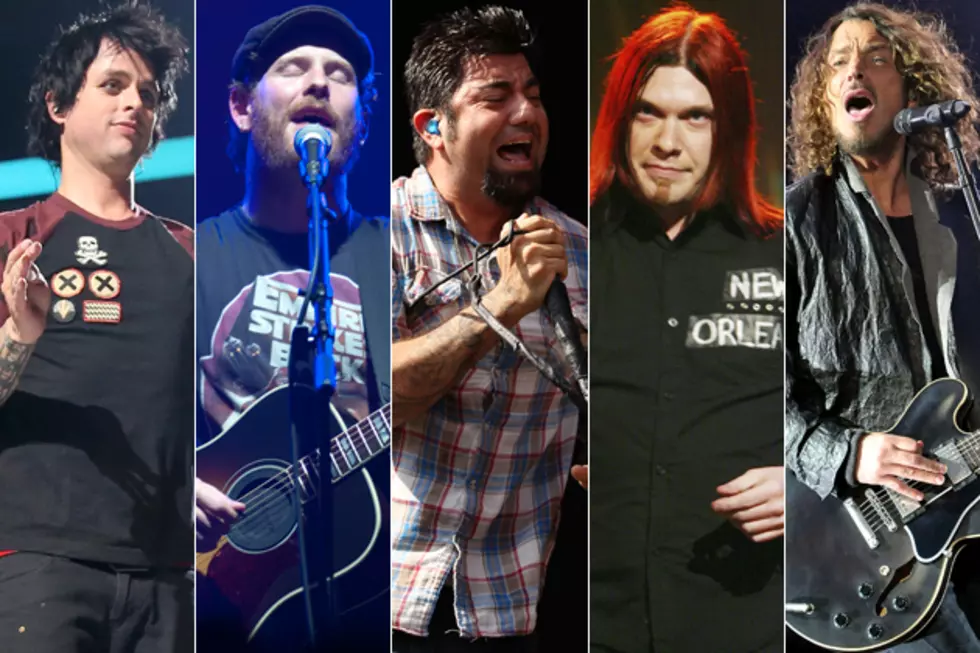 Most Anticipated Early 2013 Rock Tour – Readers Poll
Christopher Polk / Michael N. Todaro / Mark Metcalfe / Kevin Winter / Jim Dyson, Getty Images
While it may be hard to even envision sitting on the lawn of an amphitheater hill and catching one of your favorite rock bands under the sun and stars during these cold winter months, that doesn't mean the touring season has stopped for most bands. In fact, most acts are continuing the promotion of their music in clubs and arenas across the country. As 2013 kicks off, we're asking you which early year rock tour piques your interest the most.
Green Day are making their return to the stage. Kid Rock and Buckcherry are teaming up for a run with newcomers Hellbound Glory. Marilyn Manson's career revival continues with new dates featuring support band Butcher Babies. Sevendust are meeting up with Italian rockers Lacuna Coil for North American shows. And the reunited Soundgarden continue to be a hot ticket, especially with a new album to promote.
There are solid package tours to consider. Would you rather spend your money on a Stone Sour / Papa Roach double bill or triple bill featuring Shinedown, Three Days Grace and P.O.D.? There's Flyleaf and Drowning Pool, both with new singers, teaming up for a trek. 3 Doors Down and Daughtry are holding over their successful 2012 tour for another leg. And rock vets Nonpoint have invited promising upstarts Candlelight Red and Digital Summer along for dates in the coming months.
In addition, bands like Deftones, Black Veil Brides, Tremonti, A Day to Remember and Hollywood Undead are certain to be top draws once their 2013 ventures get under way.
Those are just a few of the rock tours launching in the first few months of 2013. Here's your chance to tell us which one excites you the most. Cast your vote in the poll below.