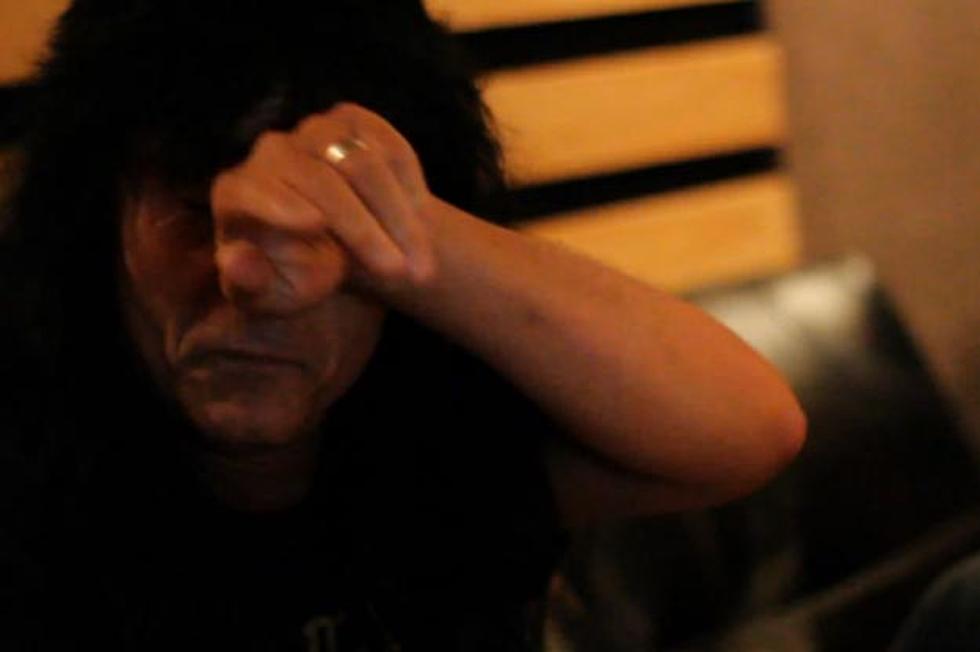 New Sevendust Song Gives Anthrax Singer Joey Belladonna Goosebumps
YouTube
Powerful music often elicits involuntary responses. A smile. The chills. Goosebumps. Tears. You can't fight the response that your body and your heart have to a quality, high impact song. Anthrax frontman Joey Belladonna is no different than the rest of us when it comes to his response to music. He was so moved by the new Sevendust song 'Blackout' that he got goosebumps and almost cried.
Sevendust are currently recording their new album in New Jersey and they have shared many a video update on the process, looping fans into the Sevendust way.
In this particular clip, Belladonna is on site, seated, listening to the music in the studio, staring intently, absorbing every note while nodding along to the melody. He is surrounded by singer Lajon Witherspoon and drummer Morgan Rose. He makes the grim metal face for a hot second, and then shows his arms, indicating that he has goosebumps or that the babyfine hairs are standing on end as a result of listening to the song.
That's power!
He then says, "That makes me cry" and wipes his eye.
We don't full on see the vocalist shed a tear, but he is visibly moved by the song, which is reportedly about the passing of guitarist Clint Lowery's father. It's refreshing to see a musical icon like Belladonna have such a genuine reaction to a song.
The video also reveals that Sevendust's new album should arrive in April 2013.
Watch Joey Belladonna in the Studio With Sevendust