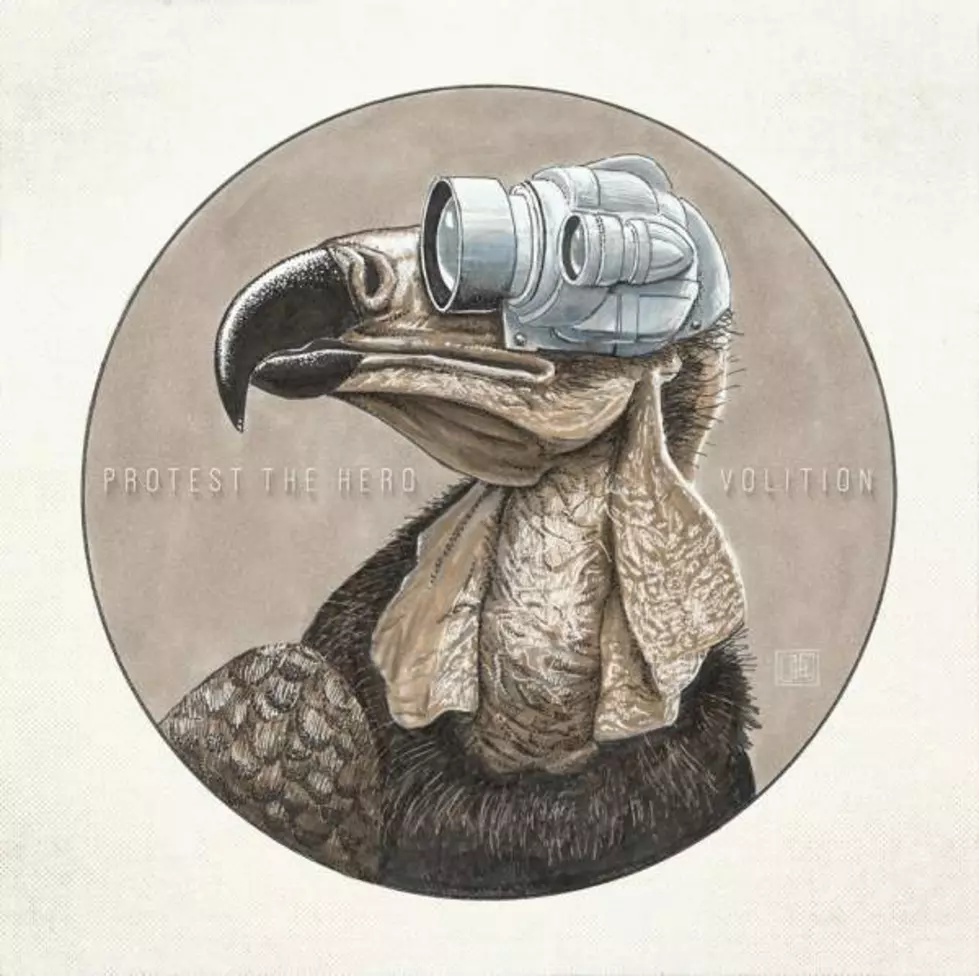 Protest the Hero Reveal 'Volition' Album Art + New Single 'Clarity'
Razor & Tie
After raising a staggering $341,000 through Indiegogo to fund the new studio album 'Volition,' Protest the Hero have revealed the album's artwork along with the record's first single, 'Clarity.'
Protest the Hero's fourth full-length, 'Volition,' is set for an Oct. 29 release. Despite raising a giant chunk of change from their fans, Protest the Hero have signed on with Razor & Tie for help with distribution. Internationally, 'Volition' will be released via Sony Music in the band's home country of Canada and the rest of the world outside the U.S. on Spinefarm.
"Our successful crowdfunding campaign allowed us a new level of both artistic and business minded freedom," Protest the Hero write in an official statement. "We had the pleasure of recording an album with budgets and deadlines created only by ourselves and we think the project benefited the world over because of that. We can't thank our dedicated contributors enough for putting us in the driver seat. It has been an arduous process because we have had to create two completely different packages for this album. One will be the exclusive release which will only go to people who contributed to our campaign. The other is going to be the more standard release which we hope everyone will see on record store shelves (and digitally, of course)."
The band continues, "We realized pretty quickly after recording that we were going to need some help with the distribution of the traditional release. We knew we wanted our album to be available around the world in as many formats as possible. With this in mind, and with our new found sense of control we have teamed up with some new pals. All of which are completely on board with our non-traditional view moving forward. No advances, no multi-record deals, no hidden agendas. "We hope you are able to get your hands on at least one of these versions of our new album, regardless of where you are in the world. It's scary, but wonderful to say...this album absolutely would not have been possible without the generosity and support of those who contributed to the making of our new album. We will forever be in your debt!"
As for Protest the Hero's new single 'Clarity,' you can hear the track exclusively via MetalSucks.
Check out the track listing for 'Volition' below along with Protest the Hero's upcoming North American tour dates with Architects, Affiance and the Kindred. To pre-order Protest the Hero's 'Volition,' click here.
Protest the Hero, 'Volition' Track Listing:
01. 'Clarity'
02. 'Drum-Head Trial'
03. 'Tilting Against Windmills'
04. 'Without Prejudice'
05. 'Yellow Teeth'
06. 'Plato's Tripartite'
07. 'A Life Embossed'
08. 'Mist'
09. 'Underbite'
10. 'Animal Bones'
11. 'Skies'
Protest the Hero, Architects, Affiance + the Kindred 2013 North American Tour Dates:
11/07: Ottawa, Ontario – Ritual
11/08: Montreal, Quebec – Tulipe
11/09: Toronto, Ontario – Sound Academy
11/12: Thunder Bay, Ontario – Crock's
11/13: Winnipeg, Manitoba – Union Hall
11/14: Saskatoon, Sasketchewan – Odeon
11/15: Edmonton, Alberta – Avenue Theatre
11/16: Calgary, Alberta – The Gateway
11/18: Vancouver, British Columbia – Vogue
11/19: Portland, Ore. – The Branx
11/20: Seattle, Wash. – El Corazon
11/22: San Francisco, Calif. – Slim's
11/23: Los Angeles, Calif. – The Roxy
11/24: San Diego, Calif. – Soma Side Stage
11/25: Tempe, Ariz. – Club Red
11/26: Albuquerque, N.M. – Launchpad
11/27: Denver, Colo. – Summit
11/29: Dallas, Texas – The Door
11/30: Houston, Texas – Warehouse Live
12/02: Atlanta, Ga. – Masquerade
12/03: Orlando, Fla. – The Beacham
12/05: Greensboro, N.C. – Greene Street Club
12/06: Cleveland, Ohio – Agora Ballroom
12/07: Chicago, Ill. – Bottom Lounge
12/08: Detroit, Mich. – Magic Stick
12/10: Pittsburgh, Pa. – Mr Smalls
12/11: Baltimore, Md. – Ottobar
12/13: New York, N.Y. – Gramercy
12/14: Worcester, Mass. – The Palladium Upstairs
12/15: Philadelphia, Pa. – The Trocadero