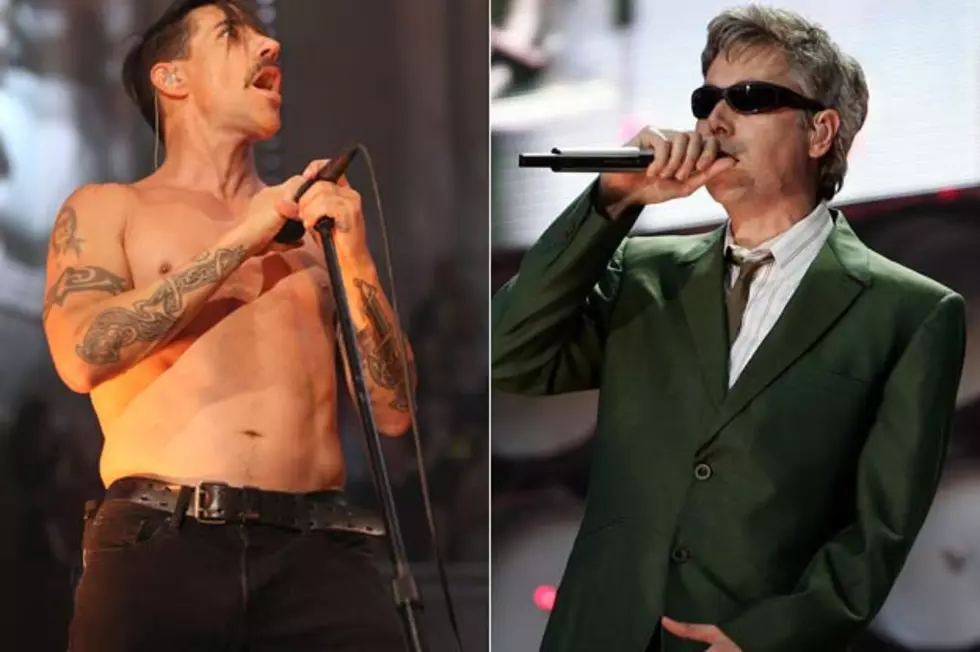 Red Hot Chili Peppers Pay Tribute to Adam Yauch at Concert
Red Hot Chili Peppers took the stage at the Prudential Center in Newark, N.J., on Friday (May 4) for the first of two sold out shows, and the band took care to dedicate the show to Adam Yauch of the Beastie Boys, who tragically  passed away mere miles away in his native New York earlier that day after a three-year bout with cancer.
According to RollingStone.com, frontman Anthony Kiedis proclaimed, "We're playing this show tonight for Adam Yauch." During the concert, Flea churned out a bass solo of the Beasties' 'Gratitude,' and later the band broke into the Beastie Boys' 'So What'cha Want' (watch below) during a long instrumental jam.
Kiedis spoke fondly about the late Yauch, who had been battling cancer for three years and was just 47 at the time of his death. "He left the world with a lot of beauty," Kiedis said while onstage, between songs. "Adam was for real."
That statement echoes the sentiments of Jane's Addiction vocalist Perry Farrell, who offered a touching eulogy to Yauch that was peppered with his own personal interaction with the artist through the years. Other rockers paying respect to Yauch online yesterday include Slash, Linkin Park, Disturbed's David Draiman, Godsmack and more.
Yesterday, RHCP bassist Flea tweeted, "Prayers and all the love I could ever muster for Adam Yauch. What a beautiful man. God bless his beautiful soul. A class act all the way."
At the end of last night's Chili Peppers show, the P.A. system at the Prudential Center blasted the Beasties' classic hit '(You Gotta) Fight for Your Right (To Party)."
Clearly, the music community had much adoration, love and respect for Yauch.
The Chili Peppers and the Beastie Boys were always cut from the same cloth, starting out in the indie, punk rock scenes on opposite coasts before emerging and then ascending to massive mainstream success in the late '80s and early '90s.
Both groups were inducted into the Rock and Roll Hall of Fame last month, a testament to the mark they've each left on rock music.
Watch Red Hot Chili Peppers Jam the Beastie Boys' 'So What'cha Want' in New Jersey