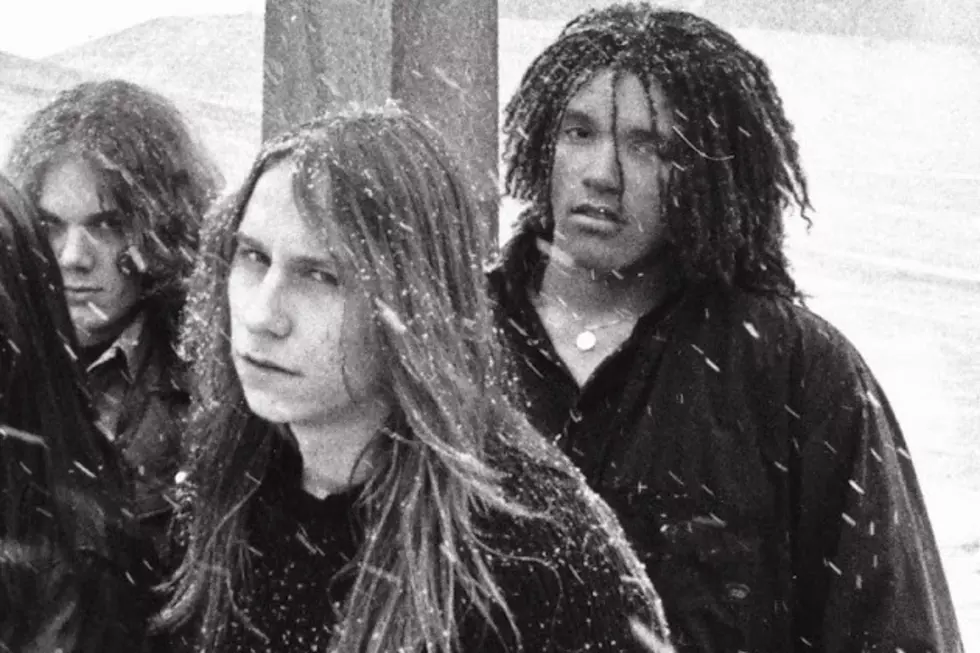 Reunited Original Entombed Members Plot Future Shows, Hope to Write New Album
Earache
The divide in the Entombed camp has been messy since 2013 to say the least. Founding guitarist Alex Hellid reduced the group to just himself, expressing interest in bringing back the Clandestine lineup, leading to the then current members to branch off under Entombed A.D. With original guitarist Ulf 'Uffe' Cederlund and drummer Nicke Andersson back in the lineup, the former has revealed their plans for the near future.
Cederlund recently spoke with Decibel about the current incarnation of the group, plans to perform two shows with the Malmö orchestra on an upcoming cruise as well as a performance in Malmö, Sweden and ambition to write a new record.
Describing how everything initially came to be, the guitarist explained, "Alex and I got together [in 2014] when he needed my help with the orchestration of Clandestine [for the Gävle Symphonic Orchestra performance] and we realized that we still really liked each other! We talked about how great it would be if Nicke joined us. So Alex asked to see if he was interested and he was. Nicke could not be present at that show, but he was into doing something together again."
"I guess the extra spur was we could not agree with L.G. Petrov on the legal issues over the name Entombed — which Nicke came up with," Cederlund continued, talking about the divorce with their former singer. "I felt more comfortable once Nicke got involved because he formed Entombed and wrote the best and most songs when he was in the band. None of this would exist if Nicke was not on the Entombed ship... If Nicke had called me and said not to continue on without him, I would have respected that. He was always in my heart, somehow, and I am thankful for him letting us continue. He's the man and a genius! Alex pulls the strings to make cool things happen. I just ride along. We have fun when we hang out, we can be real honest on everything and I think it'll be great to play with these guys again."
The Close-Up Magazine cruise will take place on Oct. 27 and 28, rounded out by other Swedish death metal titans in Grave and Unleashed. Entombed will perform with the Malmö orchestra again on Nov. 12, running through Clandestine in its entirety. As Cederlund stated in the interview, there is no word on who will be the vocalist and bassist for these shows.
When asked about the possibility of writing a new Entombed album, which would be the first since 2007's Serpent Saints - The Ten Amendments, the guitarist stated, "I hope so. Like I said we have been re-recording old stuff to see how we sound today — and we like it. Time is flying faster as I get older and I would love to be part of a new Entombed album. First, though, we must focus on the shows. I would be satisfied if that's the only thing we end up doing, but I'm open for more."
On the outs is long time singer L.G. Petrov, who has since released two records under the Entombed A.D. moniker, 2014's Back to the Front and this year's Dead Dawn. Petrov recently lost a legal battle against Hellid, who had filed for a trademark for Entombed branded spirits.
Top 25 Extreme Metal Albums of All Time
10 Greatest Death Metal Bands