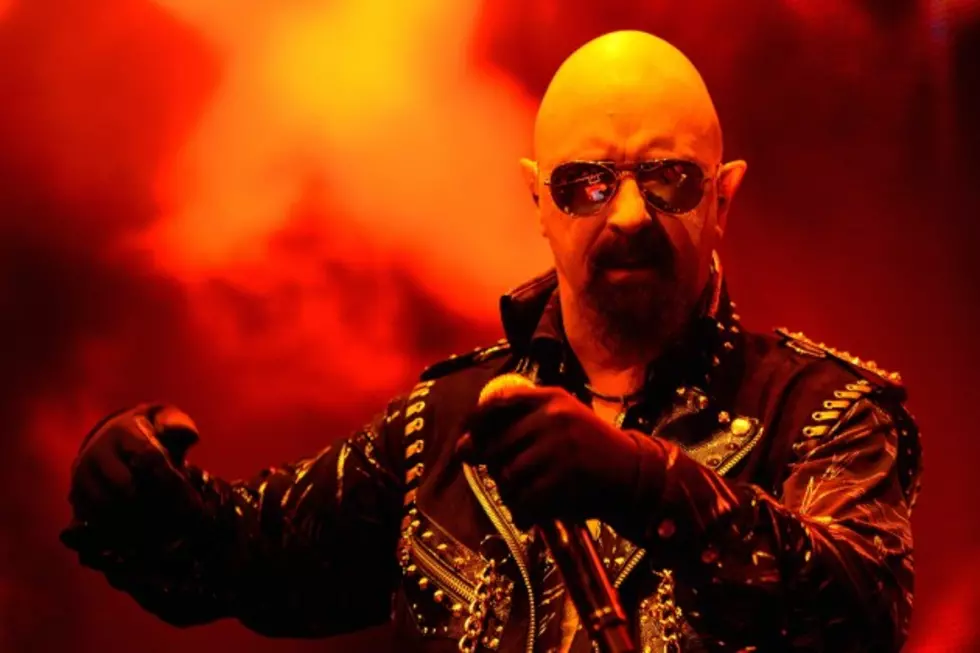 Rob Halford on the Legacy of Judas Priest, Connecting With Fans + More
Ethan Miller, Getty Images
Legendary Judas Priest vocalist Rob Halford recently met up with Full Metal Jackie during the 'Loudwire Nights' host's trip to Rock on the Range. Halford spoke about the legacy of Judas Priest, the new album 'Redeemer of Souls,' new ways he's beginning to connect with fans and much more!
We're here at Rock on the Range; first time for Judas Priest.
Very first time. We've been wanting to do this extraordinary event pretty much since it kicked off, but like most bands, it's about trying to find a calendar to balance. Here we are, we just came up through South America and up through Mexico. We did a show in Texas and now we're here at Rock on the Range. We're thrilled to be here at last.
Talk about how the audiences were in South America.
I can't describe it. It's just insanity. Something in my head said, "I felt like Justin Bieber." That would have been a horrible thing to say, but it's insane like that because you can't go out of the hotel. I'm trapped. That fanaticism is absolutely extraordinary. They're incredible, they really are. I think if you spoke to any of the bands who've had a chance to go down there, it is quite like nothing else that you'll experience. They're great. We went through Brazil, Argentina, Chile, Mexico and it was all solid. Metal is huge down there. All kinds of metal. All genres. They're rabid. We were down there with Ozzy and Motorhead. To have Ozzy, Motorhead and Priest together is quite unusual. We had a blast, we had a wonderful time.
Every year it seems like we're celebrating 20-something years or however many years on releases of albums. What's the most surreal thing for you about the hindsight that comes with the commemorating the anniversary of an album?
It's trying to put it into perspective because when you've been doing it for over 40 years, it gets a little bit blurry. When you think about records, you try and remember where you did them and I think in this case for Defenders of the Faith, we were in Ibiza. The story that connects that is the famous story where we did the Us Festival, which was amazing; a three-day Us Festival.
Then the next day we flew over to Spain to start work on Defenders of the Faith. When we got there, the studio boss met us at the airport and said he was going to put us in a hotel for a few days because they were trying to fix a few things. We found out that they hadn't been paying the bill so the studio was completely gutted. There was nothing left. They had taken the control desk out, the tape machines, everything. There was nothing left. So we started that session rolling in the desk on some old logs. The band put the studio together. If that's not commitment to metal… we didn't have much of a choice frankly. But that just shows you the spirits of overcoming whatever difficulties there may be. So that's what I remember about Defenders of the Faith. But it's all of those - I don't know if that fired us up because it's an extraordinary album. It's a very hard sounding album and there are some real important moments for the band on that album.
Redeemer of Souls met a really great response. How much does a response to an album influence the direction of the next one?
I wouldn't say that it influences the direction so much as you get so pumped and stoked by the reaction from the fans and people like yourself on your show. Everybody ran to that album with so much love; "Priest is back with the first real studio album since Nostradamus!" Everybody was hungry for a new Priest record as they know Priest to be, it was just sensational. The inspiration is that it gives you, and I think you and I have talked about this already, that we're now thinking when this touring cycle ends, to getting to writing another one. That's the inspiration. You guys that bought the record, you guys that come and see the show, Jackie plays Priest on her show. That's motivation, every band needs that. You guys are in all of this story, as well call it, and we thank you very much for that.
Your performances throughout the tour supporting Redeemer of Souls have been praised as vintage Halford. What was different about your mindset going into this touring cycle?
The point that we're at now with this band is it seems like every show is an event to some extent. The fact that this is the umpteenth double digits studio album, hundreds of songs later, these are just moments that we cherish more than ever. There's a little bit more of that now each time we walk on stage, that this show, the next show; they're all vital to the band in a lot of different ways. So all of us, we're roaring right now. It's like, again, any band will tell you when you've been on the road for a while, you know internally what you've got to do. All your bandmates are thinking it. You don't have to talk about it. You know instinctively what you've got to do when you get dressed and you walk to that stage. I think that what we're doing right now is some of our best metal, quite frankly. We're all really proud of what we're pouring out through the speakers.
Was there a point where you realized that Judas Priest music transcended simple entertainment and became something that was more important to people?
Well you do now with social media, more than ever before. You can read what's on people's minds. I've started this Instagram thing @RobHalfordLegacy, which I've never done before. I got all these cool pictures, Jacoby (Papa Roach) just took a picture of me which I'll put up on there in a few days. People make comments. You're getting instant feedback. So some of the great things that our fans have been saying, again, it makes you more determined to go out there.
We've always given a 1000% but we're trying to push even further now. So, yeah, you try not to dwell on it too much because the pressure, if you want to call it that, can be a bit crushing if you're not too careful. The thing is, any band, you go out there and have a blast. That's what you're there to do. Have a blast blast playing together and for your fans. The reason you're on that stage is because of your fans. That's your focus. If you start to think a little bit too much about the other stuff, it can be a bit WOOO. I hope I don't trip up and fall into the orchestra pit, which I've done on many occasion. It's all a part of this wonderful time that Priest is having now, it's great.
Many thanks to Rob Halford for the interview. Loudwire Nights With Full Metal Jackie & Tony LaBrie can be heard on radio stations around the country — for a full list of stations, go here.
10 Amazing Rob Halford High Screams
Judas Priest Play 'Wikipedia: Fact or Fiction?'