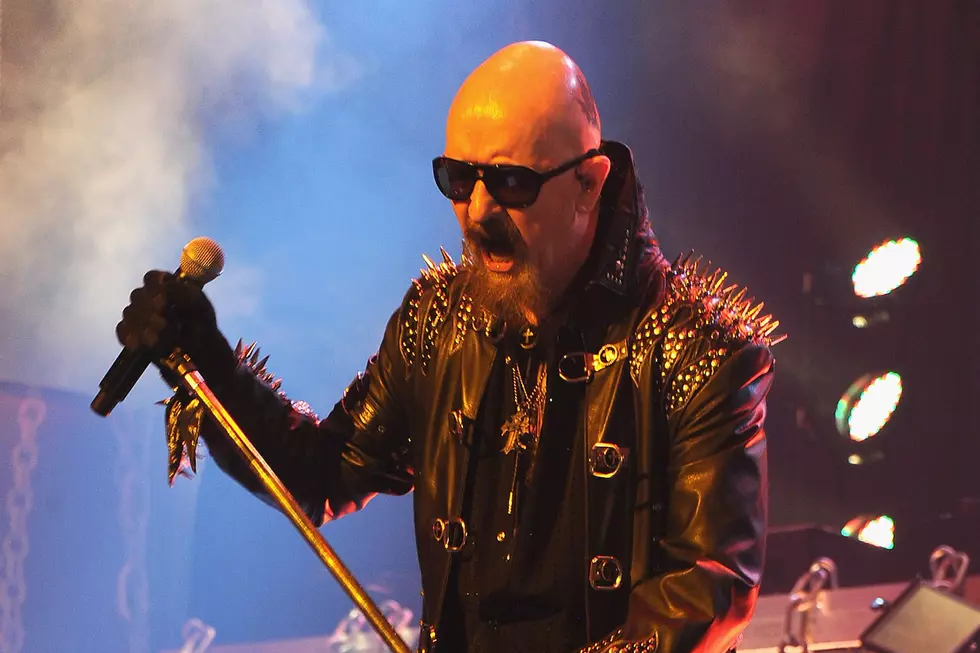 Rob Halford Would Like to Be a Judge on 'RuPaul's Drag Race'
Theo Wargo, Getty Images
Judas Priest frontman Rob Halford wants to be a judge on reality TV's drag queen competition RuPaul's Drag Race, going by a recent interview with the singer who first came out in 1998. In fact, the musician saluted the efforts of that program and others such as Queer Eye for introducing a wider audience to the LGBTQ community.
"Get all the drag queens in full-on metal," the Metal God offered of his idea for the show recently renewed for a twelfth season. "Let's do it, Ru!" he added. Watch the full interview toward the bottom of this post.
"I am a RuPaul's Drag Face fan," Halford told Yahoo last week (Oct. 15). "I just love that show just for every emotional dimension of what's being presented… the interaction, and the support, and the fun, and the bitchiness, and all this kind of stuff. It's great. It's a beautiful insight to a part of our world and it's really important."
Adding to that thought, the Judas Priest singer stressed the importance of LGBTQ-aligned entertainment in helping to further the stretch the scope of equal rights within the United States.
"Show like Ru's show, or the Queer Eye show, these things are wonderful opportunities for people that don't know about us," Halford said. "Just to look and listen and learn. That whole thing about we are your bus driver, we are your nurse at school, we are your judge court. We're their airline pilot. We are everywhere. Just taking away and destroying this horrible pushback that we have. Even today we're about to get to 2020 and we still have to talk about this. Particularly in this current climate here in the U.S. it's terribly, terribly difficult."
Halford — who recalled how he likely came out in "the strongest possible way" in 1998 when he publicly shared for the first time on MTV that he was gay — pointed out that he's "not an American citizen yet." But the British-born musician is working on obtaining his U.S. citizenship, which only serves to bolster his drive in combating the country's often religious-driven intolerance.
"We've been practically ignored by this current administration." the musician delineated of the U.S. government's seeming disregard for inclusivity. "And thank God that [Trump] won't last forever."
Halford vented last week in a separate interview: "Don't get me started on the Christian right pushing the LGBTQ community under the bus. They're passing laws here where if you're gay you can lose your job, based on whether the people who run a company follow a religion that doesn't accept people like us."
Rob Halford Talks to Yahoo Entertainment's Lyndsey Parker (Oct. 22, 2019)
See Rob Halford in Top 66 Hard Rock + Metal Frontmen of All Time