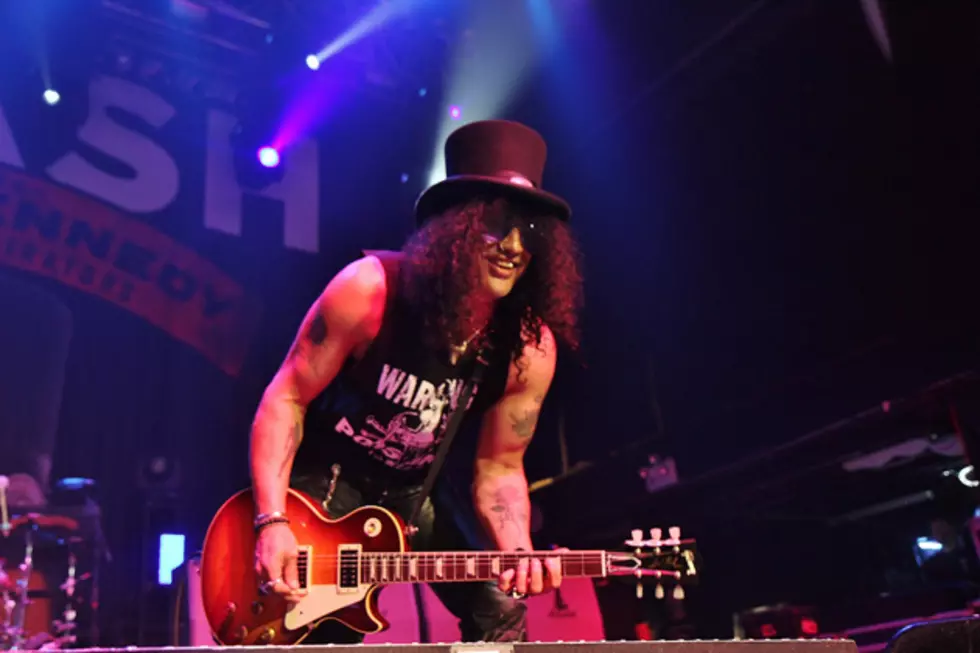 Slash on Guns N' Roses' Legacy, Returning to the Sunset Strip + More
Liz Ramanand, Loudwire
The one-and-only Slash caught up with Full Metal Jackie during the Loudwire Nights host's recent trip to the 2015 Welcome to Rockville Festival. In the interview, Slash speaks about his current band, the legacy Guns N' Roses forged, returning to the infamous Sunset Strip and much more!
You've got a real great band. What do you like the most about the gang camaraderie?
It's a lot like being in a gang. That's funny, you stole the words right out of my mouth. Being in a band is just something I aspired to from the moment I picked up a guitar. I don't even know what to compare it to. I was never on a football team or anything like that. It's just a group of like-minded guys who vibe off each other doing music and in some cases you enjoy each other's company and it's really cool. This particular band is just like that. It gets along really well.
What is the most humbling feeling that comes with those classic Guns N' Roses songs being a part of the fabric of so many people's lives?
I'm really proud, it's hard to explain. When I was a kid growing up you'd meet people and the first thing you'd begin to recognize or identify who these people were was looking at their record collection and you sort of knew who you were hanging out with. For me, to think a Guns N' Roses record is a part of people's collections as a standard or staple just kills me. I'm really proud to have been a part of that band. It's one of those bands that had I not been in it, it would have been my favorite band. It's actually hard to personally accept the fact that it was as influential. It's just something that we did and it was a very natural thing. The fact that it's had so much influence on people, it's hard for me to actually wrap my head around it. I'm aware of it, so it's pretty f---ing cool.
World on Fire has been a great success for you guys. I'm reading that you're already working on music for a new record.
Yeah, when we're on a tour, this is the best time for me to work. From a music point of view, there's not a lot of distractions. We're just surrounded by music and what it is that we do. So I've always got my guitar with me and I don't have anybody coming in to tell me otherwise. Whereas, if I'm not on the road, it's very hard to have a continued stream of consciousness, musically, because there's all these different things going on. I just compile stuff while I'm out here, I'm always noodling around. I hear ideas in my head and I have my guitar right here and it just happens. Then when we get off the road we get into the studio and start hashing it out.
When you're not touring or recording, how do you keep yourself connected to that active musical mindset?
It's just part of me. No matter what I'm doing, I'm always thinking about music and writing in my head. I can be driving to the f---ing market and I've always got music going all the time. It's part of my core being. But you do have other stuff you have to do. You can't always have a guitar… well you could, I suppose. I could take the guitar to the market. [Laughs]
Do you record any riff ideas on your phone?
Everything is on my phone.
You heard about how Kirk Hammett lost his phone. Have you ever had anything like that happen to you?
No, but I should back my s--t up more often. I sort of come from that mentality of if it's good, you'll remember it. But, when you're on tour like this, you go out and do an hour or two playing and any riff that you had beforehand might get mixed up in your head and it's hard to find the melody of it no matter how good it is, so it's good to record it.
There's a DVD of a show you did at the Roxy last year coming out in June. I was at that show and it was amazing to see you play on the Sunset Strip. How did it feel to be playing on the strip again?
It was great. The idea was to go back and play and revisit those places you got your start in. So we did the Troubadour, the Roxy and the Whisky. It was just hella fun. Especially the Troubadour gig because I hadn't played there in 20-something years. To get up there and blow the paint off the walls at that place was awesome. It was great to record the Roxy gig because I have a lot of history there. Hopefully we captured the energy of the evening on film. We'll see what people think of it.
Many thanks to Slash for the interview. Full Metal Jackie's weekend show can be heard on radio stations around the country — for a full list of stations, go to fullmetaljackieradio.com.
Slash - Remembering Ronnie James Dio
See the Yearbook Photos of Slash + Other Rock Stars