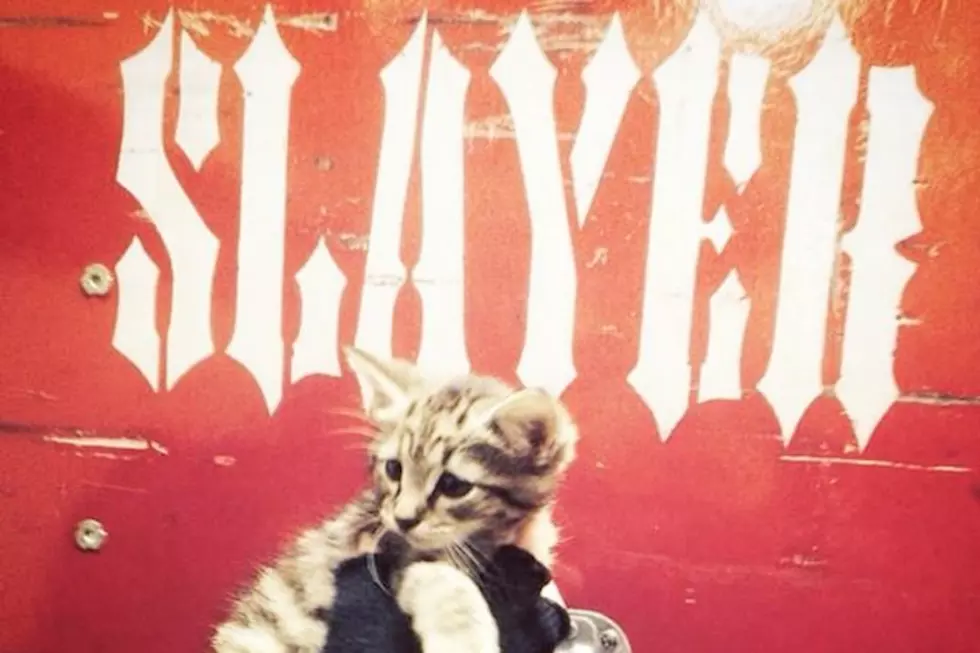 Slayer and Crew Rescue Freezing Little Kitten
Old National Centre Facebook
Awwwwww! Here's a heartwarming story that involves Slayer and a little kitten. Prior to their show in Indianapolis a couple nights ago, the Slayer crew helped find a tiny cat a new home.
The Old National Centre venue posted a photo of the kitten in front of a Slayer storage case, and wrote, "It's not every day you hear a story like this… The Slayer band crew rescued a kitty off the streets of Indianapolis last night and she now has been adopted into a brand new home!"
The Indianapolis weekly NUVO then reached out to Slayer's publicist who detailed the story as follows:
Last night Kerry [King] and some of the crew went to dinner at Kerry's favorite steak house in Indy, St. Elmo's Steak House. Afterwards, the assistant tour manager, Jess [Cortese] saw a homeless man on the street who offered up this little kitten for a dollar. The kitten apparently was freezing so Jess took it, slept with her in her bunk on the bus and went to the venue with her today, hanging out. One of the runners knew someone who wanted a kitten, so the little guy now has a new home where he or she currently is.
The kitty's new owner later posted a photo of the cat on the Old National Centre's Facebook page, saying, "Here she is! I named her Gypsy! I gave her a bath last night then she slept for 5 hours on the heating pad. She's at the vet this morning being treated for fleas and worms. Thank you Slayer for your act of kindness and thank you."
There you have it! Slayer and a kittens -- a match made in heaven! Which reminds us ... remember Slayer Cat? If not, check out the video below:
Love the Slayer Kitty Story? Check Out This Classic Slayer Cat Video
You Think You Know Slayer?