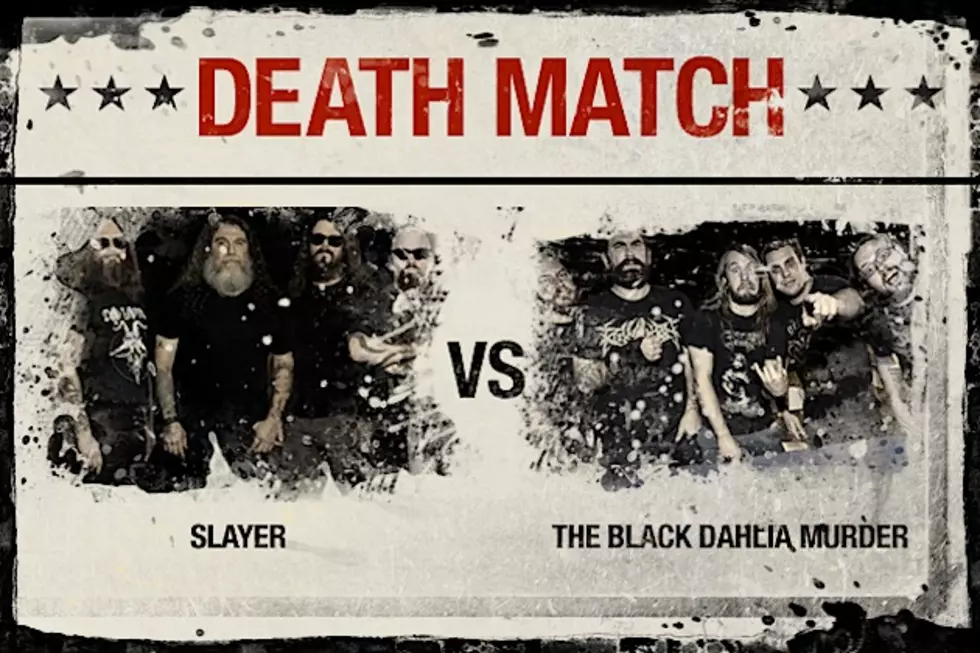 Slayer vs. The Black Dahlia Murder – Death Match
Nuclear Blast / Metal Blade
In an extremely close battle between metal titans, Slayer were able to defeat Lamb of God in last week's Death Match. Both bands' fans came out to support their favorite act, but only one song can move on, and that song is Slayer's "Repentless."
The title track to Slayer's upcoming 11th studio album is a ripper, and with three more consecutive wins, it will gain induction into our Death Match Hall of Fame. However, we've got another new-school powerhouse to face the thrash legends.
The Black Dahlia Murder's seventh full-length, Abysmal, will see a Sept. 18 release. The band has already shared "Vlad, Son of the Dragon" and has received a seriously positive response in return. "Vlad" is the first track chosen to represent Abysmal, which could point to a punishing collection of tracks to be heard.
Will Slayer continue to carve a path to the Hall of Fame? Or will the Black Dahlia Murder chop up their adversaries? Your votes will decide who moves on. Choose your favorite track in the poll below!
(This Death Match ends on Wednesday, July 8 at 10AM ET. Fans can vote once per hour! So come back and vote often to make sure your favorite song wins!)
The Black Dahlia Murder, "Vlad, Son of the Dragon"
Two bands fight to the death each week. Fans can vote once per hour. The triumphant band goes on to complete in the next Death Match. If a band wins four straight Death Matches, its song will be honored as immortal in the Loudwire Death Match Hall of Fame.