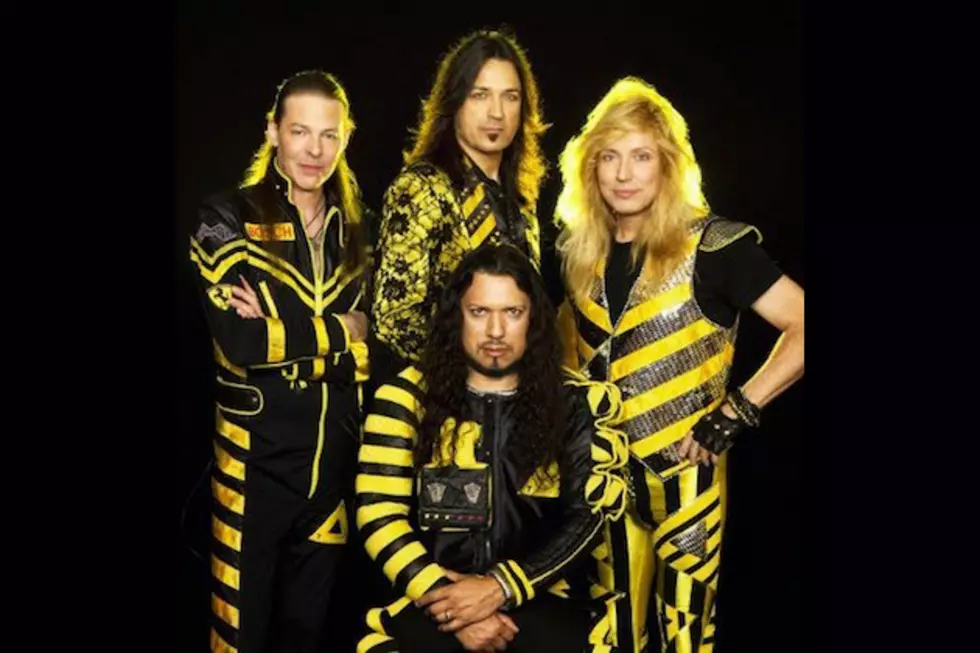 Stryper Cite 'Toxic Relationship' Behind Termination of Bassist Tim Gaines
Stryper
Earlier this week, bassist Tim Gaines revealed he was no longer in Stryper. He has served as the band's only bassist throughout their career, save between 2005 and 2009 when the position was held down by Tracy Ferrie. In light of this, the band has released a detailed statement explaining why they could no longer continue with Gaines.
When speaking candidly about his split from Stryper, Gaines had cited his divorce as the driving factor, but the band has refuted that notion. "We wish Timothy Gaines nothing but the best and we will always remember the history and the good times that we all shared together. We have done our best to remain courteous and professional despite the barrage of disrespectful comments, posts and tweets that have been made public time and time again by Tim and Brandee on what seems to be a daily basis," the statement, which was posted on Facebook (seen below), begins.
Addressing Gaines' comments about his divorce, which he called "20 years of a bad marriage," Stryper detailed, "The accusations that have been made that our decision to terminate Tim is based on his divorce couldn't be further from the truth. We have all struggled with separation and divorce in our relationships over the years and it has never affected anyone's position within the band."
The Christian metal icons went on to mention that they had previously entered a hiatus to properly allow Gaines the time to sort out his personal issues, but Stryper became the victim of "intentional, erratic and hostile behavior" on behalf of the couple. With the situation putting the group's professional career in jeopardy, the decision to let Gaines go was made.
After Gaines publicly threatened to sue Stryper, it forced them to secure legal representation to deal with possible impending matters. "Tim is our brother and we love him but this has become a toxic relationship at this point and due to that, we cannot continue on with our mission and stay true to who we are and what we represent with Tim in the band," said Stryper.
There's still plenty left for Stryper's future as an announcement about their new album, which will serve as the successor to 2015's Fallen, upcoming tour and who will play bass is coming soon.
See Stryper in the Best Metal Bands From 40 Different Subgenres
10 Best Rock + Metal Bassists of All Time