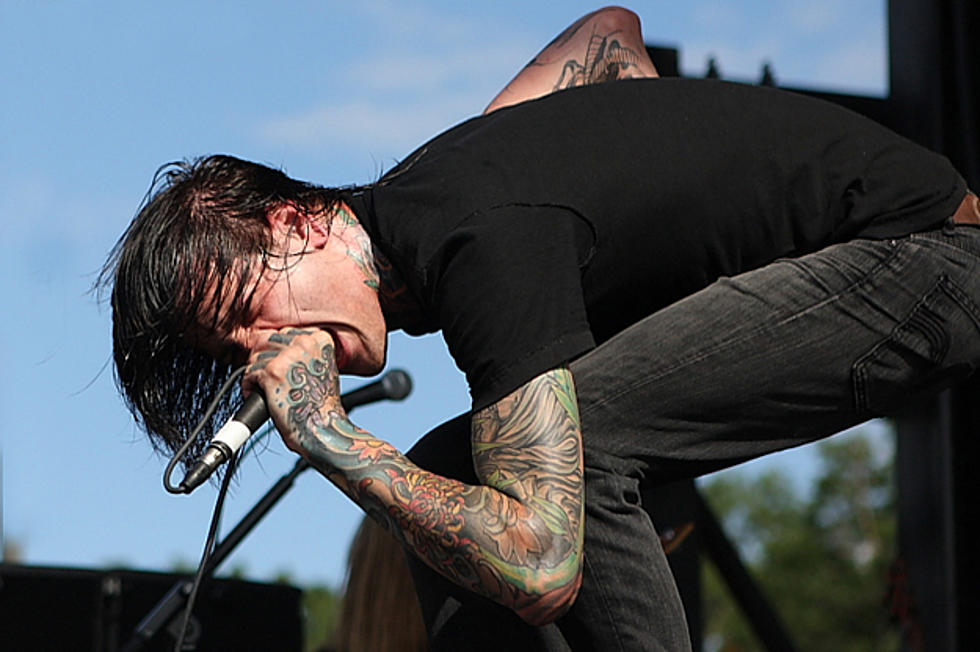 Suicide Silence Frontman Mitch Lucker Killed in Motorcycle Accident
Mary Ouellette, SheWillShootYou.com
There's sad news to report as Suicide Silence frontman Mitch Lucker has died at the age of 28 after a late night motorcycle accident in Huntington Beach, Calif.
The Press-Enterprise reports that Lucker passed away Thursday morning (Nov. 1) following the accident. The Orange County coroner's office said the musician was pronounced dead at 6:17AM PT at the UCI Medical Center in Orange County, Calif. Huntington Beach police were investigating the crash Thursday morning and expected to release details once their investigation was complete.
Lucker, a native of Riverside, Calif., formed Suicide Silence with his friends in 2002. The group released their debut disc, 'The Cleansing' in 2007 and followed that by the well-received discs 'No Time to Bleed' and 'The Black Crown.' During his tenure, Lucker and his bandmates won Revolver Gold Gods Awards for Most Innovative Band and Best New Band.
The surviving members of Suicide Silence released the following statement:
There's no easy way to say this. Mitch passed away earlier this morning from injuries sustained during a motorcycle accident. This is completely devastating to all of us and we offer our deepest condolences to his family. He will be forever in our hearts.

R.I.P. Mitchell Adam Lucker. We love you, brother.
The band's label, Nuclear Blast Records, issued a statement that reads as follows:
It is with great sadness and regret this morning that we have to report that Mitch Lucker, vocalist of SUICIDE SILENCE, passed away a few hours ago due to injuries sustained during a motorcycle accident.

NUCLEAR BLAST would like to offer our condolences to his family, friends, band members and fans worldwide who are affected by this loss.

He left us doing what he loved to do most. He was 28 years old and will be sorely missed.

Fans are encouraged to share their memories, photos of Mitch and condolences on the band's official Facebook page: www.facebook.com/SuicideSilence
Suicide Silence were slated to return to touring Nov. 16 for the 2012 Outbreak Tour. They were also part of the bill for the upcoming California Metalfest VI.
Loudwire would like to offer its deepest condolences to Mitch Lucker's family and band mates. Our thoughts are with you during this tragic time.