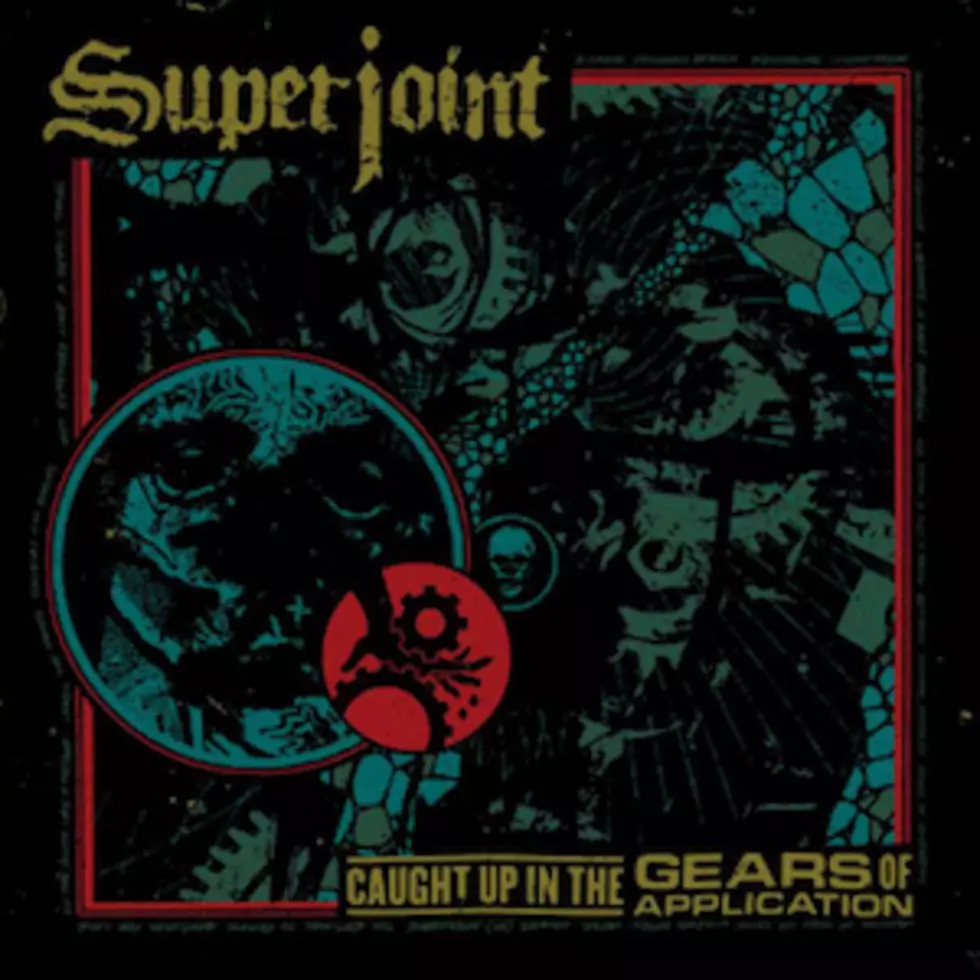 Superjoint Detail New Album, Release 'Sociopathic Herd Delusion' Song
Housecore
Superjoint (formerly known as Superjoint Ritual) are back with their first record since 2003's A Lethal Dose of American Hatred. The Philip Anselmo-fronted band have set Nov. 11 as the release date for Caught Up in the Gears of Application, which will come out on the singer's own Housecore Records. The group have also detailed the track listing and have offered up "Sociopathic Herd Delusion" (heard below) as the first glimpse of the record.
The song (which premiered at Revolver) follows in the same vein as past Superjoint records, walking the line between crossover aesthetics and bludgeoning sludge. The feature groove riff is the perfect pit two-stepper complete with a dissonant lick as Anselmo's hardcore bellowing attacks the mindset of sheepish group mentalities. Clocking in at just over two and a half minutes, "Sociopathic Herd Delusion" is a concise rager that seamlessly picks up where the group left off almost 15 years ago.
"The minute we started writing, I knew this record would be brutal," said guitarist Jimmy Bower. "Sticking to our true hardcore roots and signature Superjoint sound, we accomplished a record that needed to happen in today's underground. It's pissed off! After being on hiatus for 11-plus years, the chance at a new Superjoint record wasn't something we took lightly. With newcomers Stephen [Taylor, bass] and Joey [Gonzalez, drums], we were psyched and eager to get in the Lair and start writing and after two tours with the new lineup, we were able to hit the writing hard! Didn't take long to accomplish, and we stood and smirked at the playback of what would be the new Superjoint record. With songs like 'Receiving No Answer To The Knock' and 'Sociopathic Herd Delusion' we had everything to smirk about! This record brings our viscous style of hardcore back to life. Pissed off with everything to prove, Superjoint is back!"
Anselmo also offered his thoughts on the record, adding, "The overall theme means many things, or no things, but there is an underlying message regardless, about how modern technology — computers and all that comes with them, mainly — has affected our lives. As a musician, it has affected my life both negatively (music being stolen) and positively (being in touch with fellow musicians around the world and staying visible). But when looking at the broader spectrum, computer-land has given everyday people a platform in which to bellow like carnival barkers about anything and everything, humdrum or political, whether qualified or not, some with good intentions, some with disingenuous intentions and some with ideas that lay somewhere in the middle, creating a mishmash of results."
Pre-order your copy of Caught Up in the Gears of Application at the Housecore webstore or digitally through iTunes.
The Superjoint record is not the only piece of new music from Anselmo this year. In July, his new black metal project, Scour, released their debut eponymous EP, featuring six scathing songs in an aggressive take on the genre.
Superjoint, "Sociopathic Herd Delusion"

Caught Up In The Gears Of Application Track Listing:
01. "Today And Tomorrow"
02. "Burning The Blanket"
03. "Ruin You"
04. "Caught Up In The Gears Of The Application"
05. "Sociopathic Herd Delusion"
06. "Circling The Drain"
07. "Clickbait"
08. "Asshole"
09. "Mutts Bite Too"
10. "Rigging The Fight"
11. "Receiving No Answer To The Knock"
See Where Philip Anselmo Ranks Among the Top 50 Hard Rock + Metal Frontmen of All Time
Philip Anselmo Plays 'Wikipedia: Fact or Fiction?' Pt. I + II