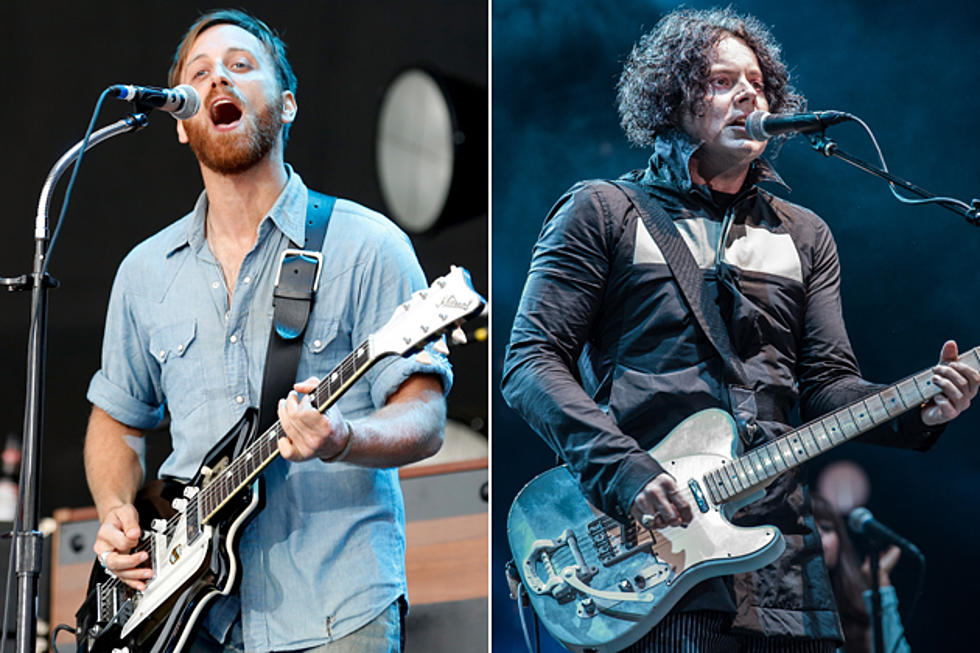 The Black Keys + Jack White Lead 2013 Rock Grammy Nominations
Simone Joyner / David Wolff-Patrick, Getty Images
Congrats are in order for the Black Keys, and in particular the band's singer-guitarist Dan Auerbach, who had his name mentioned six times when the 2013 Grammy nominations were revealed Wednesday night (Dec. 5). He tied with fun., Jay-Z, Mumford & Sons, Frank Ocean and Kanye West for the most nominations of the evening.
All but one of Auerbach's nominations were as part of the Black Keys, with the Producer of the Year nod for his work with the Black Keys as well as Dr. John and Hacienda being the other nomination. It should be noted that the band's 'El Camino' is up for Album of the Year, while 'Lonely Boy' scored a nod in the Record of the Year category. In the Album of the Year category, the Black Keys do face off against another rock artist as former White Stripes frontman Jack White's solo album 'Blunderbuss' earned a nomination. White also battles the Black Keys in the Best Rock Album and Best Rock Song categories, with 'Freedom at 21' being his Rock Song entry.
For those looking for hard rock or metal nominees, it was fairly limited to the Best Hard Rock/Metal Performance category, where one could find such familiar names as Anthrax, Halestorm, Iron Maiden, Lamb of God, Marilyn Manson, and Megadeth vying for the golden gramophone. For more on that Best Hard Rock/Metal Performance category, click here.
Other categories of note includes the Best Comedy Album, where Tenacious D scored a nod for 'Rize of the Fenix' and the Best Compilation Soundtrack for Visual Media, where the sounds of '80s hard rock and metal were featured on the 'Rock of Ages' soundtrack.
The 55th Annual Grammy Awards will take place at Los Angeles' Staples Center Feb. 10. Be sure to catch all the action at 8PM ET/PT on CBS.
2013 Grammy Nominees (Categories Featuring Rock Acts):
Record of the Year
The Black Keys, 'Lonely Boy'
Kelly Clarkson, 'Stronger (What Doesn't Kill You)'
Fun. featuring Janelle Monae, 'We Are Young'
Gotye, 'Somebody That I Used to Know'
Frank Ocean, 'Thinkin' 'Bout You'
Taylor Swift, 'We Are Never Ever Getting Back Together'
Album of the Year
The Black Keys, 'El Camino'
Fun., 'Some Nights'
Mumford & Sons, 'Babel'
Frank Ocean, 'Channel Orange'
Jack White, 'Blunderbuss'
Best Hard Rock/Metal Performance
Anthrax, 'I'm Alive'
Halestorm, 'Love Bites (So Do I)'
Iron Maiden, 'Blood Brothers'
Lamb of God, 'Ghost Walking'
Marilyn Manson, 'No Reflection'
Megadeth, 'Whose Life (Is It Anyways?)'
Best Rock Performance
Alabama Shakes, 'Hold On'
The Black Keys, 'Lonely Boy'
Coldplay, 'Charlie Brown'
Mumford & Sons, 'I Will Wait'
Bruce Springsteen, 'We Take Care of Our Own'
Best Rock Song
Jack White, 'Freedom at 21'
Mumford & Sons, 'I Will Wait'
The Black Keys, 'Lonely Boy'
Muse, 'Madness'
Bruce Springsteen, 'We Take Care of Our Own'
Best Rock Album
The Black Keys, 'El Camino'
Coldplay, 'Mylo Xyloto'
Muse, 'The 2nd Law'
Bruce Springsteen, 'Wrecking Ball'
Jack White, 'Blunderbuss'
Best Comedy Album
Jimmy Fallon, 'Blow Your Pants Off'
Margaret Cho, 'Cho Dependent (Live in Concert)'
Lewis Black, 'In God We Rust'
Kathy Griffin, 'Kathy Griffin: Seaman 1st Class'
Jim Gaffigan, 'Mr. Universe'
Tenacious D, 'Rize of the Fenix'
Best Compilation Soundtrack for Visual Media
'The Descendants'
'Marley'
'Midnight in Paris'
'The Muppets'
'Rock of Ages'
Best Boxed or Special Limited Edition Package
Trent Reznor & Atticus Ross with art director Rob Sheridan, 'The Girl With the Dragon Tattoo'
Ben Kweller with art director Liz Kweller, 'Go Fly a Kite'
Paul and Linda McCartney with art directors Simon Earith & James Musgrave, 'Ram'
The Rolling Stones with art director Stephen Kennedy, 'Some Girls: Super Deluxe Edition'
Woody Guthrie with art director Fritz Klaetke, 'Woody at 100: The Woody Guthrie Centennial Collection'
Producer of the Year
Dan Auerbach (The Black Keys, Dr. John, Hacienda)
Jeff Bhasker (fun.)
Diplo (Usher, Major Lazer, Snoop Lion, Marina and the Diamonds, Santigold, No Doubt, Wale, Justin Bieber, Alex Clare)
Markus Dravs (Mumford & Sons, Coldplay)
Salaam Remi (Anthony Hamilton, Amy Winehouse, Alicia Keys & Nicki Minaj, Miguel, Nas, Melanie Fiona, Usher)