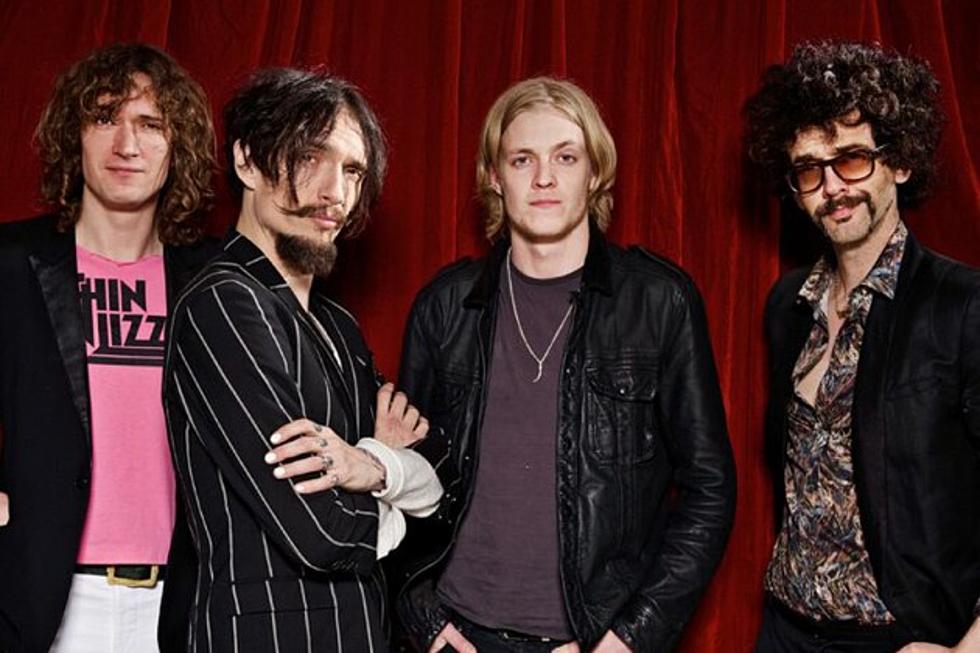 The Darkness' Justin Hawkins Contemplates Band Name Change
Kobalt Label Services
The Darkness may believe in a thing called love, but how much do they believe in the name of their group? During an appearance on Chris Jericho's Talk Is Jericho podcast, frontman Justin Hawkins revealed that the band has toyed with the idea of ditching their moniker, and some of thought process does make sense in this uber-marketed music world.
The vocalist explained, "We were toying with changing the name of the band. It's a slightly controversial maneuver at this point. But I don't know, we might have to run a competition on Facebook to change the name though." When quizzed by Jericho, Hawkins revealed, "We thought about doing it for this album, because it does feel like it's a new, what you might call a return to form, but there's something different about it now. I think maybe it's because we had a couple of personnel changes in the last year. It's different and feels like it's rejuvenated. I mean it obviously would be career suicide to throw everything away, everything that we've built up over the years, but there's no reason we wouldn't be able to [rebuild]."
The singer stated that The Darkness is a title that never really fit the band, adding, "I think there's a bit of an expectation when you hear The Darkness and everybody's got an idea of what it is, but nobody really knows apart from us, but maybe it's time to change it."
Getting into the specifics of why it might make sense, Hawkins explained, "I mean every idea you have is either crowd sourced or crowd approved. You need to be addressing what your fans want because at the end of the day that's what you've got. … What we're trying to harvest here is to have our fanbase have a sense of ownership over what we're doing and if they name the band, that's even better, isn't it? It's like when you adopt a homeless puppy, the first thing you do is give it a name. So we're like the musical equivalent of a homeless puppy."
The singer, with a little bit of tongue-in-cheek, revealed that during his period away from The Darkness that his other band toyed with the idea of changing the band name but keeping the same album title for every disc.
Though The Darkness may have toyed with the idea of changing their name, their latest album Last of Our Kind has done well so far, generating the singles "Barbarian," "Open Fire" and the title track. As stated, the band has undergone some lineup changes, with drummer Ed Graham exiting before the new album and his replacement Emily Dolan Davies following not long after support of the disc began. Rufus Tiger Taylor, the son of Queen's Roger Taylor, is currently drumming with the band. You can hear more of Hawkins' discussion with Jericho about Taylor's addition, touring with Lady Gaga and how it is having a sibling in the band in the Talk Is Jericho podcast below.
As for the idea of changing the band name, do you think Hawkins is onto something? Would fans feel a greater stake in the group if they helped name it? Would the band be committing "career suicide" by changing their name? Do you have an idea for a new band name? Weigh in in the Comments section at the bottom of this post.
The Darkness' Justin Hawkins Speaks With Talk Is Jericho's Chris Jericho (via Podcast One)