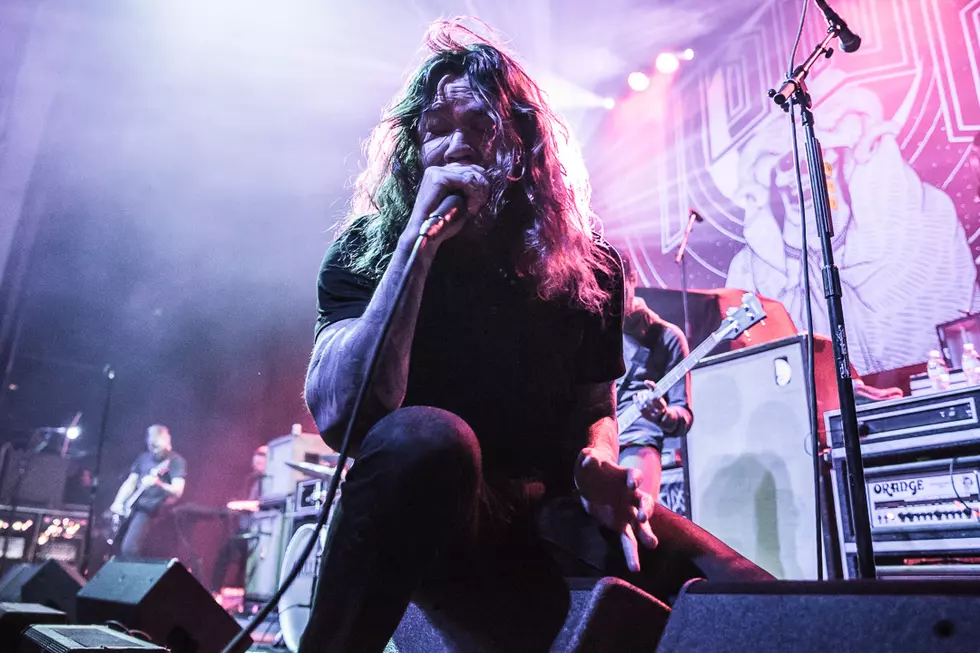 The Devil Wears Prada Announce Fall 2017 'No Sun / No Moon' Tour
Kevin RC Wilson, Loudwire
Metalcore band The Devil Wears Prada have announced tour dates for their upcoming September headlining run. The "No Sun / No Moon" tour will take place this fall, and features support from Veil of Maya and Thousand Below, as well as a special guest to be revealed at a future date.
As part of the tour, TDWP will be giving all attendees a free gift in the form of a download card for their No Sun / No Moon documentary from the band's merch table. The documentary takes a look into what the band's process was for writing their most recent 2016 album Transit Blues from both the conceptual and recorded phrase.
Of the documentary, singer Mike Hranica says, "I could not be more excited for the No Sun / No Moon documentary release. Versus what we've done in the past, there's no comparison. We've always felt there's been drastic room for improvement, and what Quinn Brabender came up with met our expectations."
In addition to the documentary, fans can also grab a VIP ticket bundle for each show, limited to 25 per date. The bundle includes a general admission ticket, Q+A session, photo opp, digital album download of Transit Blues, a digital photobook, hand-numbered screen printed poster, exclusive hockey puck and exclusive slipmat.
It's the band's first headlining tour coming off their recent "Killthrax" run earlier this year, which saw them open for Anthrax and Killswitch Engage. Last week, the band released a new video for their Transit Blues single "Worldwide," which told a futuristic story about inter-connectivity.
VIP tickets are on sale now, while general on-sales are Friday, June 30 at 10AM ET.
"No Sun / No Moon" tour featuring Veil of Maya and Thousand Below
Sep. 29 - Millvale, Pa. @ Mr. Small's Theatre
Sep. 30 - Detroit, Mich. @ St. Andrew's Hall
Oct. 11 - Cleveland, Ohio @ Agora Theatre
Oct. 2 - Toronto, Ontario @ Phoenix Concert Theatre
Oct. 3 - Montreal, Quebec @ La Tulipe
Oct. 5 - New York, N.Y. @ The Gramercy Theatre
Oct. 6 - Worcester, Mass. @ The Palladium
Oct. 7 - Philadelphia, Pa. @ Trocadero Theatre
Oct. 8 - Baltimore, Md. @ Baltimore Sound Stage
Oct. 10 - Norfolk, Va. @ NorVa
Oct. 11 - Charlotte, N.C. @ The Underground
Oct. 12 - Atlanta, Ga. @ The Masquerade
Oct. 13 - Orlando, Fla. @ The Plaza Live
Oct. 14 - Lake Park, Fla. @ Kelsey Theater
Oct. 15 - Tampa, Fla. @ The Orpheum
Oct. 16 - Pensacola, Fla. @ Vinyl Music Hall
Oct. 18 - Nashville, Tenn. @ Marathon Music Works
Oct. 20 - Dallas, Texas @ The Door
Oct. 21 - Houston, Texas @ Scout Bar
Oct. 22 - San Antonio, Texas @ Alamo City Music Hall
Oct. 24 - Albuquerque, N.M. @ Sunshine Theater
Oct. 25 - Mesa, Ariz. @ Nile Theater
Oct. 26 - Pomona, Calif. @ The Glass House
Oct. 27 - Los Angeles, Calif. @ Teragram Ballroom
Oct. 28 - San Diego, Calif. @ SOMA
Oct. 29 - Sacramento, Calif. @ Ace of Spades
Oct. 31 - Salt Lake City, Utah @ The Complex
Nov. 1 - Denver, Colo. @ The Summit Music Hall
Nov. 2 Omaha, Neb. @ Slowdown
Nov. 3 Minneapolis, Minn. @ Skyway Theatre
Nov. 4 Chicago, Ill. @ Bottom Lounge
The Devil Wears Prada "No Sun / No Moon" Tour Poster
The Devil Wears Prada - Wikipedia: Fact or Fiction?
50 Most Game-Changing Hard Rock + Metal Albums of All Time