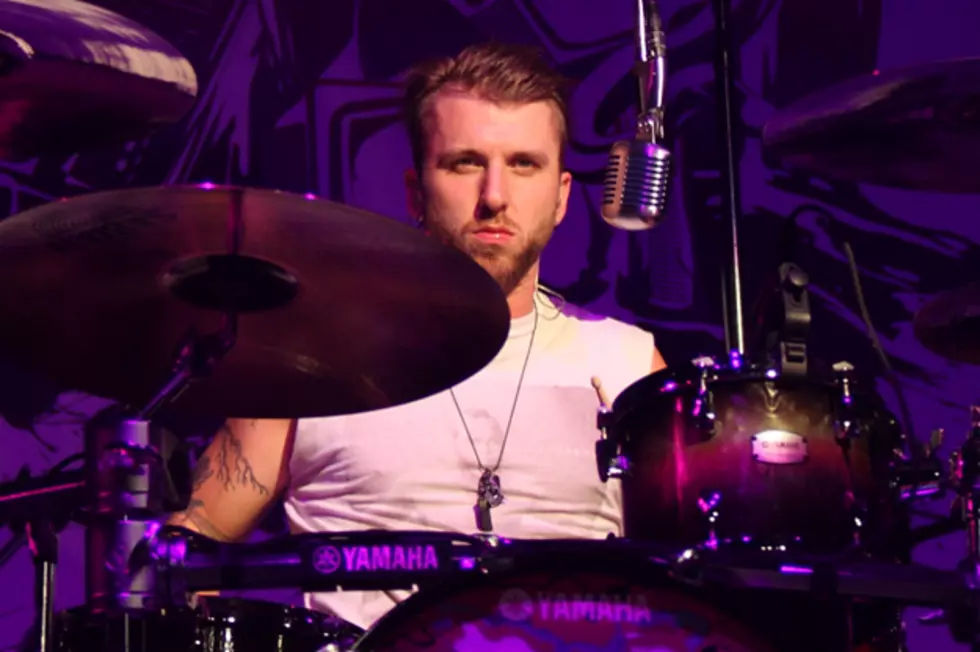 Three Days Grace Drummer Neil Sanderson Reflects on an Eventful 2013
Mary Ouellette, SheWillShootYou.com
Loudwire proudly welcomes Three Days Grace drummer Neil Sanderson as a new guest columnist. The stickman will keep us up to date on the next 3DG album as the band is busy working on the new disc. But for his first piece, Sanderson has reflected on the tumultuous yet rewarding year that was 2013 for Three Days Grace. Read his debut column below:
2013 has been a pivotal year for Three Days Grace. The year has been a great mix of touring, writing, and enjoying the new chemistry born from bringing in Matt Walst as the frontman. Since he joined us in January, we've played 80+ shows with him! The reaction from fans has been amazing, and the vibe on the bus has never been better.
Looking back on the last year, it was an obvious fit for us to bring Matt in on vocals. He has brought a rejuvenated energy to the live show, and the songs we've been writing with him have this aggression and heaviness that we're super stoked about. For us, Matt is family, he's been a collaborator with 3DG since the beginning, and he's been through all the same ups and downs that we have over the years.
I think it was Boxing Day last year when we sat down with Matt, and we were like, "Hey dude, we have a huge tour lined up with Shinedown that starts in like 5 weeks….what are you up to??" lol. That's when we decided that we would forge ahead and blow the doors off this thing. We moved into a rehearsal space and got to work right away. I remember about a week into rehearsals, Brent from Shinedown called me up to let me know that they were in full support of what we were doing, and that he and the guys were excited to bear witness to the new rebirth of 3DG. So we packed our bags, jumped on the bus, and the Three Days Grace, Shinedown, and P.O.D. tour was under way.
It was a f---ing blast! We were selling out arenas all over the U.S., and having a good time in the process. We hadn't really spent much time with either band, but we instantly gelled with everybody. I think we played 31 shows on that tour. Not to mention that we've always been huge fans of P.O.D and to bro out with Louie Dread and the boys every night was a lot of fun.
A couple shows definitely stand out as highlights for 2013 in my mind. Rock on the Range in Columbus, Ohio, in May was one of them for sure. We've played it before, but this time was special. 35,000 fans singing every word to every song is a powerful thing. I was a Smashing Pumpkins fan in high school, so sharing the stage with them was cool too. Another big one was Vegas on July 4th up on Freemont Street, as part of UFC week. It was a big outdoor show … and it was 115 degrees out there … definitely the hottest f---ing show we have ever played. I think I lost 8 pounds in about 90 minutes. But a big crowd of sweaty drunk people and rock music kind of goes hand in hand, doesn't it?
Between touring and doing a ton of writing, we've been workaholics this year. We generally don't stop working on music ever. We did a lot of songwriting on the road this time around, and I guess we've pretty much kept the same writing process going, where we all bring ideas to the table, whether it's music, lyrics, melody, or just something in your life that you wanna write about, and then as a team we pick out the best stuff and focus all of our attention on it until we think it's awesome.
I actually think the next album is gonna be a bit heavier and more aggressive than our last couple records. It's just kinda how the music is shaping up at the moment. I can't quite put my finger on why that is; maybe it's where are heads are at, perhaps it's the music we've been listening to in our dressing room lately…lots of Nine Inch Nails, Pantera, Deftones, Korn … Bring Me the Horizon put out a record that slays! As a band, I guess we like a lot of the same music. We generally play really heavy s--t before we go onstage, then something mellower after the show…Bob Marley, Pink Floyd etc.
Speaking of NIN, a few of us went to see them at Bridgestone Arena in Nashville a couple months ago. It's was absolutely wicked! Seeing a show like that reminds me why we do what we do. Tons of intensity onstage and all those songs that I grew up listening to. Go listen to 'A Terrible Lie' and 'Wish' right now, and then picture it with an epileptic light show!
Anyway, it's December already, and it's crazy to think about how this year panned out. It's pretty awesome actually. We're playing several homecoming Canadian shows at the moment, which we haven't done in a while since we've been so busy in the U.S. If I were looking into a crystal ball right now, I'd say that 2014 will include a large rock show on a cruise ship, thousands of hours in a studio with no windows, and quite possibly a brand new record.
Our thanks to Neil Sanderson for contributing his first column to Loudwire. Click here to check out Three Days Grace's current tour itinerary, which includes a stint on the 2014 ShipRocked cruise. And if you haven't already picked up the band's hit-filled album, 'Transit of Venus,' visit iTunes to purchase a copy.