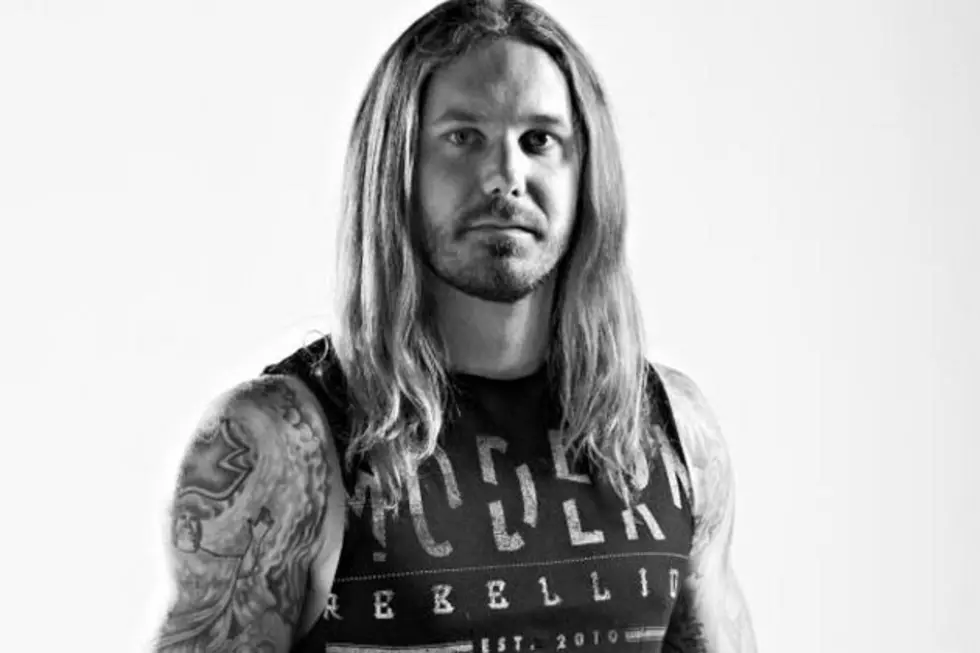 Tim Lambesis Murder-for-Hire Trial: Alleged Hitman Hiring Detailed From Court Proceedings
Facebook
We've got an update on the Tim Lambesis murder-for-hire case. The As I Lay Dying vocalist's next court appearance has been postponed yet again, but some incredibly comprehensive details have been released telling the story of how Lambesis allegedly solicited a hitman to murder the vocalist's wife.
On May 7, 2013, the music world was shocked as Tim Lambesis was arrested on murder-for-hire charges. After making bail, Lambesis was placed on house arrest as the singer's hearing was scheduled to continue. Most recently, further proceedings have been pushed back multiple times, with Lambesis now scheduled to return to court on Feb. 25 for a readiness hearing that was set to take place today (Feb. 19). As of this posting, no reason for the delay has been made public.
As for the new details regarding Lambesis' alleged hiring of a hitman, which turned out to be an undercover cop, Radio.com has put together the story by compiling court transcripts and file documents. The story begins with a conversation Lambesis had with an associate named Brett and ends with the correspondence the metal singer had with the undercover officer.
A man named Brett said he began working at a California gym in February of 2013, he described himself as a trainer. Attorneys hinted that Brett was a supplier of steroids and possibly other drugs for persons at the gym. Brett denied that claim.

The gym is called Pure Fitness, located in the seaside town of Carlsbad, CA. Brett said he became acquainted with Lambesis, who exercised at that gym, about a month after he started there. By the next month, Brett said he heard talk about Lambesis' troubled marriage, and specifically that Lambesis would "be doing better if his wife was taken care of."

Brett claimed it was Lambesis who contacted him. "He contacted me via text asking me if he could talk to me." The two arranged to meet in the parking lot at the gym.

Lambesis brought his girlfriend with him that evening. It was about dusk on April 22 and he was living with girlfriend Amanda in a home in Carlsbad at that time. Amanda went into the gym to exercise while the men stayed outside. "Just myself and him," Brett remembered. "He began by asking me if I knew why I was there. I made the comment that I was hoping it wasn't to kill anybody."

"He said that that was funny and that was exactly why I was there." Brett saidLambesis spoke of his failing marriage. "We had a discussion and he proceeded to tell me about his relationship with his ex-wife and how it had deteriorated." Actually, Tim's wife Meggan Lambesis had filed divorce paperwork eight months earlier, but they were still married.

Brett said Tim Lambesis told him, "He had been seeing another woman. And they had split up. And they had three children. And he was not happy and he wanted to make sure that the kids had one healthy relationship instead of two bad ones." Tim reportedly complained that his wife was spending all their money on divorce attorneys.
Brett understood that Lambesis wanted someone to "get rid of her, kill her." Brett said he told the rock singer, "That's not my thing, I'm not involved in any behavior like that."

"I'm a body guard, not an assassin." Brett said he sees himself as a protector.
But Lambesis was persistent, according to Brett. "He wanted to know if maybe I could find somebody to do it for him. He knew I knew people was his comment. I know you know people so maybe you can help me." The two men spoke for about 20 minutes that evening.

Soon afterwards, Brett became nervous. "I thought that he was going to go through with it, with or without me." Brett said he got advice from an attorney. "She said I needed to get a tape recording of that, otherwise, I'd be an accessory to murder if it happened."

So Brett said he initiated another contact, and two days later he met again withLambesis, this time at a bookstore in Oceanside. It was a Barnes & Noble. Tim Lambesis brought his girlfriend Amanda again. She was told that the men were going to talk about music and motorcycles, and since she was not interested in that kind of conversation she waited outside in the car, according to a detective's statements later.

"We went in the back and had a conversation and started talking about the situation at hand and about him." Brett claimed that he offered alternatives on handling the situation, "go to counselor, talk to somebody, get help." But Lambesis would not be dissuaded, according to Brett. Lambesis complained about Meggan. "His wife was keeping him out on tour because of the money, to generate money. And he had three bands and he wanted to stay home and produce instead of traveling." Tim complained he wasn't allowed to take the children on tour with him.

"At the end of that conversation when I saw that he was not veering from killing his wife, I told him I had somebody in mind for him, yes." Brett named a fictional hitman he called "Red." Tim "was all for it," Brett remembered.

Brett said he made one more phone call to Tim, asking permission to give "Red" his phone number, and Lambesis okayed it.

A San Diego County Sheriff's deputy played the part of "Red." The stocky man has a long, reddish beard and the scruffy appearance you would expect of an undercover officer. Red said he has been a peace officer for thirty-three years.

Red said he phoned Timothy Lambesis on May 7, 2013. Lambesis had just returned from a tour the day before. "I told him I was Red and had been told to give him a call." The undercover officer set up a meeting. The first hour Red suggested they could meet was rejected because Lambesis said he had to go pick up his kids, so they moved the meeting up to 2 o'clock. It would be at the same Barnes & Noble bookstore.

"I asked him to bring photographs of the individual we were talking about and I asked him to bring the address for the individual and a thousand dollars." That was not intended to be the total fee, "It was a down payment for me to do a couple of days work." The total cost was set at $20,000 – which Lambesis agreed to "immediately," according to Red.

The men talked in the music section of the store. "He told me he wanted his wife gone." Lambesis did not have a method in mind. "I did ask him what he wanted me to do specifically and he said that was up to me."

"During our conversation he told me that he had picked out three dates that were good dates for him, for me to kill his wife. Those were the dates that he would have his children and therefore, he would not be a suspect in the case."

The undercover officer tried to get Lambesis to use the word "kill" or "dead" during their conversation, which he said was recorded, but Lambesis resisted. "But he continued to say repeatedly that, I want her gone. I want her never ever, ever to come back."

Then Lambesis started to walk away. "So, as he was leaving, we got about fifteen or twenty feet away from each other and he turned back to me and he goes, "Just to clarify, just so you know, I do want her dead.'"
According to Radio.com, Tim Lambesis can be sentenced to a maximum of nine years in prison if convicted of "soliciting another to commit and join in the commission of the murder."