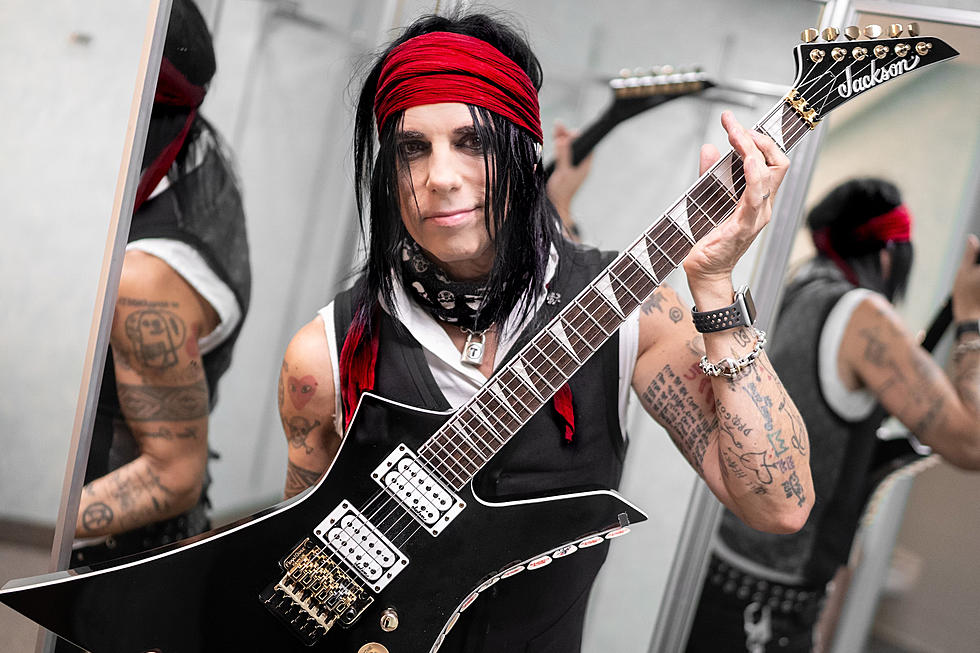 Tommy Henriksen Says Working With Mutt Lange on New Crossbone Skully Album 'Made My Life Complete'
Better Noise Music
While many fans may recognize Tommy Henriksen as one of the incredible guitarists in Alice Cooper's band and a member of the Hollywood Vampires, he is elevating his name to new levels with the project known as Crossbone Skully.
"I'm always just trying to do my best," Henriksen told Chuck Armstrong on Loudwire Nights on Wednesday (Nov. 1). "Keith Richards, Angus Young, all my heroes. You mix all that stuff up and go."
It's his love for Young that really drove Henriksen to launch Crossbone Skully. While soundchecking at past shows, he and his bandmates would jam AC/DC tunes — and apparently, they sounded so good that others came to him and said, "When are you gonna do this for real?"
"I went home two weeks later and I was like, 'You know what? Let me sit down,'" he explained. "The hard thing about when you're writing AC/DC style music, everybody thinks it's simple. That stuff is so complex because it's simple. It takes a genius to simplify and an idiot to complicate."
The first song Henriksen wrote was "The Boom Went the Boom."
"That turned into other songs and the next thing I know I got like 17 songs. I never thought I was going to do this, it just happened."
Mutt Lange Came Out of Retirement to Work With Crossbone Skully
As surprising as it was to Henriksen that he ended up with so many songs, there was something else that seemed to keep happening that left him even more humbled: People kept telling him how good these new songs were.
Eventually, famed producer Mutt Lange said the same thing to Henriksen.
"I was just gonna put it out, release it, and then I said to [producer and songwriter] Tommy Denander, 'Why don't you send this to Mutt, see what he thinks.'"
Denander did and the next thing Henriksen knew, Lange called him.
"He doesn't like to talk about a lot of stuff — it's like Fight Club stuff," Henriksen said. "He called me up and he said, 'I think there's something here.' And that's when I went, 'Oh my god.'"
READ MORE: Mick Mars Celebrates New Solo Music + Discusses Motley Crue
Henriksen admitted to Chuck that he cried tears of joy many times in front of Lange, who ended up serving as executive producer of Crossbone Skully's debut album, due in 2024.
"It's never been about money with me or anything — it's about the music. When Mutt called, you know what? That made my life complete."
What Else Did Tommy Henriksen Discuss on Loudwire Nights?
What role photographer Ross Halfin played in the development of Crossbone Skully
What Henriksen has learned from Alice Cooper, Johnny Depp and others
How he got Def Leppard's Phil Collen to contribute to "The Boom Went the Boom"
Listen to the Full Interview in the Podcast Player Below
Tommy Henriksen joined Loudwire Nights on Wednesday, Nov. 1; the show replays online here, and you can tune in live every weeknight at 7PM ET or on the Loudwire app; you can also see if the show is available on your local radio station and listen to interviews on-demand. Stream "The Boom Went the Boom" at this location and then pre-order the 7-inch for the song.
10 Signs You're a Fan of Tool
Gallery Credit: Jordan Blum
Top 40 Albums of 1983
Pop, new wave, punk and rock collided in a year that opened possibilities.
Gallery Credit: Michael Gallucci