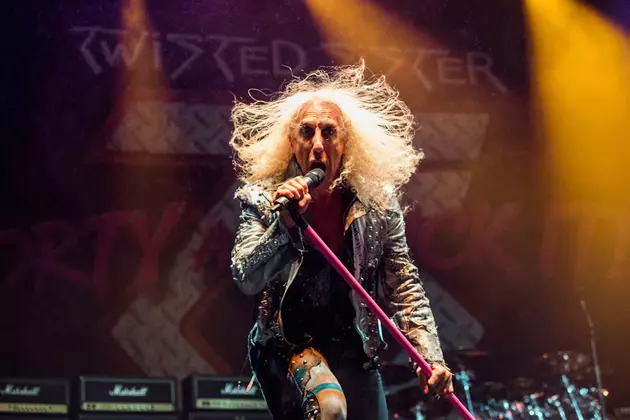 Twisted Sister's Dee Snider on Conclusion of Farewell Tour: 'Glad to Cross the Finish Line, Sad to See it End'
Gus Griesinger of www.backstageaxxess.com
It's been a rough year for rock fans with the losses of so many iconic artists as well as a handful of bands hanging it up for good in retirement. Twisted Sister had announced this year would mark their final tour ever, dubbed "40 and F--k It," and they played their final show over the weekend in Monterrey, Mexico as part of the Corona Northside Rock Park Meeting Fest.
The band responsible for delivering ageless, transcendental rock classics like "We're Not Gonna Take It" and "I Wanna Rock" performed these songs for the last time together on Nov. 12., alongside a bevy of other notable hits like "Burn in Hell," "You Can't Stop Rock 'n' Roll," "The Price" and set closer "S.M.F." (see full setlist and footage below).
Frenetic frontman Dee Snider tweeted about the gig the night before (seen below), stating, "After 40 years, the final Twisted Sister show is tomorrow night. Glad to cross the finish line, sad to see it end."
Following the festival gig which marked Twisted Sister's final show of their storied career, Snider tweeted (seen below), "You always remember your last! Gracias Monterrey!" Drummer Mike Portnoy, who sat-in in place of the departed A.J. Pero, tweeted (seen below), "Thank you Dee, Jay Jay, Eddie, Mark, A.J., the TS crew, family and SMF's all around the world!" to which Snider responded (also below), "And thank you for honoring the late A.J. Pero the way you did. We couldn't have crossed the finish line without you," and noted the drummer was a class act.
With Twisted Sister's career officially in the past, Dee Snider will remain active as a solo act. The icon released his latest record, We Are the Ones, on Oct. 21 earlier this year, which can be purchased at Amazon or digitally through iTunes.
Twisted Sister, "We're Not Gonna Take It"
Twisted Sister, "The Price"
Twisted Sister Setlist, Nov. 12, 2016
01. What You Don't Know (Sure Can Hurt You)
02. The Kids are Back
03. Burn in Hell
04. Destroyer
05. You Can't Stop Rock 'n' Roll
06. The Fire Still Burns
07. I Am (I'm Me)
08. We're Not Gonna Take It
09. The Price
10. I Believe in Rock 'n' Roll
11. Under the Blade
12. I Wanna Rock
13. S.M.F.
See Where Twisted Sister Rank Among the Top 50 Hard Rock + Metal Live Acts of All Time
See Dee Snider in 13 Kings of Stage Banter