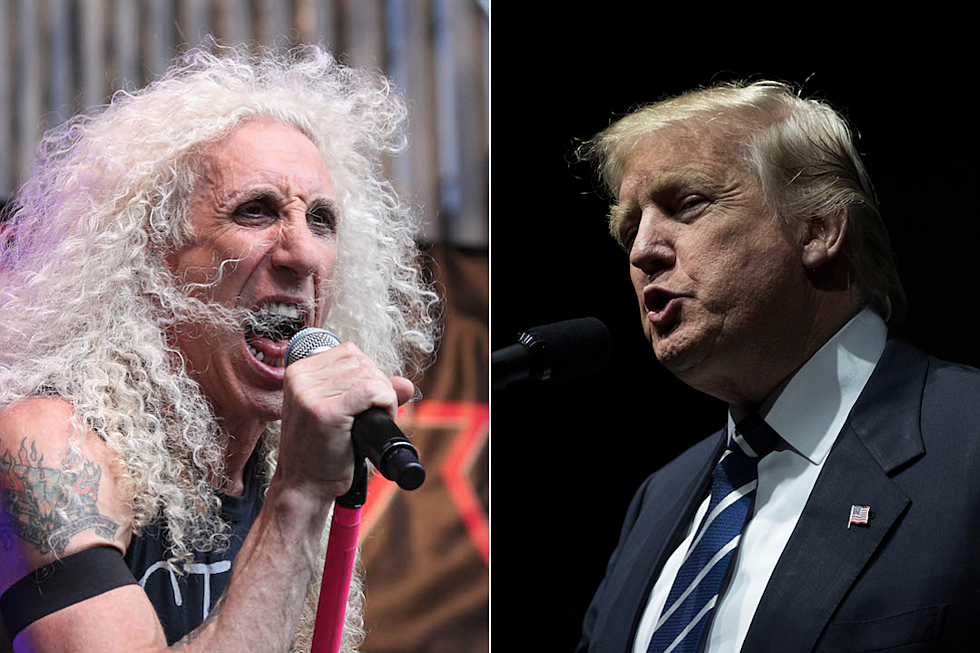 How Twisted Sister Dodged Publicly Shaming Donald Trump Into Ceasing Use of 'We're Not Gonna Take It'
Rob Kim / Drew Angerer, Getty Images
As we approach the inauguration of President-elect Donald Trump, plenty of attention has been drawn to the ceremony and the "welcome celebration" taking place the day prior, which will feature a performance from 3 Doors Down among many others. Finding acts willing to play was troubling, as was Trump's usage of numerous songs during his campaign, like Twisted Sister's "We're Not Gonna Take It," which the band had asked be stricken from his playlist. Twisted Sister guitarist and manager Jay Jay French has now offered information as to how and why they asked Trump to cease using this anthem.
In a piece penned for Forward, French recalled Trump first using the iconic "We're Not Gonna Take It" and how singer Dee Snider had allowed this to happen, causing an "uproar that gathered volume" amongst their fans. "Dee noted that Trump, whatever you think of him, is an outlier who bucks the system. So, in his own particular way he represents rebellion — the hallmark of the message that Twisted Sister always tried to foster," French continued.
Elaborating on the trend of politicians selecting songs as their campaign theme, the guitarist said, "Anyone, including politicians, who hold rallies at venues that pay BMI or ASCAP fees can request to have any of the millions of songs available played," adding, "No permission has to be asked or, for that matter, given."
French explained how artists typically resort to "'public shaming' of the politician or personality" because they don't usually own the rights to their music. "That means publishing a statement that repudiates the person using the song and, in so doing, creates enough bad press that he or she just stops using it," he said, recognizing that this method "is a pretty effective PR device that always seems to work."
Considering that Snider was a contestant on the Trump-hosted Celebrity Apprentice and that Trump helped Snider raise a significant amount of money for St. Jude's Children Hospital, French noted that this "put Dee in a tough position."
"We're Not Gonna Take It" has been licensed and played all over the world in TV shows, movies, commercials and more, but the political cause was different "because the band's personal political leanings have always been all over the map," says French. "We have never allowed the song to be 'officially' used by any political group, left or right."
"Therefore, with the band's full support, Dee asked, in a private conversation, that the song be withdrawn from the Trump playlist," continued the Twisted Sister guitarist. "It didn't need the press. It didn't need public shaming. But our song stopped getting played and didn't become the anthem of the Trump campaign."
In closing, French stated, "For one of the louder, brasher bands of the past few decades, we chose not the loudest way, not the sexiest way, not the PR dream way, to avoid that particular legacy. We chose just the way it needed to be."
Twisted Sister wrapped up their farewell tour last year with Mike Portnoy manning the sticks in place of late drummer A.J. Pero. The night before the band's final performance, Snider tweeted a message stating, "Glad to cross the finish line, sad to see it end," as they leave behind a legacy as one of metal's fiercest live acts with timeless hits like "We're Not Gonna Take It" and so many more.
10 Bands Who Told Politicians to Stop Using Their Music
Twisted Sister Albums Ranked