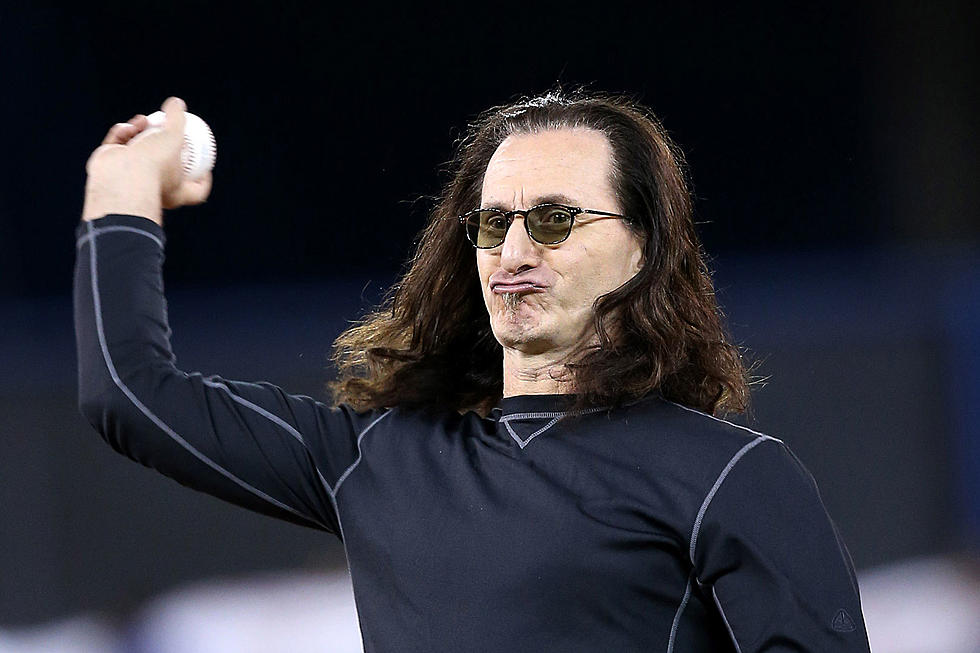 What Geddy Lee Is Keeping + Auctioning From His Impressive Baseball Memorabilia Collection
Tom Szczerbowski, Getty Images
Rush's Geddy Lee may have a history full of memories in rock, but as a lifelong baseball fan, he's become a massive collector of memorabilia and he's getting ready to part with some truly historic items as part of an upcoming Christie's auction.
Speaking through his social media, the Rock and Roll Hall of Famer noted, "It's been an education and privilege for the past 35 years to amass a wonderful and supremely mammoth collection of baseball memorabilia. Yet, I've decided it's time to move some of it on for other collectors to enjoy. I admit I'm a crazy person, who's been obsessed with the acquisition of many, MANY, fascinating things. Most recently, of course, a wonderful collection of vintage bass guitars. Yet, you just can't have it all! What an effin' blast it's been, but I must have had too much stuff because after these selections were sent to Christies my wife stepped into my office and said, "Hey! I thought you were selling some of your collection?? " … Uh, yeah Honey, I am…. Oopsie!"
What's Going on the Block?
Per The Athletic and Christie's, the Rock and Roll Hall of Fame bassist is selling many of the baseballs in his collection, including several that have been signed by U.S. Presidents John F. Kennedy, Harry Truman, Franklin D. Roosevelt and Lyndon B. Johnson.
He's also selling the "final out" balls from both of Johnny Vander Meer's back-to-back no-hitters. There's a Hank Aaron Braves jersey from when the home run king smashed his 500th home run ball.
There's some musical history with a ball signed by all four Beatles members from their historic Shea Stadium performance in New York in 1965. He's got a trophy presented to notorious Chicago "Black" Sox star "Shoeless" Joe Jackson and there's jerseys from Babe Ruth, Lou Gehrig and Josh Gibson. Plus, Satchell Paige, Mickey Mantle and Lou Gehrig bats are on the block as well.
A rare Babe Ruth Brooklyn Dodgers uniform is expected to fetch between $750,000 and $1.5 million. Aaron's 500th home run jersey is estimated to reach between $500,000 and $1 million in bidding. The Gehrig bat could hit somewhere between $400,000 and $600,000 in bidding.
Take a closer look at some of the more than 300 items on the auction block available through Christie's. The items are on display from Nov. 21 - Dec. 7 before hitting the auction block on Dec. 6 as part of the Geddy Lee Collection and Important Baseball Memorabilia sale.
What Items Will Geddy Lee Be Holding Back From Auction?
As you might expect, there are certain items in the collection that hold a sentimental value, one that it might be hard to put a price tag to. While speaking with The Athletic about his overall memorabilia collection, Lee relayed the story of a baseball signed by pitcher Bert Shepard. Even the most avid of baseball fans might struggle to recall Shepard, but the baseball itself comes with an amazing story.
When Shepard signed the ball, he shared his life story on the item. As Lee shared, reading from the ink, "I lost my right leg being shot down over Germany in World War II. I got a new leg and pitched for the Washington Senators. And then on August 14, 1945, gave up one run and three hits in five and one-third innings."
"To me, it's kind of just a miraculous thing," Lee said of that signed baseball.
Per the Athletic, the Rush bassist says that through his connections in the game, he's often gifted baseball artifacts as well, and says he has no intent on selling items gifted to him.
"I kept a lot of personal things, and a lot of things that I felt my grandson perhaps would be interested to take over eventually in time," Lee said.
"Those are symbolic of the life of a person, to me," Lee said. "I sit in the stands as a fan, and I marvel about the beauty of the sport and the grace with which it's played. In almost every game something happens that you've never seen before. I mean, what sport can really boast that? That's baseball to me."
READ MORE: Pro Baseball Player Air Drums to Rush Like a Champ
Rush's Geddy Lee Has Added to Baseball History
One of the most iconic pieces of baseball memorabilia that Geddy Lee has owned as part of his collection is a baseball signed by every member of baseball's 3,000 hit club. That's an extremely rare item in baseball history with the baseball being passed along through generations with early stars such as Ty Cobb, Eddie Collins and Tris Speaker among those signing the baseball.
But baseball history keeps happening and Lee says during his ownership of the baseball, he's made sure to add the signatures of Ichiro Suzuki, Miguel Cabrera and Albert Pujols.
"It's a big job to keep adding to it," Lee said. "And I'm running out of space, too!"
As for why he's decided to put some of the items from his massive baseball memorabilia collection on the block, Lee says, "The items I collected over these years, I collected with passion, I collected with love, and I just have too much! It's time to share with the world again. And that's fine."
Get more info on the Christie's Auction here.
Top 66 Rock + Metal Bassists of All Time
Counting down the very best bassists in rock and metal history.
Gallery Credit: Loudwire Staff