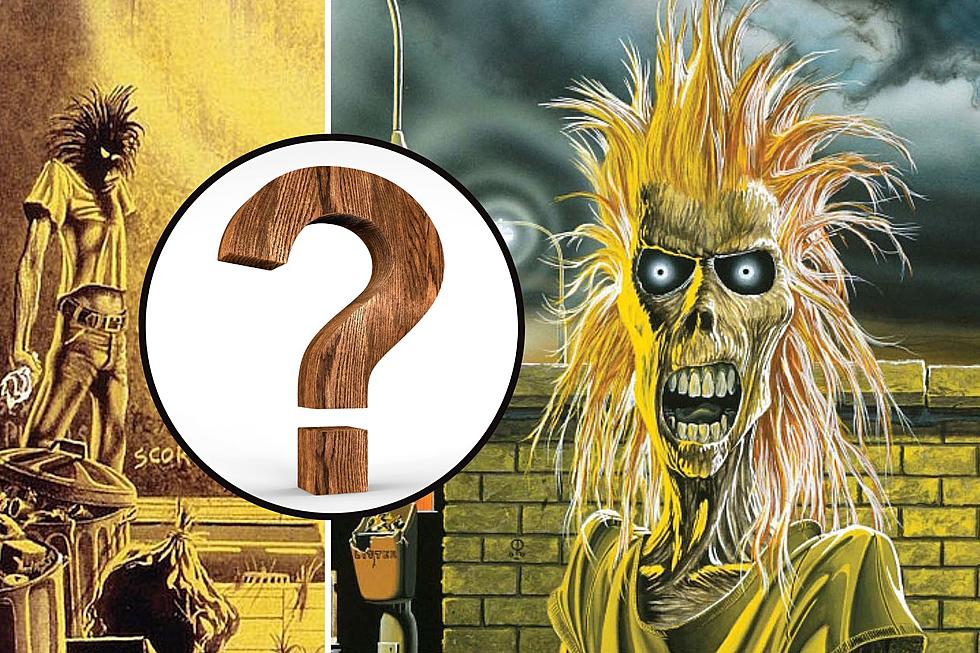 Where Did Iron Maiden's Mascot Eddie Come From?
EMI / Canva
Where did Iron Maiden's mascot Eddie come from?
Let's find out!
Who Is Eddie + Why Is the Mascot Significant?
Eddie (Eddie the Head if we're being formal) is the long-running mascot for British heavy metal legends Iron Maiden.
Over time, Eddie has become synonymous with the group and is one of the biggest pieces of iconography in metal. Not only has the mascot graced countless pieces of official album and single artwork, but various versions of Eddie have appeared onstage (on backdrops and as props), on T-shirts, in video games and heaps of other merchandise.
Why Is He Named Eddie?
Eddie the Head, or, if you're from London, Eddie the 'Ead, as the accent has it.
It has also been suggested that the name came about from a popular British joke about a baby born with only a head and a promise made by a doctor to supply him with a body once he turns 5 years old. Nicknamed Eddie the 'Ead, resting on the mantle, dad makes a special birthday announcement about a surprise for Eddie, who hopes it isn't another hat.
Brits are known for their deeply dry sense of cheeky humor and, being big fans of Monty Python. Iron Maiden are no exception.
When Did Eddie First Appear with Iron Maiden?
In Concert:
Eddie has rather simple origins as a light theatrical stunt that would accompany live performances of the song "Iron Maiden."
Prior to the arrival of singer Paul Di'Anno, who is on Iron Maiden's first pair of albums, Dennis Wilcock manned the post from 1976 until 1978.
"Quite early on, we had a Kabuki type mask. After Dennis left the band, we could still incorporate the blood capsules through the mouth of this mask. We had a fish pump that pumped the blood out and it used to go over the drummer's head and stuff like that. I remember Doug Sampson was complaining about it because he had blonde hair, so he didn't want it all in his hair and it would go over his head," Maiden bassist and founder Steve Harris said in the band's Early Days documentary.
After earning more money by playing gigs, Iron Maiden invested it back in the band and put the mask up on a rectangular logo sign outlined in white bulbs and pumped red smoke out through the mouth when playing the song "Iron Maiden."
In Artwork:
Eddie first appears as a shadow-faced figure on Iron Maiden's "Running Free" single and was placed into proper view for the first time by visual artist Derek Riggs, who fashioned Eddie as a punk-edged rocker on the band's 1980 self-titled debut. At the band's request, Riggs added more hair to the original piece of art to fit more in line with Maiden's style and image.
Riggs originally conceived the drawing for use for a punk album, inspired by an image of a Japanese soldier's head on U.S. tank.
Who Else Has Drawn Eddie?
After the release on 1990's No Prayer for the Dying, Iron Maiden branched out beyond Riggs and have worked with several visual artists and animators over the years, each of whom have put their own unique stamp on the revered mascot.
Melvyn Grant, Mark Wilkinson, Hugh Syme, Tom Adams, Bob Cesca, Dave Patchett (uncredited on Dance of Death) and Tim Bradstreet have all contributed to the ever-changing look of Eddie.
Iron Maiden's Eddie - A Look at Over 40 Years of Metal's Best Mascot
Iron Maiden's undead mascot Eddie, as seen on single and album art throughout the band's 40-plus year history.