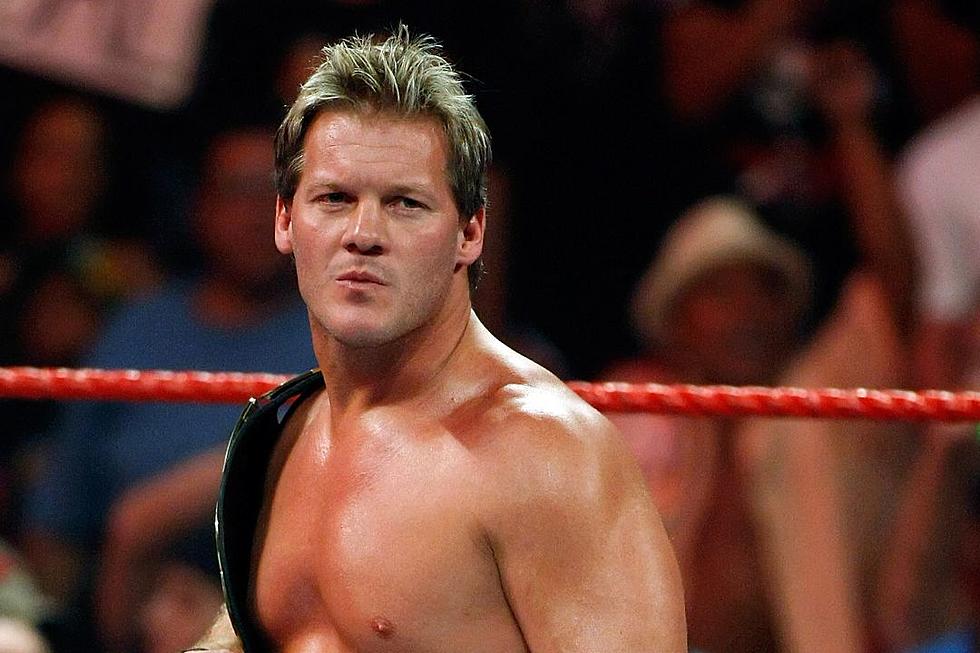 Why Did Chris Jericho Leave the WWE? Wrestling Superstar Explains His Risky Move to AEW
Ethan Miller, Getty Images
Chris Jericho is opening up about his decision to walk away from the WWE and join competitor AEW.
During a recent interview on The Allison Hagendorf Show, Jericho was asked about the greatest risk he's ever taken.
"Probably leaving WWE to go with AEW. We didn't even have TV at the time. Just my boss, Tony Khan, had a lot of passion, and he had the money for it, and we had a roster of guys that I felt could do something. When I got involved, we were able to get on TBS and kind of went from there," the 52-year-old wrestling icon admitted.
Why Did Chris Jericho Leave WWE?
"So I just think it was one of those things where I thought, 'I've done all I can do in WWE, and I can stay here, but I don't want to just stay here. I don't want to just be a guy. Let's try and change history. Let's make wrestling a better industry,'" Chris Jericho explained on The Allison Hagendorf Show.
Jericho said that AEW is a "viable second company" where athletes can grow while fans watch.
"But it was a real risk, man, because WWE had such a monopoly for so many years. For us to come in there and get such a great demo and a great fan base out of the gate is something I don't think anybody really expected. They thought we'd be dead and gone in six months," he added.
Watch Chris Jericho's interview here:
Chris Jericho Guests on The Allison Hagendorf Show
Will Chris Jericho Come Back to WWE?
Chris Jericho's final match with WWE took place in 2018. He signed with AEW in January 2019.
In 2022, the Fozzy frontman extended his contract with AEW, locking him into a deal with the company through 2025.
As part of the deal, Jericho will be an on-air performer as well as producer and mentor for young talent.
READ MORE: Fozzy's Chris Jericho Recalls the Embarrassment of Playing for 7 People
It's unlikely, then, that Jericho will return to WWE any time soon.
Speaking to Daily Star earlier this year, Jericho said he has "zero interest" in returning to WWE.
"I don't hold a torch for WWE. To me, that's not 'the place to be.' AEW is the place to be. It really is," he said.
What About Chris Jericho's Music?
Outside of the wrestling world, Jericho continues to pursue music as the frontman for Fozzy. The group is currently in the midst of a U.S. tour in support of 2022's Boombox album. Dates can be found below and ticketing details can be found here. In addition, Jericho will continue to marry the music and wrestling worlds together when he sets out on his annual cruise in late January.
Fozzy 2023/2024 Tour Dates
Oct. 26 – Des Moines, Iowa @ IA Wooly's
Oct. 27 – Lincoln, Neb. @ Bourbon Theater
Oct. 28 – Sioux Falls, S.D. @ Icon Event Hall
Oct. 29 – Minneapolis, Minn. @ Lyric Theater
Oct. 30 – Fargo, N.D. @ Sanctuary Events Center
Nov. 02 – Lansing, Mich. @ Gewal Hall
Nov. 03 – Madison, Wis. @ The Annex
Nov. 04 – Wyandotte, Mich. @ District 142
Nov. 05 – Versailles, Ohio @ BMI Event Center
Nov. 06 – Memphis, Tenn. @ Lafayette's
Jan. 26-30 – Miami, Fla. @ Chris Jericho Cruise
LOOK: See the Most Famous Musician Born the Same Year As You
Stacker
identified musicians born in every year from 1920 to 2003 and determined the most famous born the same year as you.
Gallery Credit: Stacker