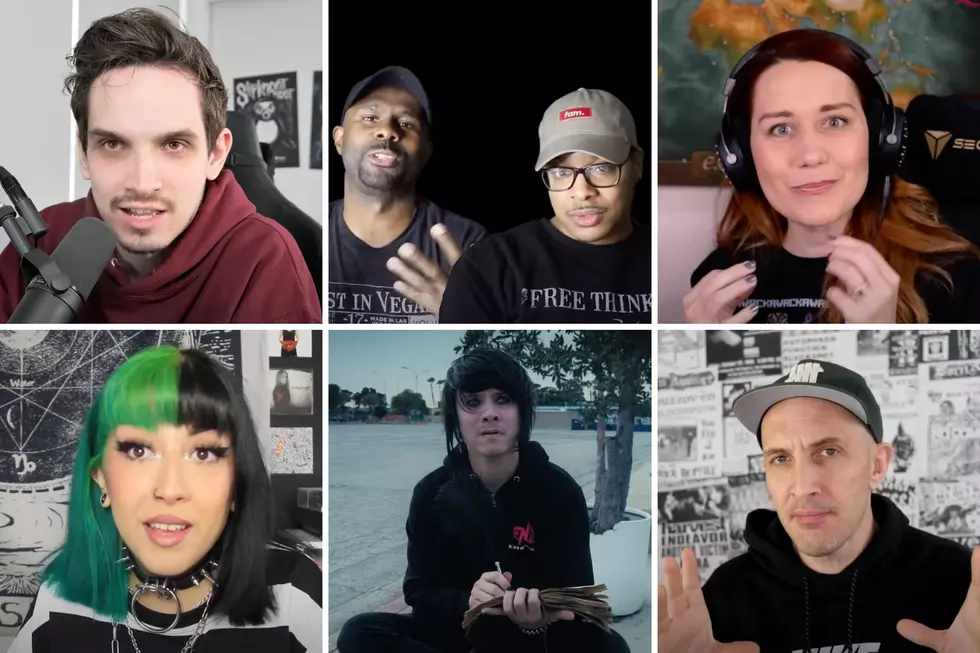 8 Reasons Why Being a Content Creator Isn't As Easy As You Think It Is
YouTube: Nick Nocturnal / Lost in Vegas / The Charismatic Voice / Yasmine Summan / Emo's Not Dead / The Punk Rock MBA
Being a content creator isn't as easy as you think it is.
The mark of true talent is the ability to make something very difficult and challenging look so easy that it has the appearance that perhaps anyone can do it and do it well. But that is far from true — we've all seen those lazy reactions channels where YouTubers sit there with an empty gaze, offering no commentary until the song is over while urging you to subscribe for more of the same zero-substance content.
So, what's the secret to success as a content creator?
To find out, we reached out to some of the leaders in content creation, each with their own niche within the rock and metal community — Lost In Vegas (George and Ryan), Nik Nocturnal, Yasmine Summan, The Charismatic Voice (Elizabeth Zharoff), The Punk Rock MBA (Finn McKenty) and Emo's Not Dead (Matt Cutshall) to uncover the truth about what goes into all these incredible videos that occupy fans' leisure time.
The depth of content covered by these six content creators is quite staggering, underscoring the importance of fostering a community and driving the conversations all of us rock and metal fans enjoy in our daily lives through much broader and often more informative means.
From song reactions to historical deep dives to playful skits centered around certain behavioral tropes to quirky guitar challenges to professional reviews of your favorite singers to weekly Twitch streams to social activism, it's hard to imagine how dull our digital world would be without its beloved content creators and their ridiculously hard work to keep us all entertained.
Learn from the very best why being a content creator is a lot harder than you think:
1. Content Creation Requires a LOT of Highly Specialized Skills
Nik Nocturnal: I needed to learn how to use a camera, editing, Photoshop, special effects and audio mixing as well as business oriented skills such as marketing and SEO.
The Punk Rock MBA: There's also writing and needing the ability to interpret the massive amount of data that YouTube gives you to understand the performance of your videos. Fortunately, I had about 15 years of experience in all of those things before I started.
Yasmine Summan: I am my own stylist, MUA, social media manager, PR, touring manager, photographer, researcher and video editor. I run an entire operation from my bedroom that huge companies build an entire salaried marketing team to do the same thing.
Charismatic Voice: In order to professionally analyze someone else's work, you need to be qualified to do so. I studied music and opera for eight years in college and performed internationally for over a decade. I've also continued to further my music education.
2. It Requires Tireless Dedication + Dozens of Hours a Week
The Charismatic Voice: Before I had a baby in 2022, I was working about 40 hours per week just on YouTube. I've cut that down to about 20 hours currently by outsourcing and hiring help. Community management — responding to comments, being present for live premieres, nurturing your followers on various social media platforms — is key to building your foundation.
Lost In Vegas: Factoring in social media management, filming, editing and meetings, at least 40 hours a week on average. However, we are both always researching, brainstorming and collecting data at all times.
Emo's Not Dead: At this point my social media, especially the Emo's Not Dead series, has become very close to a full time job. I personally spend about five to six hours a day on the project. My other two partners also work full time on the brand and we collectively work roughly 100 hours a week on this.
Nik Nocturnal: The hours I spend on each platform every week can vary based on the type of content I'm doing, but I usually work around eight to 10 hours a day, seven days a week across Twitch, Youtube, TikTok, Instagram, etc.
The Punk Rock MBA: I would estimate around 60 hours if you include all the related things like reading and responding to comments, fielding emails, and so forth.
Yasmine Summan: Alongside my 9-to-5, I spend 30 hours a week on all my content.
3. What You Think People Need Is Not Always What People Actually Want
The Punk Rock MBA: You may be tired of talking about Slipknot and MGK, but as anybody in the rock media knows [editor's note: we're listening!], those two topics are guaranteed views and if you don't talk about them you're just holding yourself back.
The Charismatic Voice: For the first two years of my channel, I was designing content (vocal education videos) that I thought people needed... but it wasn't what people were searching for. Once I tapped into what people were searching for (reaction videos), I re-thought my approach and started delivering reaction videos with vocal education weaved in. Only then did the channel take off.
4. Good Reaction Videos Are Difficult to Make
The Charismatic Voice: It's so hard to not listen to a song before hitting record! There are so many songs and artists I want to fill my ears with, but I don't want to ruin that first-time reaction.
Nik Nocturnal: You have to be able to add value to the content you're watching. It's super easy to just sit there and watch a video play and not say anything until the end where you go, "It's good, subscribe now. Thanks," but that doesn't do anything for the viewers.
People want entertainment, to be educated and to relate to the person who is listening to the song in a unique way. You have to ask, "What value am I adding to the video that will get people to watch this content regardless of the band?"
The Punk Rock MBA: Audiences don't actually want a genuine reaction, they want the creator to mirror THEIR reaction to the song. Criticism is usually met with a lot of angry comments. It's unfortunate that it feels like there's so much pressure to simply parrot the audience's opinion back to them rather than have a discussion about the merits and shortcomings of a song.
Lost In Vegas: Keeping our content balanced between the various genres of music we react to can be tough.
5. Becoming Profitable Takes a Long Time, Making a Living Off of it Takes Even Longer
Lost In Vegas: It was approximately two years before we became profitable.
The Punk Rock MBA: I got monetized in about a year. And because I did everything myself my costs were essentially zero, and I was profitable from that moment (although I was making almost nothing at that time).
Yasmine Summan: Too long! I spent a few years doing interviews and reviews over on Youtube that are now long gone and that were really never profitable because I don't think alternative music fans in 2016 were ready for a non-binary, brown interviewer that didn't appeal to the conventional white beauty norms in alt beauty, even back then!
Only in the past two years following Blackout Tuesday and the heightened awareness to racial inequalities both within alternative communities and the media industry have I been offered more profitable opportunities as a content creator.
Nik Nocturnal: It took me around 5 years to have a decently steady income and branch out to many different forms of income in order to have stability and do this for a living.
The Charismatic Voice: I remember getting my first paycheck from YouTube 2-and-a-half years after I'd started making regular content. I was thrilled!
Emo's Not Dead: I worked at social media for about four straight years making no money. Year four is when I started getting brand deal opportunities and truly became profitable. The Vine days were long gone before my END series took off, and it was a whole different part of my life. When Vine was taken away, all the content creators on the app had to start all over. We headed to platforms such and Instagram, Musical.ly (now TikTok), and Youtube in hopes of keeping our social media careers moving forward.
6. Copyright Laws Make Things Difficult
The Charismatic Voice: Copyright law is so challenging and tough to navigate and we've paid for legal guidance. Our videos are considered fair use, but we often have to wade through legalities in order to claim that. I'm really happy to see artists' rights protected, but I've also seen some companies flat-out abuse the system. We've had to fight hard to make connections with labels and PR in order to protect our channel and promote their artists.
Nik Nocturnal: For the first three years, I didn't make any money from my YouTube videos, but that was also because the majority of my content was using copyrighted material for my guitar covers.
7. Content Creators Can't Do It Alone - They Hire Help Just Like Any Other Business!
Yasmine Summan: It's hard to find people to work with me so closely on something that's essentially my own personal brand — you have to know me to market that. I trust my best friend Lillith (@vindictivevox) with my life and she is a media genius.
Lost In Vegas: We have a few freelancers that we work with who help us with our social media presence, some of our editing and our sponsorship integrations on the channel. It was about 3-and-a-half years before we hired help.
Nik Nocturnal: I've basically always been fully DIY except for sometimes working with people for tabbing out songs in bulk and my Twitch mods for the past year and a half who have helped keep the stream and community side of things organized to keep out bots and people breaking TOS for my Twitch channel and Discord channel.
Emo's Not Dead: In 2016, I invested in a full time cameraman. I hired my friend Fernando to live with me (rent free) and paid him a small salary to help me shoot all my content and we created over 3,000 videos. With Emo's Not Dead, I have a much larger team — a managing/producing partner who helps me book talent to appear in the END series, produce all of our video content and also curate live experiences such as our END Cruise we just got back from. I have a director of operations who runs our fulfillment center and merchandise side of things. I have a full time graphic designer who creates all of my merchandise and website assets, too.
The Charismatic Voice: I hired my first assistant 2-and-a-half years after creating regular content. We now have four people working full time, two part time contractors and another five contractors we regularly pay to help with our podcast, website, accounting, music video creation, and legal guidance.
The Punk Rock MBA: I have separate editors for each of my channels and my podcast, as well as an agent who handles all my brand deals. I did everything myself for the first three years. My editors are actually much better than I am and I should have brought them on much earlier. I take leadership very seriously, and I do my best to treat them with respect and keep them happy. Shoutout to Tim, Jaret and Deanna!
8. You Learn From Mistakes + Trial and Error. So, Any Advice for Aspiring Content Creators, What Do You Wish People Told You Before You Started?
Lost In Vegas: Establishing a strong and active social media presence from day one is VITAL to your brand's long term success. We worked on YouTube and essentially ignored all of our other social media accounts for years. That was a mistake.
The Charismatic Voice: Don't try to tell people what you want them to hear. Instead, ask people what they want then give them what they want, but in a way that you would like to hear it.
The Punk Rock MBA: A lot of people will tell you to create the content you're passionate about, but if you want anybody to care about your content you have to make content OTHER PEOPLE are passionate about. If that overlaps with your passions, great. But it may not and you have to go into this knowing that.
Yasmine Summan: It is competitive, biased and not stable. There are few actual friends to be had in this line of work who aren't willing to throw you under the bus the second it threatens to damage their own public reputation. I'm lucky for the friends I have found who also make content online and I cherish them deeply.
The internet and AIs are biased. It is twice as hard to make it as a queer/poc/woman/or really any minority. I feel like people don't say that enough because they don't want to admit that it is very harshly true. This shouldn't deter you and I'll say in my decade of being on the internet as a fan first, it's improved drastically. This field is very unstable financially when first starting out.
Nik Nocturnal: To have fun! When starting out, people get so fixated on what gear they need and fancy lights instead of just focusing on trying to make the most entertaining content that adds value to the content space that they have a passion for. Focus on making things that you as a consumer would want to watch instead of what you assume people want to watch.
Loudwire thanks all of the content creators who participated in this feature and thanks for all you do to keep fueling the rock and metal community!
Follow these content creators at these locations:
YouTube:
The Charismatic Voice
Emo's Not Dead
Lost in Vegas
Nik Nocturnal
The Punk Rock MBA / Finn McKenty
Yasmine Summan
Twitch:
Nik Nocturnal
The Punk Rock MBA / Finn McKenty
Twitter:
Emo's Not Dead / Matt Cutshall
Lost in Vegas
Nik Nocturnal
The Punk Rock MBA / Finn McKenty
Yasmine Summan
Instagram:
The Charismatic Voice
Emo's Not Dead / Matt Cutshall
Lost in Vegas
Nik Nocturnal
The Punk Rock MBA / Finn McKenty
Yasmine Summan
TikTok:
The Charismatic Voice
Emo's Not Dead / Matt Cutshall
Nik Nocturnal
The Punk Rock MBA / Finn McKenty
Yasmine Summan
Facebook:
The Charismatic Voice
Emo's Not Dead / Matt Cutshall
Lost in Vegas
Nik Nocturnal
The Punk Rock MBA / Finn McKenty
Discord:
Nik Nocturnal
The Punk Rock MBA / Finn McKenty
Website:
The Charismatic Voice
Emo's Not Dead
Lost in Vegas
The Punk Rock MBA / Finn McKenty
Yasmine Summan
Patreon:
The Charismatic Voice
Lost in Vegas
Nik Nocturnal
The Punk Rock MBA / Finn McKenty
Bandcamp:
Podcast:
Kickstarter:
Rock + Metal Bands That Have Played Over 2,000 Shows
How many of these bands have you seen? How many more than once?