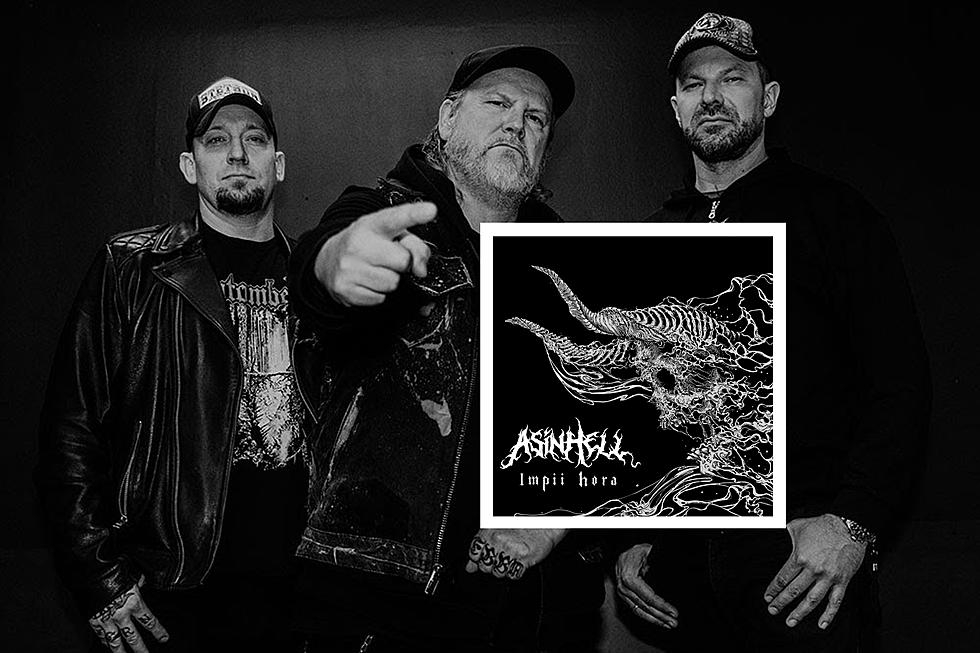 Win an Asinhell 'Impii Hora' Vinyl!
Metal Blade / Photo by Brittany Bowman
Volbeat may be ready for some well-deserved time off, but the good news is that frontman Michael Poulsen has something else on his plate for 2024. He's returned to his death metal roots, forming the band Asinhell with Marc Grewe and Morten Toft Hansen, dropping the band's debut album Impii Hora today (Sept. 29). Quite honestly, it's something you've gotta hear, and Loudwire Nights is making sure you're covered by offering a vinyl version as part or our latest Loudwire Record Club offering.
This album is simply packed with brutality, whether it be the darkly throttling album opener "Fall of the Loyal Warrior," the chugging standout "Island of Dead Men" or the blasting pit stirrer, "Desert of Doom." You'll want to crank this one all the way up and release your inner aggressions.
As part of this contest, we're giving three fans a chance to win standard vinyl editions of the band's debut album, Impii Hora, just primed for you to rock it out in all its glory. While tour dates have yet to be announced, Poulsen recently revealed he plans to spend some time on the road promoting the record in 2024. So this gives you a perfect chance to get primed for those forthcoming dates.
READ MORE: Volbeat's Michael Poulsen Lays Out 2024 Plans
So how do you get your hands on one of these vinyls? Simply fill out your details in the entry box provided below. You have until Oct. 3 at 10AM ET to enter, so make sure you do so before the clock runs out on this contest.
And just this reminder, you can hear Asinhell played as part of the Loudwire Nights radio show with host Chuck Armstrong. The show airs live every weeknight at 7PM ET or on the Loudwire app; you can also see if the show is available on your local radio station and listen to interviews on-demand.
Best Death Metal Album of Each Year Since 1985
Here's our picks for the Best Death Metal Album of Each Year Since 1985