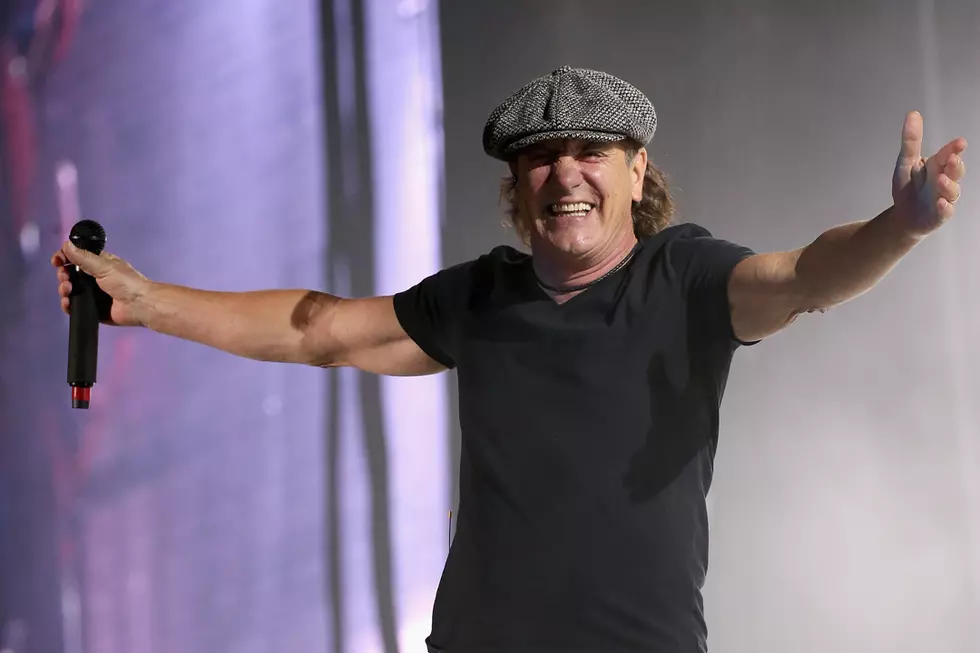 AC/DC Legend Brian Johnson Details Hearing Loss Struggle: Fluids Had Been Eating Away at My Ear
Frazer Harrison, Getty Images
As AC/DC soldier on with Axl Rose on lead vocals, legendary frontman Brian Johnson is still adjusting to life outside of the band. In the end, it was hearing issues which halted Johnson's career in AC/DC, and in a new interview, Johnson goes in depth about how it all happened.
Brian Johnson was advised by doctors to stop performing live or else he could risk complete and irreversible hearing loss. As suddenly as the news hit the media, it seemed like AC/DC were already making plans to move on without their vocalist in a move that left fans devastated across the globe.
During a chat with SiriusXM radio host Doron Levin, Johnson gave a detailed timeline of his continued hearing loss. The singer said his hearing issues began roughly eight years ago while racing at the Watkins Glen International. "For the first time ever, I forgot to put my earplugs in," Johnson describes. "After about 35 minutes, my left ear; a little pop. All that happened was I suffered tinnitus for about six or seven months, but it cleared up and I was fine again. We did another tour after that and I was fine."
However, Johnson soon began to suffer serious issues after one particular AC/DC gig. The vocalist was actually getting multiple injections into his eardrum when his doctor came up with a theory on how his hearing had deteriorated so quickly. "We were playing Winnipeg at his huge stadium outside and it was raining cats and dogs and it was absolutely freezing cold and I caught a fever," Johnson remembers. "Straight after the show we had to get on an aircraft and fly straight to Vancouver. Unfortunately, the fluids went up into my sinuses and then around my ear, but we had to carry on. We did a gig there and then we did San Francisco and then we did Los Angeles and then we came home for a two or three week break and then off we went to Australia and my ear still hadn't popped."
Johnson continues, "Dr. Chang found out that the fluids had crystalized and had basically been eating away at my ear. I had tubes in my arm. I was getting liquids and steroids into the system to try and break it down and clear it up. But he did look me in the eye with the horrible look that doctors have when you know something bad is coming. He just said, 'Yeah, I'm afraid you're not going to get that [hearing] back.'"
Check out Brian Johnson's chat with Doron Levin in the Soundcloud player below.
Brian Johnson Speaks With SiriusXM's Doron Levin
See Where Brian Johnson Ranks Among the Top 50 Hard Rock + Metal Frontmen of All Time
10 Unforgettable Brian Johnson Moments