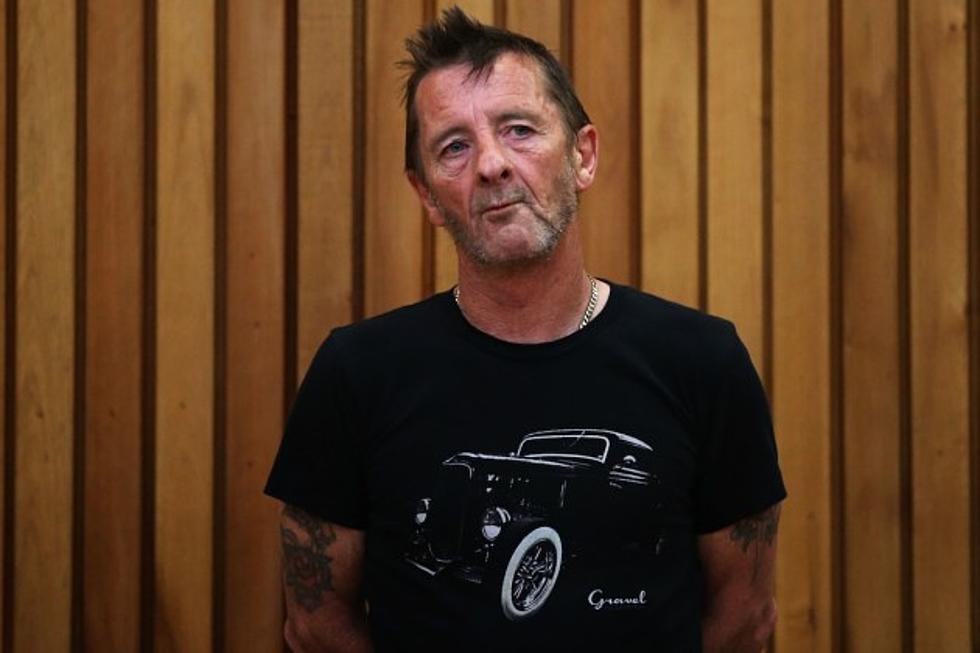 AC/DC Drummer Phil Rudd Sentenced to Eight Months of Home Detention
Joel Ford, Getty Images
Don't look for Phil Rudd to be reclaiming his seat behind AC/DC's drum kit anytime soon. According to New Zealand's Stuff, the rocker was sentenced by the Tauranga District Court on Thursday (July 9) to eight months of home detention relating to charges of drug possession and threatening to kill.
Rudd was on hand for the sentencing, having pled guilty to possession of cannabis and methamphetamine and one charge making a threat to kill. The judge told the drummer that he would go to prison if he breached terms of the sentencing. "I stone cold guarantee that's where you'll end up," said Judge Thomas Ingram. "I'm not your headmaster, I'm not your father. I'm a judge." Rudd will serve out his time at his Tauranga waterfront mansion.
Prior to the ruling, the court was told that the drummer's actions were the result of his methamphetamine psychosis brought on by his addiction to the drug. Affidavits issued also suggested that the musician would lose millions of dollars if he were convicted and not able to tour. However, the judge stated that there was no evidence of an offer to return to the band and he added, "Queen replaced Freddie Mercury."
As a recap, Rudd was arrested and charged with the drug offenses and attempting to "procure a murder" last November. The latter charged was dropped almost immediately, but a charge of threatening to kill remained. During the court proceedings, Rudd was heard making a call to an associate asking him to "take out" a former security guard turned personal assistant after becoming angry over the sales of his solo album. Rudd eventually pled guilty to the drug possession and threatening to kill charges in April.
With Rudd's status up in the air, AC/DC invited former drummer Chris Slade to rejoin them at the Grammy Awards earlier this year and the musician has remained behind the kit during their world tour. In May, Rudd stated that he had reached out to his AC/DC bandmates but they were not talking to him.
Angus Young + Brian Johnson Talk Malcolm Young's Absence
100 Metal Facts You May Not Know