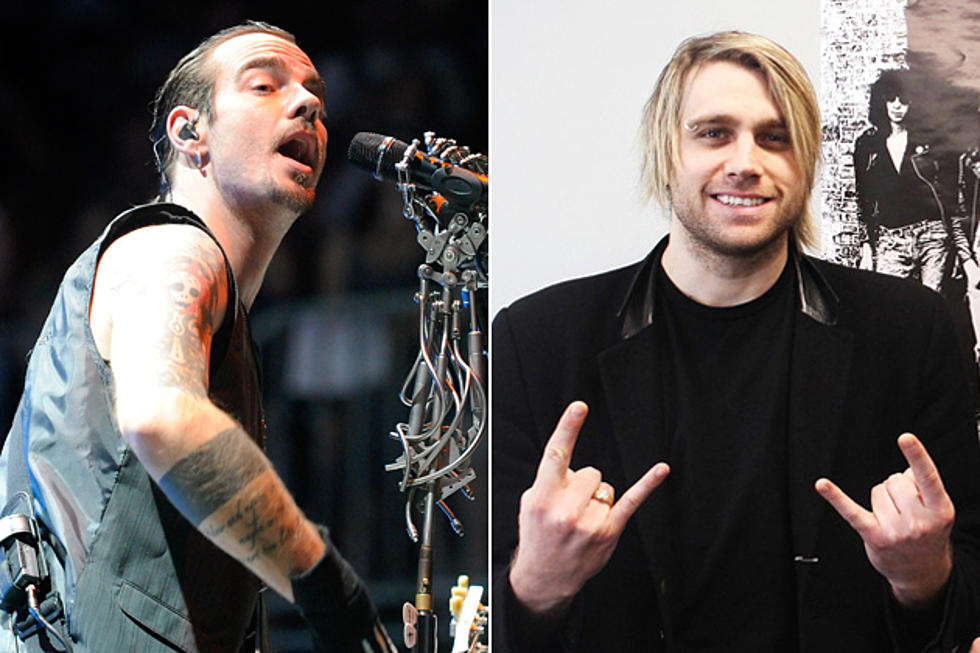 Singer Adam Gontier Leaves Three Days Grace, Replaced by My Darkest Days' Matt Walst
Ethan Miller, Getty Images / Liz Ramanand, Loudwire
Shocker alert! Frontman Adam Gontier has resigned from Three Days Grace just weeks prior to their upcoming co-headlining tour with Shinedown. The band has replaced Gontier with My Darkest Days singer Matt Walst for the trek.
A brief posting at the band's website reveals that Gontier has left the group effective immediately citing a health issue for his exit. The band's bassist, Brad Walst, stated in a press release, "We were surprised and distressed by Adam's sudden departure. We are however very excited for this upcoming tour and to have my brother Matt stepping in as lead singer."
Three Days Grace, with Matt Walst on vocals, are still on schedule to kick off their co-headlining tour with Shinedown on Feb. 1 in Moline, Ill. At present, the tour runs through March 30 in Fargo, N.D. No further info was given as to the health issue that led to Gontier's exit.
The news comes as a major surprise, as Three Days Grace are one of rock radio's most successful bands over the past decade, and recently scored a chart-topping single with 'Chalk Outline' off their latest album 'Transit of Venus.' They're currently heating up radio again with their new single 'The High Road.'
The move also puts My Darkest Days' future in a different perspective. The band revealed just last week that guitarist Sal Costa had left the group, but that they were beginning work on their next studio album. With Matt Walst jumping over to Three Days Grace in Gontier's absence, it is not known how that will affect My Darkest Days.
Three Days Grace have also posted audio of Matt Walst performing with the group to give an idea of what the singer switch will sound like. Listen in the sound files posted at the bottom of this story.
Update: Three Days Grace provided further explanation about the singer change late Wednesday (Jan. 9). The full statement can be read below:
We appreciate everyone's concern about Three Days Grace. We found out on December 21st that Adam wished to resign from the band. In a letter to us Adam indicated that he was resigning from the band due to a non life threatening health issue and wanted the band to continue moving forward without him. We were as shocked as many of you were to hear the news. Three Days Grace has always been and will continue to be not only our job but our passion. Instead of cancelling the tour, we felt an obligation to you, the fans, to forge ahead and put on the best show we can. Brad recently reached out to his brother Matt Walst, lead singer for 'My Darkest Days' to fill in for the tour dates already announced. We've been hanging out and rehearsing with Matt and look forward to rocking the stage in a few weeks! As of right now, Matt's role is temporary and as far as the future and beyond this tour, we are taking it one day at a time. - 3DG
Update No. 2: Adam Gontier has released a letter explaining his departure from Three Days Grace. Read the entire letter by clicking the button below.
Listen to Matt Walst Performing With Three Days Grace