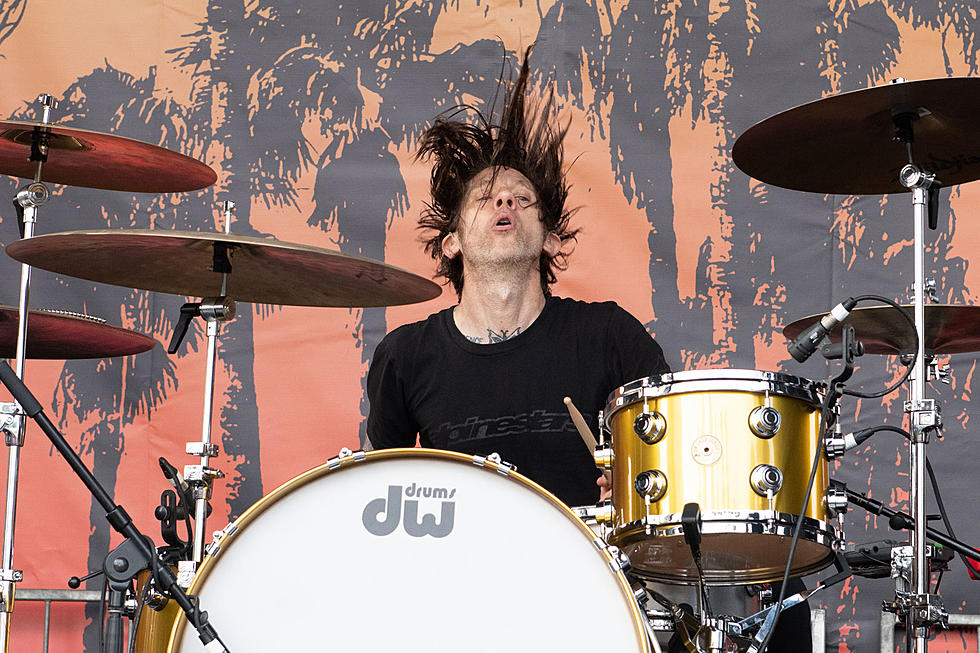 Alkaline Trio Name Atom Willard as Their New Drummer
Jim Bennett/FilmMagic, Getty Images
Alkaline Trio have moved quickly to find a new drummer after the recent exit of longtime stickman Derek Grant earlier this month. Grant exited the band after 22 years, but the band's future behind the kit is in good hands as they've tapped veteran drummer Atom Willard to fill the void.
Willard's arrival came with little fanfare, as the band posted an image of the drummer with the simple message, "Welcome Atom!" to their social media accounts, seemingly confirming his new seat behind the drumkit for the group.
Why Derek Grant Left?
"It is with mixed emotions that I've decided to step down as drummer for Alkaline Trio," Grant said in his exit statement. "The demands of being in a touring band have become increasingly difficult in recent years, and while this was a difficult decision to make, it's the best thing for me and my mental health."
The drummer continued, "I want to thank everyone who's supported the band. Alkaline Trio has the best fans in the world — many of whom I've gotten to know over the years. I'll miss seeing you all. I also want to thank Blair Dickerson for being a true friend and a great manager."
He added, "Most of all, I want to thank Matt and Dan for 22 amazing years I got to travel the world playing music with two of my best friends, and the bond that we share can never be broken. I wish them all the best moving forward. While I'll be focusing more on production music and visual art, I promise you haven't heard the last of me."
READ MORE: The Rock and Metal Musicians Who Refuse to Eat Turkey on Thanksgiving
The band issued their own statement, which read: "In light of Derek's decision to step down as a member of the band, we'd like to send our love and thanks for everything he contributed. It's impossible to put into words all he's done, but we are endlessly proud of what we have accomplished with one another. Beyond the music, we appreciate all our memories — the tours, traveling the world, spending weeks making music in the studio, everything. We love you, Derek, and hope your next chapters will be filled with success and happiness."
Where Do You Know Atom Willard From?
If you've been paying attention alternative and punk rock music since the '90s, you've likely heard Willard in one of his various stops as a drummer. He first made his name as a member of Rocket From the Crypt in the '90s, where he laid down the beats on six studio albums, last appearing on 1999's Cut Carefully and Play Loud.
In 2003, he was a member of The Special Goodness for their album Land Air Sea that featured Weezer's Pat Wilson. He then played with Hole's Melissa Auf Der Maur on her self-titled 2004 solo album before taking up residence behind the kit with The Offspring between 2003-2005. He exited The Offspring in 2005 in order to work with the Tom DeLonge-led Angels & Airwaves, where he appeared on four studio albums, leaving off with 2011's Love: Part Two.
He was behind the kit for Danko Jones' 2012 album Rock and Roll Is Black and Blue, and then joined Against Me! in 2013, appearing on the Transgender Dysphoria Blues, 23 Live Sex Acts and Shape Shift With Me albums. He also joined Against Me's Laura Jane Grace on her 2018 solo set Brought to Rot. And now, Willard takes his seat behind the kit with Alkaline Trio.
The announcement of Willard's addition comes at the perfect time as Alkaline Trio are set to kick off a summer tour at Chicago's Wrigley Field on June 21. Check out all their scheduled dates here.
25 Rock + Metal Bands Whose Singer Is the Only Original Member Left
The following bands no longer have any original members left except the lead singer.