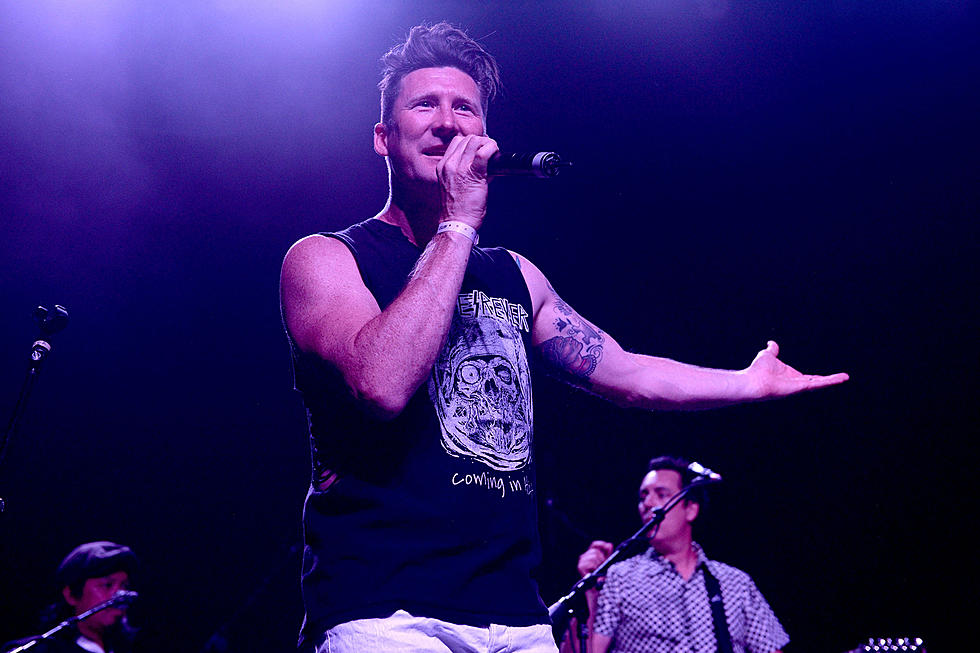 Anberlin Singer Stephen Christian Takes Hiatus, Band Names His Replacement
Scott Dudelson, Getty Images
There are some significant changes coming for Anberlin.
The band has revealed that their longtime lead vocalist, Stephen Christian, will be taking an indefinite hiatus from touring with the band. However, he will play one last gig with the group before he takes his leave.
Anberlin already has a replacement singer lined up so that they may continue touring, and it's someone many hard rock fans will know — Memphis May Fire's Matty Mullins will step in for Christian in Anberlin beginning in 2024.
See the details below.
READ MORE: Anberlin Singer Stephen Christian Takes Pastoral Role at Florida Church
In a post, Anberlin shared a video with the group hanging out together. A vocal narration starts, "After being in this band for 20 years, we've really noticed that the only constant is change. There's so many different eras of Anberlin from ending in 2014 to coming back in 2019 and this is no different. In 2024, Stephen will no longer be touring with Anberlin indefinitely. He's not out of the band. He's not quitting. He's just taking a hiatus," assures the group in a social media posting seen below, adding, "But we do have a plan."
Christian adds within the video, "I once heard a Native American proverb that said, 'There are two dog roaring inside of me and the one that I feed is the one that wins.' And it is because of that I have to take an indefinite hiatus away from touring with Anberlin. I've loved it all. I've loved my best friends out on the road. But at this time I have to feed my community, my career, but more importantly my wife and my child and it's because of that I'm going to step down away from touring with Anberlin."
Mullins then enters the announcement, as he recalls, "I get a phone notification and I look down and it says Stephen Christian, Anberlin. I had no clue what I was about to open ... I remember reading the first line and as I read my face got hot and flushed and my body started to tingle. The text basically said, you know I need to step away from touring and I want you to fill in for me. You're the only person that I want to do it, which still sounds so crazy coming out of my mouth."
As mentioned above, Anberlin confirmed that Christian will play one final show with the band. It takes place on Dec.14 at the Ritz Ybor in Tampa, Florida, with Hawthorne Heights as support.
Separately, Mullins posted on his socials what his addition to Anberlin's touring means for his status with Memphis May Fire. The singer intends to do both, with the scheduling lining up for him to do so. Read his statement below.
In Regaurds [sic] to me singing for Anberlin ....

Dear Memphis May Fire fans > Nothing about MMF is changing. ANB & MMF will have different touring schedules & MMF is still my #1 priority. Lots of announcements to come

Dear Anberlin fans > I'm sure many of you aren't familiar with me yet, so let's get acquainted! I've been in a band called Memphis May Fire for the last 15 years. Anberlin was the first rock band I convinced my wife to listen to when we were 15 years old. It was at one of their concerts that I told her I was falling for her, now we've been married for 17 years. Blueprints for the Black Market taught me a lot in my early years of writing & recording music & I've loved all of ANB ever since. I know I'm not Stephen and I won't even try to be, but him asking me to fill his role was an unbelievable honor & I will give 110% every night to give y'all the captivating & high energy performance you're used to seeing from ANB.

I've spent a good amount of time with the ANB duded over the last few months in preparation for what's to come & they've made me feel like family. Can't wait for y'all to see/hear what's ont eh way!

To a killer 2024 full of MMF & ANB Awesomeness,

Respectfully,

Matty Mullins