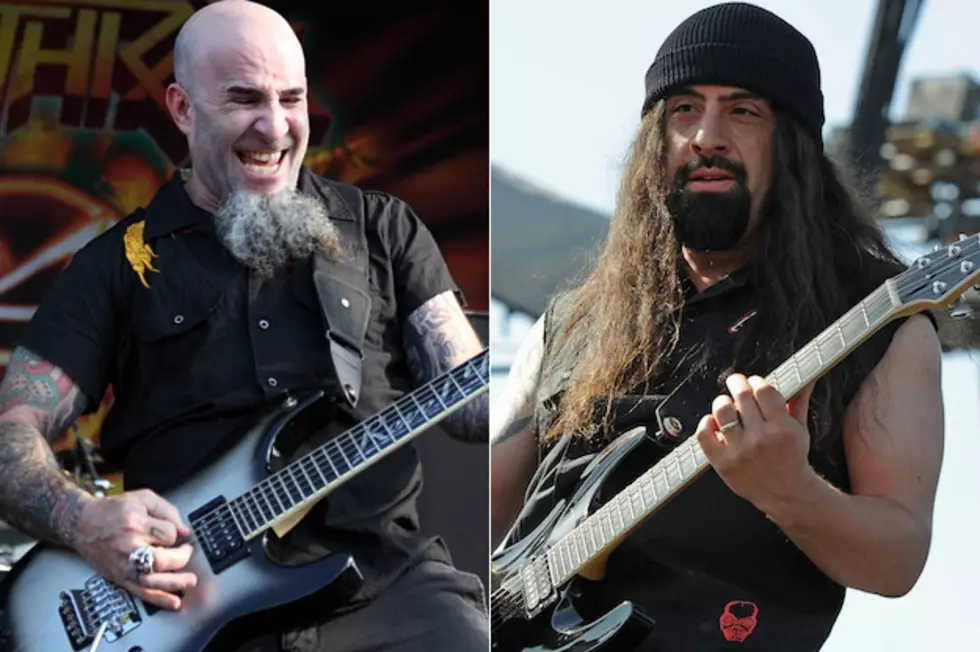 Anthrax's Scott Ian Offers New Details on Guitarist Rob Caggiano's Departure
Mary Ouellette, shewillshootyou.com / Kevin Winter, Getty Images
The departure of Anthrax lead guitarist Rob Caggiano came as a shock to the metal world, as the thrash legends had just begun to truly celebrate their comeback with classic vocalist Joey Belladonna. Having torn through the 2012 Mayhem Festival, headlined an unforgettable tour with Testament + Death Angel, earned a 2013 Grammy nomination and just finished tracking their 'Anthems' covers EP, Caggiano suddenly left the band, and guitarist Scott Ian has just offered some insight into Caggiano's exit.
Caggiano formally announced his departure from Anthrax on Jan. 4, revealing his desire to fixate his creativity upon producing. "The fact that Anthrax is at the top of their game right now and totally 'out for blood' after all these years is a testament to this band's longevity and conviction!" states Caggiano. "I'm truly honored to have been a part of their brilliant legacy."
Although Caggiano's exit was sudden, Anthrax assured fans that there were no hard feelings, wishing Caggiano the best with his future projects, which includes producing the new Volbeat album. Despite the brotherly send-off, Anthrax's statement didn't reveal any specific details about exactly how the guitarist left. In a new interview with MTV Hive, however, Scott Ian offers an explanation:
We didn't know he was planning on leaving while we were tracking this ['Anthems']. He was literally finishing solos in Berlin on the last days of the tour. It wasn't until after the tour ended and we started having conversations, and just to put it in a nutshell, he just needs to do his own thing at this point in time. We knew he had a record that he was going to be doing possibly. We had already told him, if you need to take a hiatus, that's fine. The best thing I can say is that he's on a mission to do his own thing at this point. And I'm certainly not going to stand in his way.
As for choosing Caggiano's temporary replacement, Jon Donais of Shadows Fall, Ian says:
It was actually Rob. He had already spoken to Jon and had kind of filled him in about what his plan was. He didn't want to leave us hanging. As much as it sucks, this whole thing has been friendly. I may think Rob has made a mistake by leaving the band, but at the same time he's my friend and I back his decision all the way in whatever he needs to do. He feels the same about us. We all know Jon. I've actually worked with him before on [comedian] Brian Posehn's record. We all know he's a great lead guitar player. And Jon said absolutely he wanted to do it.
Anthrax are set to headline the 2013 Metal Alliance Tour, performing their classic album 'Among the Living' in full during each stop. The band will also cap off the first date of the 2013 New England Metal and Hardcore Festival.