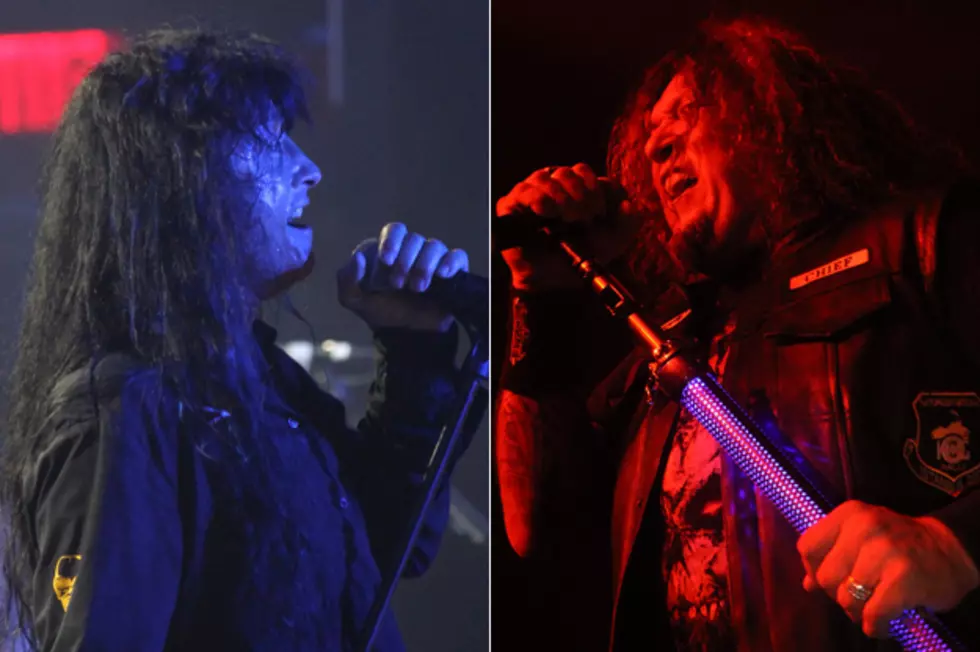 Anthrax, Testament + Death Angel Announce Third Tour Leg for Fall 2012
If the third time is indeed the charm, then metal fans in the northern United States and Canada are in for a treat this fall. The thrash metal package of Anthrax, Testament and Death Angel will do it all again, beginning Sept. 14 in Portland, Ore.
The package first came together last fall, marking the first time that thrash icons Anthrax and Testament had shared a stage in over a decade. The three bands had such a great time, they decided to book more blistering shows this past winter, and it appears they just can't get enough of a good thing.
Anthrax guitarist Scott Ian says, "We played to sold-out shows, raging crowds and epic war dances, and we can't wait to do it again, especially for our Canadian fans who have been waiting a long time to 'worship music' with us."
Testament guitarist Alex Skolnick echoed those sentiments, adding, "There have been very few three band bills in which the acts are so compatible and the shows so consistent that a second leg of the tour is a 'no-brainer.' But in the case of Anthrax, Testament and Death Angel, that's been the case. Things have gone so well, in fact, that it's made sense to add a third leg with this exact same lineup."
Anthrax drummer Charlie Benante made sure that the third act on the bill wasn't overlooked: "All of us in Anthrax are big Death Angel fans, so this is going to be a monster of a great time, for us and for the fans."
Tickets for the fall tour go on sale this Friday (June 1). Check the Anthrax, Testament and Death Angel websites for details.
Anthrax/Testament/Death Angel Fall 2012 Tour Dates:
9/14 -- Sacramento, Calif. -- Ace of Spades
9/15 -- Portland, Ore. -- Roseland Theatre
9/16 -- Kennewick, Wash. -- Toyota Arena
9/17 -- Spokane, Wash. -- Knitting Factory
9/20 -- Vancouver, British Columbia -- Vogue Theatre
9/21 -- Calgary, Alberta -- MacEwan Hall Ballroom
9/22 -- Edmonton, Alberta -- Events Center
9/24 -- Saskatoon, Saskatchewan -- The Odeon
9/25 -- Winnipeg, Manitoba -- Burton Cummings Theatre
9/29 -- Toronto, Ontario -- Danforth Hall
9/30 -- Quebec City, Quebec -- Captiole du Quebec
10/2 -- Montreal, Quebec -- Metropolis
10/3 -- Portland, Maine -- State Theatre
10/5 -- Montclair, N.J. -- Wellmont Theatre