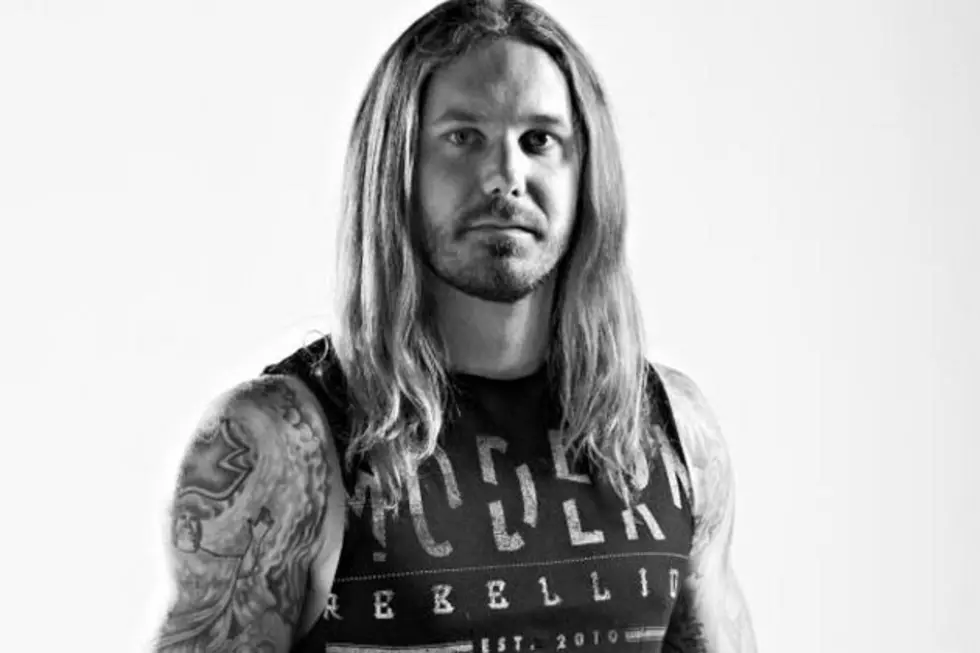 As I Lay Dying's Tim Lambesis Sentenced to Six Years in Prison
Facebook
As I Lay Dying vocalist Tim Lambesis has been sentenced to six years in prison for attempting to hire a hitman to murder his estranged wife. The sentence was handed down earlier today (May 16) by Judge Carlos Armour of the San Diego Superior Court.
In February, Lambesis pleaded guilty to murder-for-hire charges. He was originally slated to be sentenced on May 2, but the hearing was delayed until today. Lambesis faced up to nine years in prison, but was given six during today's sentencing.
As the verdict was handed down, As I Lay Dying bandmates Nick Hipa, Phil Sgrosso and Josh Gilbert looked on. Many supporters of Lambesis' estranged wife Meggan were also in attendance, making their presence known by wearing yellow felt hearts pinned to their shirts.
One supporter was Meggan's father, Mike Murphy, who was the first to speak to the court. Mr. Murphy shared that the family still fears Meggan's assassination, stating, "We know that prison is a great alibi for someone who wants to complete the deed." Murphy added, "He was only worried about the money. Tim is only sorry he got caught," before asking Judge Armour for the maximum sentence of nine years.
Meggan's mother also spoke at the hearing, claiming that Lambesis was an abusive husband and regarded Meggan as "a mere inconvenience to this narcissistic child."
Meggan herself also spoke, stating that Tim had become "dangerous" and that she "felt as fragile as a piece of paper that could float away at any moment." Meggan also explained that the day before Tim's arrest, the vocalist texted her asking for their three adopted children's social security numbers in a display of "tying up loose ends." Meggan even referenced the Arnold Schwarzenegger film 'Total Recall,' where he shoots his wife and says, "Consider that a divorce."
When Tim Lambesis was allowed to speak, the vocalist struggled to speak as he openly wept. "I do feel deep remorse," said Lambesis. "I want to thank you. For her prayers, which proves you still have the heart that you do." Lambesis also noted that he wasn't able to verbally apologize to Meggan in the past due to restraining orders.
In the end, Lambesis was given six years in prison with 48 days credit for time already served. Tim and Meggan's children were given 10 years of protection. Lambesis will also return to court while incarcerated for a civil suit against him, where Meggan is asking for $2 million.
Meanwhile, Lambesis' As I Lay Dying bandmates recently formed a new a band called Wovenwar with vocalist Shane Blay.
For the full report on today's sentencing, visit Radio.com.
Update: AltPress.com has just posted an extensive interview with Tim Lambesis that was conducted in the weeks leading up to his sentence. Details here.