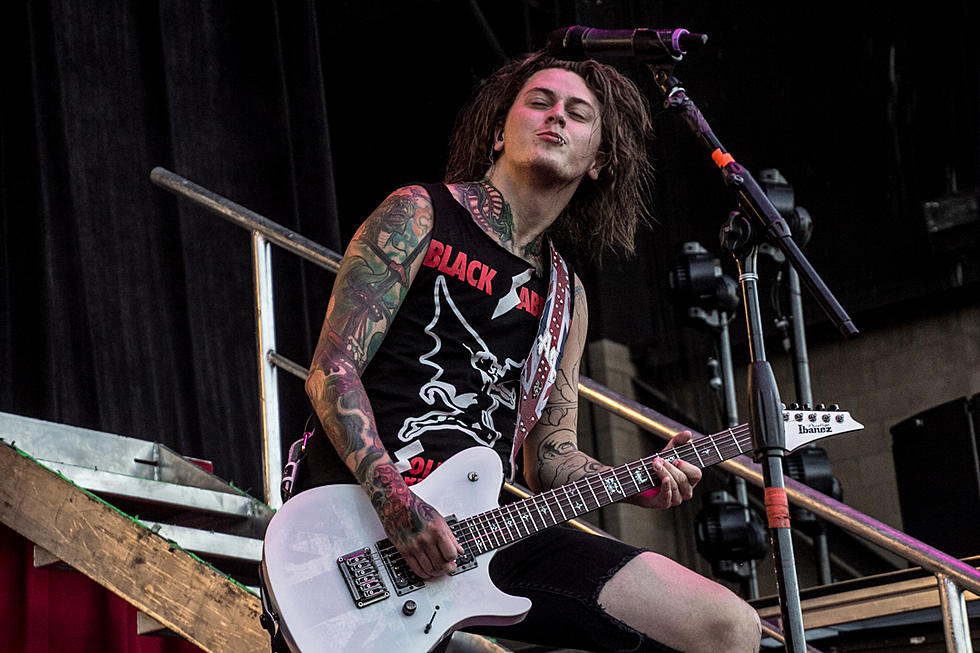 Asking Alexandria's Ben Bruce: Next Album 'Is Done,' But 'Waiting to Pull the Trigger'
Kathy Flynn, WickedGoddessPhotography.com
Asking Alexandria are currently enjoying the success of their self-titled album, but when it comes time for new music, it doesn't look like there will be a long wait.
Guitarist Ben Bruce told KCAL 96.7's RadioActive Mike Z. that the band is currently sitting on their next album waiting for the promotional cycle for the eponymous Asking Alexandria album to conclude.
"I already have a whole album written, so I'm ready. I'm just waiting to pull the trigger. The self-titled album did so much for us as a band. We almost reinvented ourselves and took our career to a whole new level and it's been really good," says the guitarist.
The musician admits that they have a pretty nice conundrum on their hands, with the self-titled set being so well received. "Our label, most labels want you to keep spitting out new music so they can make money, but our label is doing the opposite. They want us to take more singles from the self-titled to radio," says Bruce, adding, "That's just boring. I don't want to spend time on a single that I wrote three years ago or two years ago. I'm ready to put new music out into the world. That's a battle we're having with our label right now, but I think we're coming to the end of that battle and I think we've figured out when we're going to release the record, and it shouldn't be too long."
As for the state of that next album, Bruce says, "It's done. It's ready to go. I could release it tomorrow. It's done, we're ready."
The guitarist revealed that the band is in a really good place right now, after going through a period in which singer Danny Worsnop left the group then eventually returned after an album away. Bruce says that a recent conversation with their videographer revealed to him exactly how well things are going.
"If you look back over the years at all the content that's been captured of us, you can tell this is the happiest we've been in many, many years. [The videographer] was saying the fans can see that too and we've been taking that mood out onstage with us," says Bruce. You can watch some of their backstage dance party shenanigans below.
Asking Alexandria have been spending the summer with Papa Roach on tour and will continue with more dates carrying over into the fall. See their current run of shows as well as the next tour leg right here.
Listen to Asking Alexandria's Ben Bruce Speaking With KCAL 96.7's RadioActive Mike Z.
25 Best Metalcore Albums of All Time