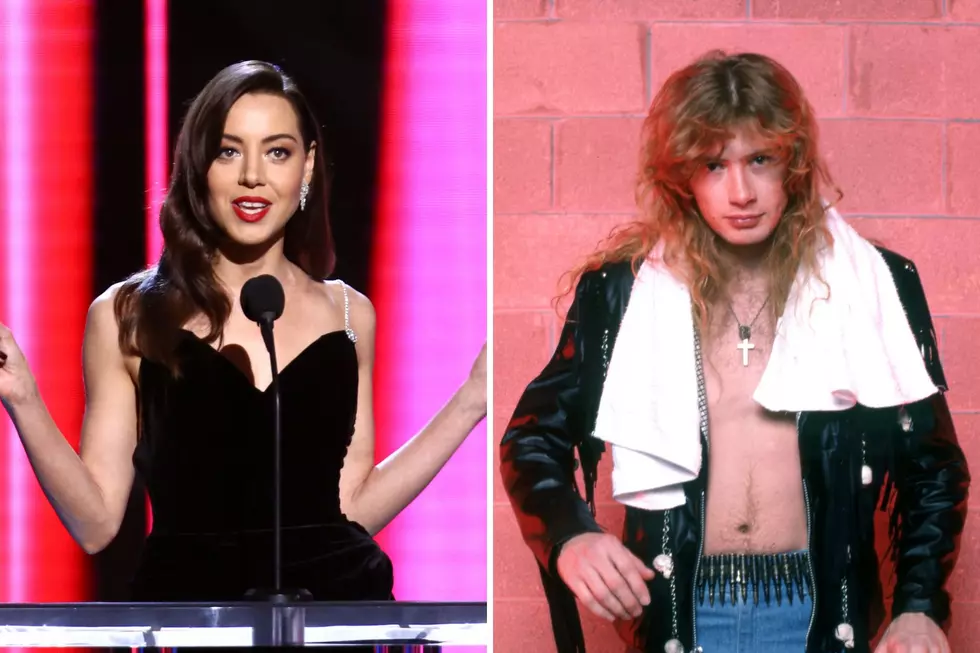 Actress Aubrey Plaza Wears Megadeth T-Shirt on 'SNL' + Elsewhere
Tommaso Boddi / Ross Marino, Getty Images
Aubrey Plaza and Megadeth? It seems the actress may have an affectation for the Dave Mustaine-led metal band, as she recently showed on Saturday Night Live.
Plaza, the 38-year-old comic dynamo best known as April Ludgate from TV's Parks and Recreation, ended her stay hosting SNL this past weekend (Jan. 21) by wearing what looks like a vintage Megadeth T-shirt during the goodbyes and credits at the end of the show.
It appears to be the same Megadeth shirt the actress was spotted wearing while out and about in New York City over the summer, as paparazzi photos published by the Daily Mail show.
In the above photo, Plaza ends her SNL appearance on Saturday alongside Property Brothers stars Drew and Jonathan Scott, pro skater Tony Hawk, actress Amy Poehler, cast member Heidi Gardner, actress Sharon Stone, musical guests Sam Smith and Kim Petras, and cast members Devon Walker and Michael Longfellow.
Megadeth, the influential heavy metal act that formed after Mustaine was fired from Metallica in 1983, are considered one of the "Big Four" of thrash metal with Metallica, Anthrax and Slayer.
Last year, Megadeth released their sixteenth studio album, The Sick, the Dying... and the Dead! The band will be touring throughout 2023.
SNL is streaming now on Peacock. Check out Megadeth's upcoming tour dates at this link.
Aubrey Plaza's SNL Monologue - Jan. 21, 2023
25 Awesome Celebrity Metalheads