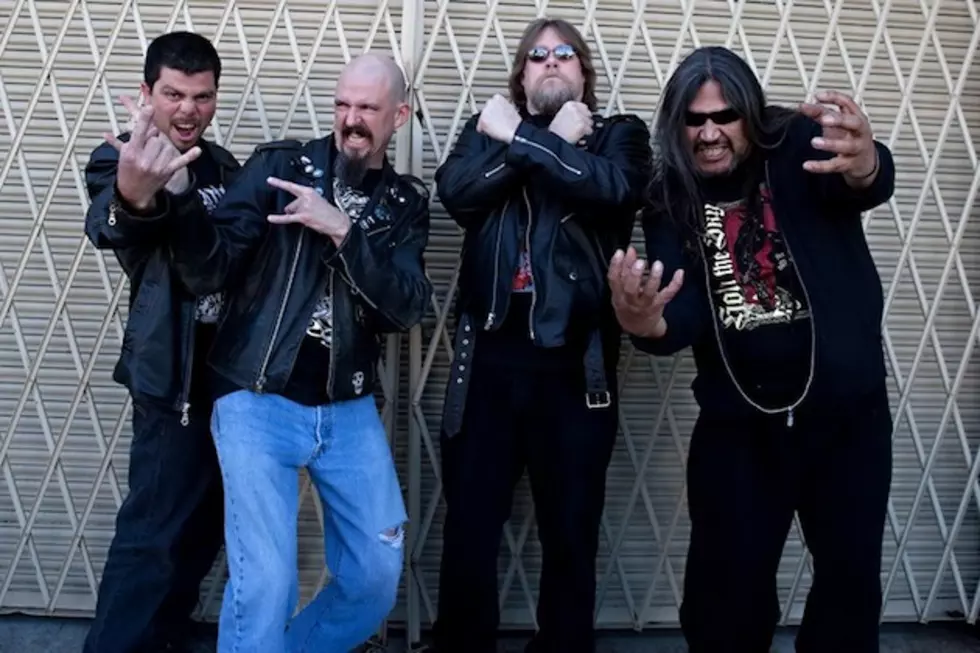 Autopsy, Mayhem, Marduk + More Set for 2017 Lords of the Land Festival
Peaceville
The 2017 Lords of the Land festival in Glasgow, Scotland reeks of old school black and death metal! Headlining the April 1 event will be Autopsy, who are making their first appearance in the country in 27 years.
Mayhem are also billed high on the fest and will be performing their 1994 debut record, De Mysteriis Dom Sathanas, in its entirety. The Lords of the Land lineup is rounded out by natives Primordial, Swedish blasphemers Marduk, Venom Inc, Dragged Into Sunlight, Acid Reign, Memoriam (feat. members of Bolt Thrower and Benediction) and Finnish grinders Rotten Sound.
Festival organizer Mark Miller commented, "It's great to know that people have thrown their support behind Lords Of The Land. To be able to put on a show entirely funded by the fans is a real testament to the great community we have grown over the years. It's because of this community that we have been able to bring such legendary acts as Autopsy and Mayhem to Glasgow. We know the festival is going to be amazing before it's even started and the level of anticipation is growing in each day leading up to the big day!"
Tickets for the Barrowland Ballroom event can be purchased through MusicGlue or SeeTickets and buyers must be age 14 or over. For more information on the Lords of the Land fest, head to their Facebook page.
Following the fest, a "Hangover Afterparty" will be held at the Audio is Glosgow, headlined by the recently reunited Akercocke with support from Conan and Stoneghost. Purchase tickets for this show here.
Lords of the Land 2017 Lineup
2017 Guide to Rock + Metal Festivals
Where do Autopsy Rank Among the 10 Greatest Death Metal Bands?