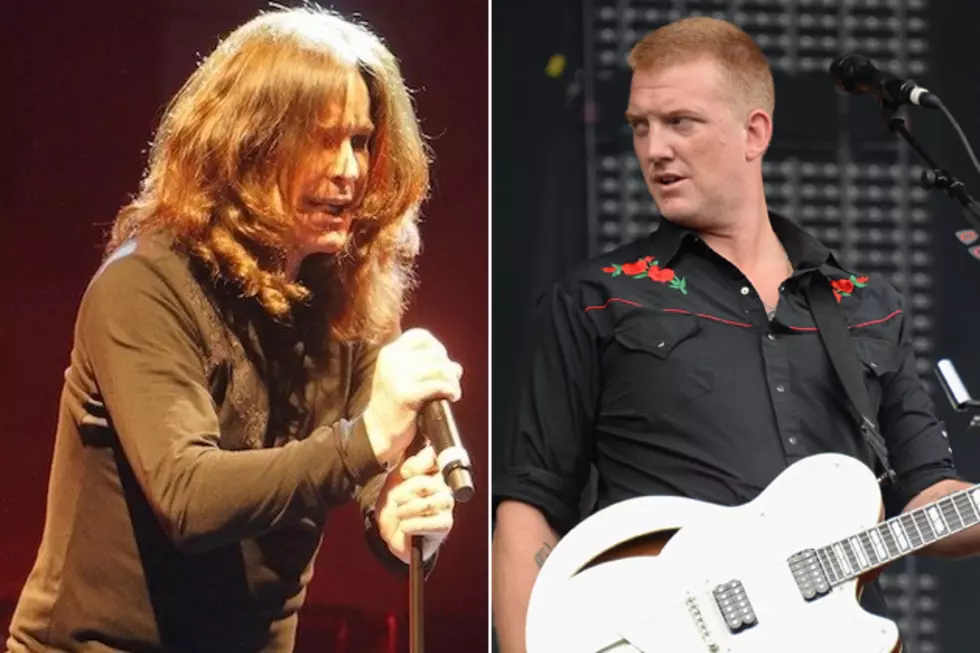 Black Sabbath, Queens of the Stone Age Lead 2014 Rock Grammy Nominations
Spencer Kaufman, Loudwire / Theo Wargo, Getty Images
A big congrats is in order to Black Sabbath and Queens of the Stone Age as they're among the rock leaders for the 2013 Grammy Awards. Each of the acts received three nominations when the Grammy Awards nods were revealed Friday night (Dec. 6).
Black Sabbath earned nominations for Best Rock Album ('13'), Best Metal Performance ('God Is Dead?') and Best Rock Song ('God Is Dead?). The band's long-awaited return was definitely rewarded by the Grammy voters. Meanwhile, Queens of the Stone Ages will square off against Sabbath for Best Rock Album ('… Like Clockwork'). They're also nominated for Best Rock Performance ('My God Is the Sun') and Best Engineered Album, Non-Classical.
Other nominees of note include Imagine Dragons for Record of the Year and Best Rock Performance for their single 'Radioactive,' Led Zeppelin for Best Rock Performance ('Kashmir (Live)') and Best Rock Album ('Celebration Day') and Dave Grohl for Best Rock Song ('Cut Me Some Slack' with Paul McCartney, Krist Novoselic and Pat Smear) and Best Compilation Soundtrack for Visual Media with his 'Sound City: Real to Reel' disc.
The 56th annual Grammy Awards will take place Sunday, Jan. 26 at the Los Angeles Staples Center. Be sure to catch all the action airing at 8PM ET/PT on CBS.
For a full list of all the 56th annual Grammy Awards nominees, click here.
2014 Grammy Award Nominees (Categories Featuring Rock Acts)
Record of the Year
'Get Lucky,' Daft Punk & Pharrell Williams
'Radioactive,' Imagine Dragons
'Royals,' Lorde
'Locked Out of Heaven,' Bruno Mars
'Blurred Lines,' Robin Thicke featuring T.I. & Pharrell Williams
Best Rock Performance
'Always Alright,' Alabama Shakes
'The Stars (Are Out Tonight),' David Bowie
'Radioactive,' Imagine Dragons
'Kashmir (Live),' Led Zeppelin
'My God Is the Sun,' Queens of the Stone Age
'I'm Shakin',' Jack White
Best Rock Album
'13,' Black Sabbath
'The Next Day,' David Bowie
'Mechanical Bull,' Kings of Leon
'Celebration Day,' Led Zeppelin
'Like Clockwork,' Queens of the Stone Age
'Psychedelic Pill,' Neil Young with Crazy Horse
Best Alternative Music Album
'The Worse Things Get, The Harder I Fight, the Harder I Fight, the More I Love You,' Neko Case
'Trouble Will Find Me,' The National
'Hesitation Marks,' Nine Inch Nails
'Lonerism,' Tame Impala
'Modern Vampires of the City,' Vampire Weekend
Best Metal Performance
'T.N.T.,' Anthrax
'God Is Dead?,' Black Sabbath
'The Enemy Inside,' Dream Theater
'In Due Time,' Killswitch Engage
'Room 24,' Volbeat featuring King Diamond
Best Rock Song
'Ain't Messin 'Round,' Gary Clark Jr.
'Cut Me Some Slack, ' Dave Grohl, Paul McCartney, Krist Novoselic and Pat Smear
'Doom and Gloom,' Rolling Stones
'God Is Dead?,' Black Sabbath
'Panic Station,' Muse
Best Compilation Soundtrack for Visual Media
'Django Unchained'
'The Great Gatsby'
'Les Miserables'
'Muscle Shoals'
'Sound City: Real to Reel'
Best Recording Package
'Automatic Music Can Be Fun,' Geneseo
'Long Night Moon,' Reckless Kelly
'Magna Carta … Holy Grail,' Jay-Z
'Metallica Through the Never,' Metallica
'The Next Day,' David Bowie
Best Engineered Album, Non-Classical
'Annie Up,' Pistol Annies
'The Blue Room,' Madeleine Peyroux
'The Devil Put Dinosaurs Here,' Alice in Chains
'Like Clockwork,' Queens of the Stone Age
'The Moorings,' Andrew Duhon
'Random Access Memories,' Daft Punk
Best Surround Sound Album
'Live Kisses,' Paul McCartney
'Sailing the Seas of Cheese,' Primus
'Signature Sound Opus One,' Various Artists
'Sixteen Sunsets,' Jane Ira Bloom
'Sprung Rhythm,' Richard Scerbo & Inscape
Best Music Video
'Safe and Sound,' Capital Cities
'Picasso Baby: A Performance Art Film,' Jay-Z
'Can't Hold Us,' Macklemore & Ryan Lewis featuring Ray Dalton
'Suit & Tie,' Justin Timberlake featuring Jay-Z
'I'm Shakin,' Jack White
Best Music Film
'Live 2012,' Coldplay
'Cuatro,' Green Day
'I'm In I'm out and I'm Gone: The Making of Get Up!,' Ben Harper with Charlie Musselwhite
'Live Kisses,' Paul McCartney
'The Road to Red Rocks,' Mumford & Sons