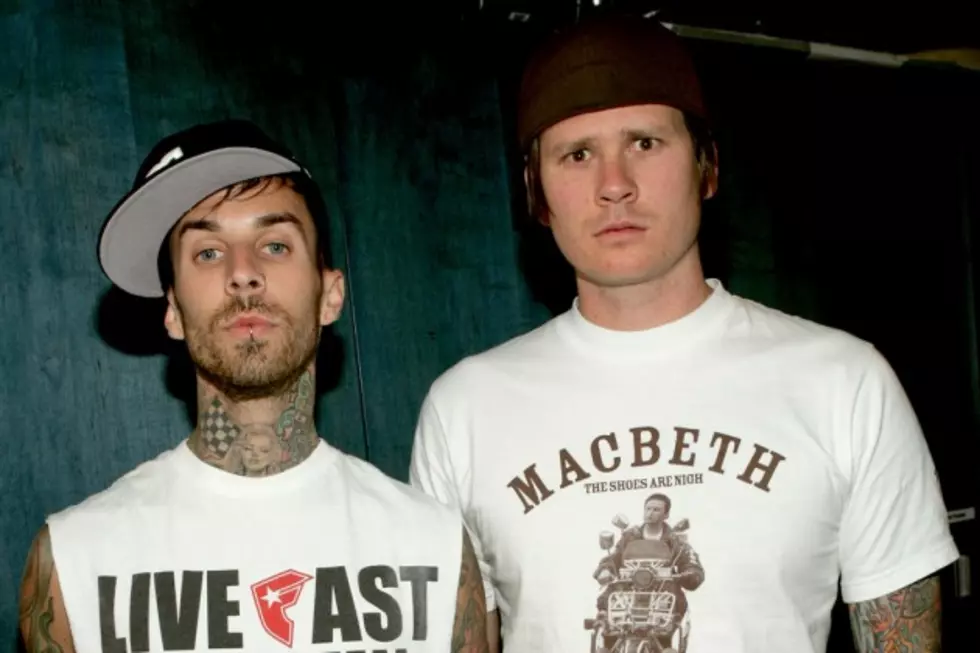 Blink-182's Travis Barker on Tom DeLonge: 'Just Man Up and Quit the Band'
Evan Agostini, Getty Images
Blink-182 are in the process of moving on without co-founder Tom DeLonge, though DeLonge hasn't officially quit. The group made headlines earlier this year when it was revealed that Alkalkine Trio's Matt Skiba would be filling in for DeLonge on the upcoming MusInk Festival and that the DeLonge was no longer part of the band. What followed was a bunch of drama between DeLonge and his Blink cohorts centered on his reluctance to record and play with the band this year and what that meant for his future.
In a new interview with Alternative Nation, Barker says he doesn't have any bad blood where DeLonge is concerned, but wishes the rocker would be real about his motivations and make a decision on his Blink future without leaving the band and fans hanging. He explains, "I wish him the best in everything he does. I think the right thing for him to do would just man up and quit the band instead of telling people he didn't quit and just be real with the fans. I think that would give him some closure too and really do what he's passionate about."
The drummer adds, "Even amongst all the other projects I do, I can always find a way to prioritize and still be passionate about Blink-182 when it comes around. I love playing, listening and everything about punk rock. It changed my life. I think for Tom, he doesn't like punk music and it was a phase for him."
As stated, the band called up Matt Skiba to be able to honor the commitment they made to the MusInk Festival. "We are two weeks in to practice and he's killing it," says Barker. "There's harmonies that have never been sung. He's actually playing the guitar instead of just Pro Tools. It's just fresh blood and having someone that's motivated and stoked to be there makes a world of difference. In general, Skiba has a real charming voice and it couldn't be a better fit."
According to Barker, the band is using the Skiba addition to work in some Blink songs that haven't been played in a while and there's a couple of covers they've been working out as well. The MusInk Festival takes place March 20-22 at the OC Fair & Event Center in Costa Mesa, Calif., with Blink headlining the final night. Check out more of Barker's interview with Alternative Nation here.
See the Yearbook Photos of Blink-182's Travis Barker and Other Rock Stars