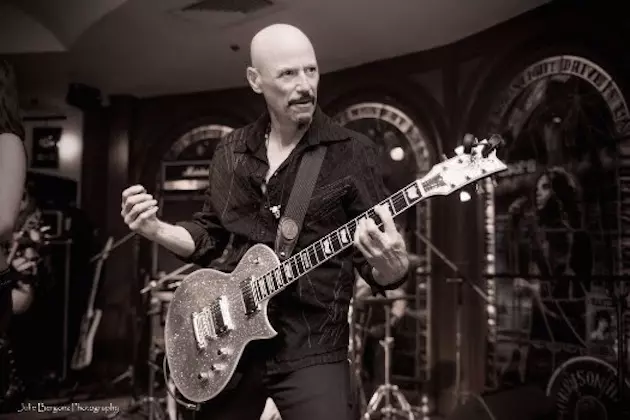 Bob Kulick Enlists Dee Snider, Vinny Appice, Todd Kerns + More for Solo Disc
Photo by Julie Bergonz
For years, Bob Kulick has aligned himself with some of the greats in the music business. Now a number of top musicians are aligning themselves with Kulick as the veteran sideman and producer prepares a new solo album.
The disc is titled Skeletons in the Closet and it's expected later this spring via Vanity Music Group. As stated, Kulick has a wealth of special guests on the disc, with seven different vocalists leaving their mark on the album.
Dee Snider, Robin McAuley, Andrew Freeman, Vick Wright, Todd Kerns, David Glen Eisley and Dennis St. James will all lend their vocal talents to the disc. Need someone to play off of? Kulick has called upon bassists Rudy Sarzo, Chuck Wright, Bobby Ferrari, Bruce Kulick, Dennis St. James and Kjell Benner, along with keyboardists Doug Katsaros and Jimmy Waldo and drummers Vinny Appice, Frankie Banali, Eric Singer, Brent Fitz, Scot Coogan, Chuck Burgi, Bobby Rock and Jay Schellen.
In addition to providing all of the guitar tracks, Kulick produced the album with Bobby Ferrari at the Vegas View Recording studio in Las Vegas. The set consists of a mix of retrospective material from Kulick's previous Murderer's Row and Skull albums along with some brand new material. "After finishing the five new songs, the idea of including five of my favorite songs from my past rounded things out nicely," Bob says. "Brand new songs and then the 'skeletons in the closet!'"
Bob Kulick, Skeletons in the Closet Track Listing
Player
Not Before You
London
Goldfinger
Rich Man
India (from Murderer's Row)
Skeletons in the Closet (from Murderer's Row)
Guitar Commandos (from Skull - also features a guitar duel with Bruce Kulick)
Can't Stop the Rock (Previously unreleased track)
Eyes of a Stranger (from Skull)
Most Anticipated Rock + Metal Albums of 2017