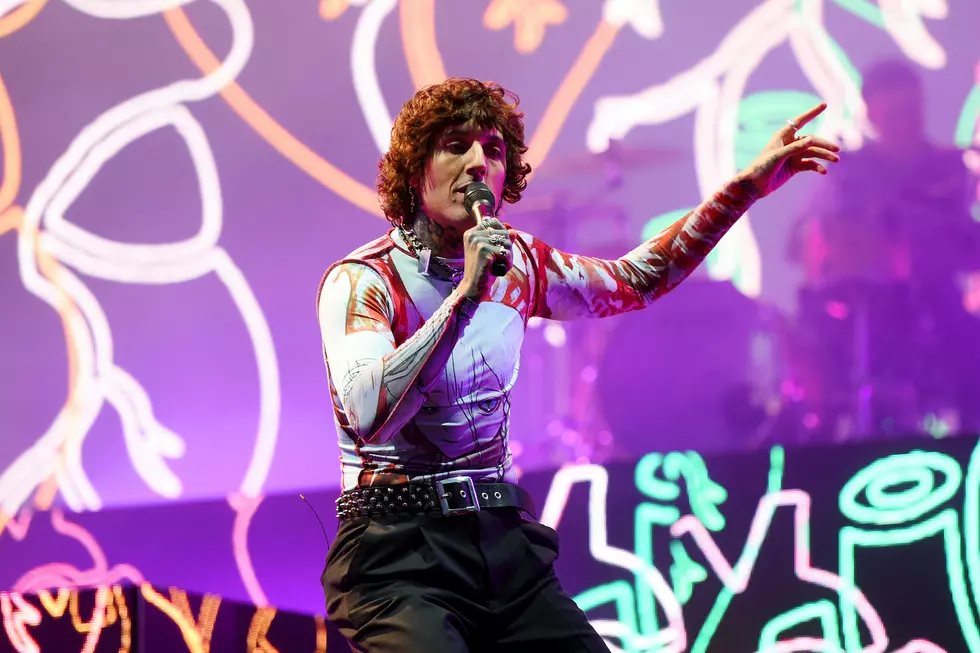 Oli Sykes Says Bring Me the Horizon 'Can't Be the Band That We Used to Be'
Matthew Baker, Getty Images
Bring Me the Horizon vocalist Oli Sykes recently discussed the band's musical growth regarding longtime listeners who feel the group has strayed too far from their early metalcore sound.
In fact, in a new interview with 102.1 KFMA, Sykes agreed with longtime Bring Me the Horizon fans who think the group "shouldn't water our shit down" concerning its metalcore heaviness.
Yet he maintained that Bring Me the Horizon "can't write music for the fans — it's impossible."
But the singer has learned to take it all in stride. Watch the video near the bottom of this post.
READ MORE: Bring Me the Horizon Reveal New Direction for Upcoming 'NeX GEn' Album
"I think I've managed over recent years to soften my approach" to critics of Bring Me the Horizon's creative trajectory, Sykes shares in the interview, as Blabbermouth pointed out this week.
"It's easy for them people to piss you off, and you're just like, 'Fuck off,'" the singer continues. "But at the end of the day, they love your band, and something you did meant so much to them that they want you to do it again. You've gotta realize even though it might annoy you, it comes from a place of love."
Still, the criticism can get to the point that "sometimes maybe it even makes you question yourself as well," Sykes says — though the act's broadening has been a natural result.
The Bring Me the Horizon singer clarifies, "To a certain degree, we can't be the band that we used to be. We wouldn't know how to do it, and we wouldn't know how to do it with any authenticity or integrity."
READ MORE: Oli Sykes Names the Album That First Got Him Into Heavy Metal Music
He adds, "Because [as] we grow and we age and we mature, our tastes change. … But sometimes those people can remind you like, Wait — are we losing what makes us special? And that's what I've asked myself over the years. It's like, some people that are sad because we're not as heavy anymore or whatever — do they have a point?"
Amid a growing scarcity of heavy music in the current zeitgeist, Sykes aptly notes, "There's not many bands like Bring Me the Horizon anymore that are in the kind of mainstream stuff."
Sykes Agrees With Old School BMTH Fans
To that end, the Bring Me the Horizon singer concurred with some of the critiques. "I definitely feel like I've listened to some of the fans over the years, and like, you know what? They're right," Sykes says. "We shouldn't water our shit down."
After all, "We're like one of the last bands that still do heavy music, right?" he asks. "So all that stuff just keeps you in line, and you've just gotta realize it all comes from a place of love and don't let it piss you off. And at the same time, stay true to yourself. We can't write music for the fans — it's impossible."
Hey you! Subscribe to Loudwire's newsletter and download the Loudwire app to stay up to date on all of the latest rock and metal news.
Bring Me the Horizon's Oli Sykes Talks to Rock 102.1 KFMA - Aug. 7, 2023
26 Bands Who Sound Nothing Like Their First Album
Here is a list of rock and metal bands that sound nothing like their debut albums.