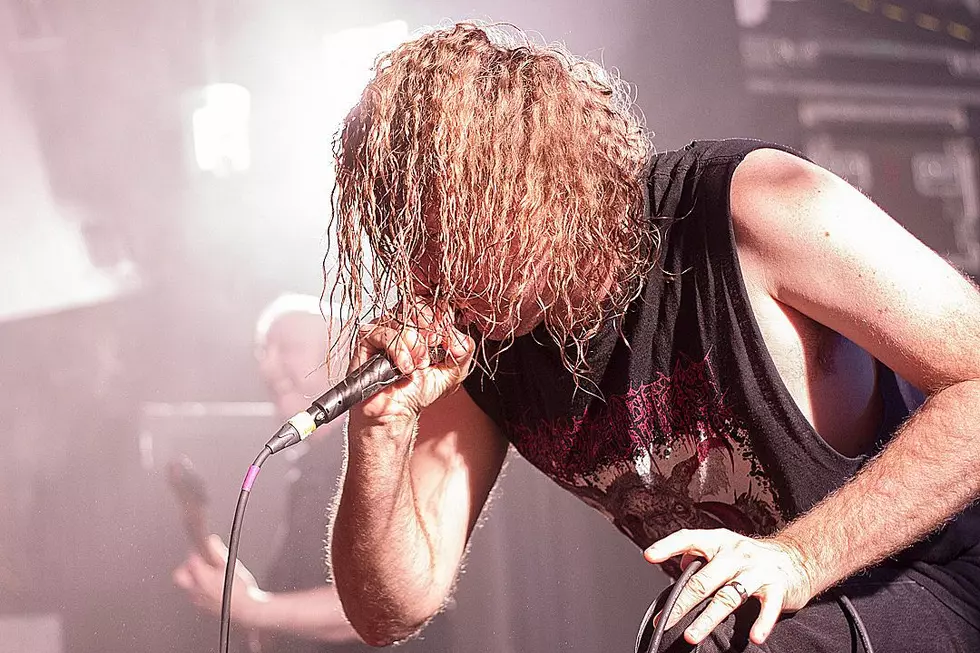 Travis Ryan (Cattle Decapitation) Reveals His Two Favorite Metal Bands (One You Can Guess, But Probably Not the Other)
Johnny Perilla, Loudwire
Cattle Decapitation vocalist Travis Ryan has named his two favorite metal bands in a recent clip on the Sobre La Dosis YouTube channel's "My 3 Questions To" series. You can probably guess one of the bands, but not the other! He also shares which album from his own band is his favorite.
In related news, Cattle Decap announced a late 2023 headlining tour earlier this week and Ryan also unfortunately revealed that his storage unit was raided and items he was planning on selling as part of his retirement plan were stolen.
Travis Ryan's Favorite Cattle Decapitation Album
Asked if he believes right now, with the release of Terrasite, is Cattle Decapitation's best moment, Ryan defers to the group's previous record, 2019's Death Atlas. He also notes fan enthusiasm for the band is at a similar level to when their 2012 album was released.
"I feel like we're having another Monolith of Inhumanity moment where people really like this stuff. Meanwhile, I'm personally stuck on Death Atlas. That's my favorite moment of this band, but whatever, that's just how I personally feel. Death Atlas is my favorite Cattle Decapitation album," Ryan candidly assesses (transcription by Loudwire).
He continues, "But Terrasite is very fun and new. And I will say this, the songs that we are playing live that are new are a lot more fun that the stuff we've been doing for years. Maybe it's just because it's new... who knows?"
Cattle Decapitation, "Scourge of the Offspring"
Travis Ryan's Two Favorite Metal Bands
Even a casual Cattle Decapitation fan probably knows that Carcass are Ryan's favorite band. But can you guess the other?
"Carcass, Symphonies of Sickness and Necroticism era," the vocalist clarifies, "and Coroner.
The latter is a tech-thrash power trio from Switzerland, who have released five records: R.I.P. (1987), Punishment for Decadence (1988), No More Color (1989), Mental Vortex (1991) and Grin (1993). They dissolved in 1996 and have been active since 2010, but no new material has emerged.
Coroner, "Masked Jackal"
"Those are my two favorites," Ryan goes on, "I'm still stuck in the '80s and '90s. I don't know what it is, late '80s to the mid-'90s, those are the golden years in metal in my mind as far as extreme metal and the transition over into extreme metal from lighter extreme forms, such as speed and thrash over into death [metal] grind and black metal. To me, that transitional period is the key and important for the rest of our days in extreme metal."
Watch the full interview clip down below.
READ MORE: 10 Sickest Extreme Metal Vocalists, Chosen by Cattle Decapitation's Travis Ryan
Cattle Decapitation Announce Headlining 2023 Tour
Cattle Decapitation will embark on the Terrasitic Infestation headlining tour from Nov. 10 through Dec. 16 with special guests Immolation, Sanguisugabogg and Castrator.
Head further down this page to see all of those tour dates. For tickets, head to Cattle Decap's website and check this location for VIP options.
Travis Ryan's Storage Unit Broken Into, Items Stolen
In an Instagram post celebrating the eighth anniversary of Cattle Decapitation's The Anthropocene Extinction, Ryan also lamented that nearly two decades of collector's items were stolen from his storage unit.
"I have hit some unfortunate turbulence lately... recently discovered someone broke into my storage unit and basically stole what was one day probably gonna be my retirement. Almost 2 decades worth of collectables. So I immediately pulled everything out and set aside some stuff to sell before I start really selling the stuff they didn't grab," he writes, "Then yesterday we found out we have to do an extremely brutal upgrade to our place and so now I gotta kick things into overdrive and I'll be listing lots of stuff I've been sitting on for years."
It's a colossal bummer and hopefully fans will snatch up items from the vocalist's Depop store to help him build those retirement savings up so he doesn't have to get up onstage and go, "BLEEUUUURRRRGHHHH" until he's 70.
Travis Ryan on Sobre La Dosis' "My 3 Questions To" with Jonathan Montenegro
Cattle Decapitation Tour Dates With Immolation, Sanguisugabogg + Castrator
Nov. 10 — The Observatory @ Santa Ana, Calif.
Nov. 11 — The Nile Theater @ Mesa, Ariz.
Nov. 12 — Rock House Bar & Grill @ El Paso, Texas
Nov. 14 — Diamond Ballroom @ Oklahoma City, Okla.
Nov. 15 — Granada Theater @ Dallas, Texas
Nov. 16 — Vibes Event Center @ San Antonio, Texas
Nov. 18 — Chelsea's Live @ Baton Rouge, La.
Nov. 20 — The Masquerade @ Atlanta, Ga. * No Immolation
Nov. 21 — The Orpheum @ Tampa, Fla.
Nov. 22 — The Abbey @ Orlando, Fla.
Nov. 24 — Hanger 1819 @ Greensboro, N.C.
Nov. 25 — Peabody's Nightclub @ Virginia Beach, Va.
Nov. 27 — Baltimore Soundstage @ Baltimore, Md.
Nov. 28 — Brooklyn Bowl @ Philadelphia, Pa.
Nov. 29 — Brighton Music Hall @ Boston, Mass.
Nov. 30 — Warsaw @ Brooklyn, N.Y.
Dec. 01 — Beanfield Theatre @ Montreal, Quebec
Dec. 02 — Opera House @ Toronto, Ontario
Dec. 04 — St Andrews Hall @ Detroit, Mich.
Dec. 05 — House Of Blues @ Chicago, Ill.
Dec. 06 — Fine Line @ Minneapolis, Minn.
Dec. 08 — Gothic Theatre @ Englewood, Colo.
Dec. 09 — Urban Lounge @ Salt Lake City, Utah
Dec. 10 — The Shredder @ Boise, Idaho
Dec. 11 — The Crocodile @ Seattle, Wash.
Dec. 12 — Hawthorne Theatre @ Portland, Ore.
Dec. 14 — Goldfield Trading Post @ Roseville, Calif.
Dec. 15 — The Belasco @ Los Angeles, Calif.
Dec. 16 — Observatory North Park @ San Diego, Calif.
Best Death Metal Album of Each Year Since 1985
Here's our picks for the Best Death Metal Album of Each Year Since 1985
PLAYLIST: Modern Death Metal
Over 200 songs! Listen/follow here.