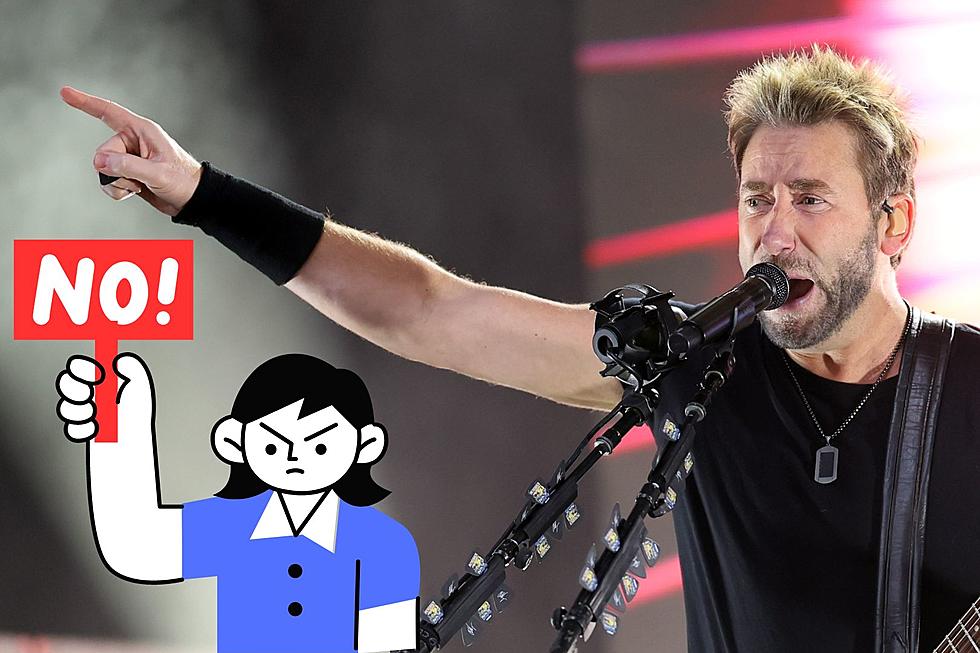 Chad Kroeger Will End Your Interview If Nickelback Hate Is Brought Up
Matt Winkelmeyer, Getty Images / Canva
Now that a new documentary, Hate to Love: Nickelback, has premiered, frontman Chad Kroeger has had enough and will end any interview if he is asked about all the hate and backlash the popular band has received over the years.
In the 21st century, few artists have been at the receiving end of as much vitriol as Nickelback, from being pelted with rocks in Portugal in 2002 to a pickle on Facebook obtaining more followers than the Canadian rock powerhouse at one point, it's been one tough ride for the group who has reportedly sold in excess of 50 million albums worldwide.
The film, directed by Leigh Brooks, chronicles the band's farm town origins through their meteoric rise to becoming one of the most successful rock bands of their generation, as well as a candid look at how the band dealt with all of the hate.
"These guys paved the way for us all to get abused online," Brooks tells People Magazine in a new interview. "We get to take the narrative. We get to actually tell our version—it's like you turn the cheek for as much as you can, and then at some point it's like, here's our take on it," guitarist Ryan Peake says of the documentary.
When asked why he was initially hesitant to open up about all of the Nickelback hate, Kroeger grabs the audio recorder from the interview and fires back, "If somebody stuck that thing in your face every single day and said, 'The whole world hates you like this, the whole world hates you. What do you have to say about that? Every single day. Every day. Would there be reluctance on your behalf to talk about it? Would you get pissed off? Would you be over it after a while?"
"I'm over it," the frontman affirms, revealing why he is done answering questions about this topic, continuing, "We made a documentary. Everybody can watch it. And now from this day forward, if anybody asks that question in the press, it's like that's the end of the interview. So if you want to end an interview, that's all you have to say and that will be it."
READ MORE: 10 Nickelback Songs That Are Actually Really Heavy
Nickelback: Hate to Love premiered at the Toronto International Film Festival (TIFF) on Sept. 8, a moment the band celebrated on social media. "As a band, there are moments that define your career and last night at #TIFF23 was one of them, To all the fans who have been with us through the highs and lows, your support means everything," they wrote on X (formerly Twitter).
Watch the documentary trailer below.
Hate To Love: Nickelback Documentary Trailer
13 Bands Other People Make You Feel Bad About Loving
No matter what you listen to, there will always be someone out there who will shame you for listening to certain bands. There's no explanation for it, but it's happened time and time again throughout the decades.
Don't be ashamed and let others dictate your life — that's not what rock and metal is about. Smash all those who oppose these 13 Bands Other People Make You Feel Bad About Loving, as listed below.