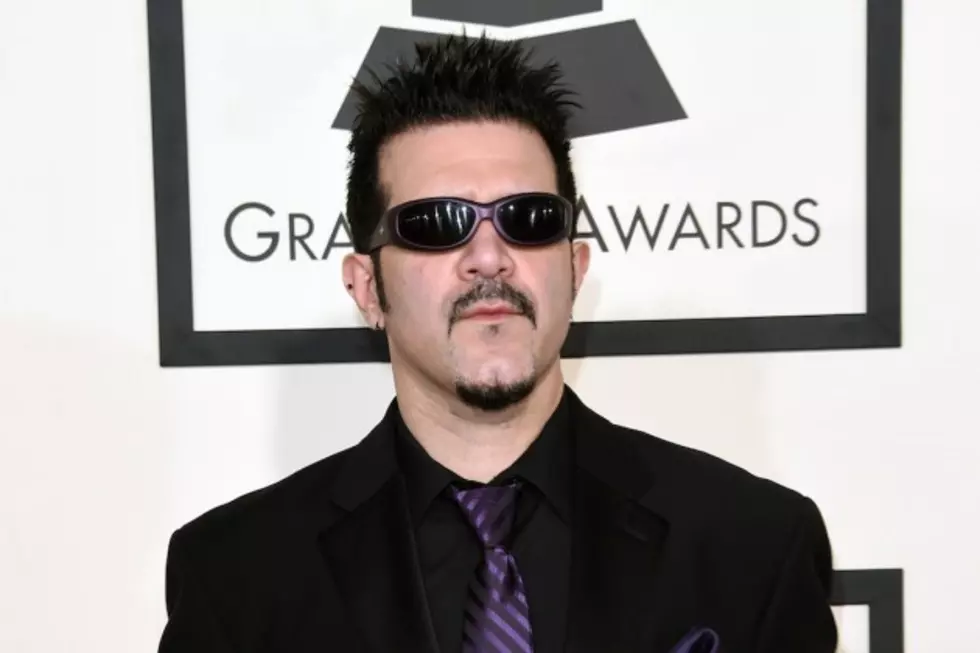 Drummer Charlie Benante to Miss First Few Weeks of Anthrax's Spring Tour
Jason Merritt, Getty Images
Anthrax are about to embark on a spring North American tour with Volbeat, as well as a number of festival dates, but they'll be without their drummer Charlie Benante for the first few weeks of the trek.
The veteran stickman is battling Carpal Tunnel Syndrome issues once again, and is undergoing physical therapy. Benante underwent surgery for the condition two years ago. In his place will be Jon Dette, who has subbed for Benante on past tours.
"This was a difficult decision to make," says Benante in a statement, "especially as I had to miss dates on the last cycle because of my hand surgery. But the fact is, playing a show five or more times a week just isn't realistic right now, I found that out when we were making our new album, and I don't want to let the fans down by not being able to give it everything I have at every show. I was driving the other day and my hand went numb, so unfortunately, it's just not 100 percent yet. I figure I can play for maybe three weeks at a time but then I have to let it rest."
He continues, "The guys in the band have been incredibly understanding and supportive, and I hope the fans will be as well. The positive side is that I plan to use the time off the road constructively and focus on our upcoming album, continue to work on the package artwork and develop a number of other ideas I've got for the campaign."
Benante plans to return to the stage when Anthrax play Rock on the Range on May 17 in Columbus, Ohio. See the band's full list of spring tour dates below.
Anthrax Spring North American Tour Dates:
4/24 -- 1stBank Center, Denver, CO*
4/25 -- Rushmore Plaza Civic Center, Rapid City, SD*
4/27 -- Spokane Arena, Spokane, WA*
4/28 -- Adams Center, Missoula, MT*
4/29 -- WaMu Theatre, Seattle, WA*
5/1 -- Revolution Place, Grande Prairie, AB*
5/2 -- Rexall Place, Edmonton, AB*
5/3 -- Calgary Stampede Corral, Calgary, AB*
5/4 -- SaskTel Centre, Saskatoon, SK*
5/6 -- Brandt Centre, Regina, SK*
5/7 -- Ralph Englestad Arena, Grand Forks, ND*
5/9 -- Northern Invasion Festival, Somerset Amphitheatre, Somerset, WI
5/10 -- WJJO MayDay MayLay, Alliant Energy Ctr. Memorial, Madison, WI
5/12 -- General Motors Centre, Oshawa, ON*
5/13 -- TD Place, Ottawa, ON*
5/14 -- Quebec Colisee Pepsi, Quebec City, QC*
5/15 -- CEPSUM Montreal, Montreal, QC*
5/17 -- Rock on the Range - Mapfre Stadium, Columbus, OH
5/18 -- Dow Events Center, Saginaw, MI*
5/19 -- Ford Center, Evansville, IN*
5/20 -- Aragon Ballroom, Chicago, IL*
5/22 -- Tyson IBF Events Center, Sioux City, IA*
5/23 -- Rocklahoma/Prior Creek Music, Pryor, OK
5/24 -- Rockfest, AT&T Center, San Antonio, TX
5/25 -- Baloonfest, Wet & Wild Water World, El Paso
5/27 -- Verizon Grand Prairie, Dallas, TX*
5/28 -- Bayou Music Center, Houston, TX*
5/30 -- Rockfest, Liberty Me. Park, Kansas City, MO
5/31 -- Outdoors at Pop's, St. Louis, MO*
6/22 -- Hammerstein Ballroom, New York, NY*
Watch Anthrax's Frank Bello Play Wikipedia Fact or Fiction