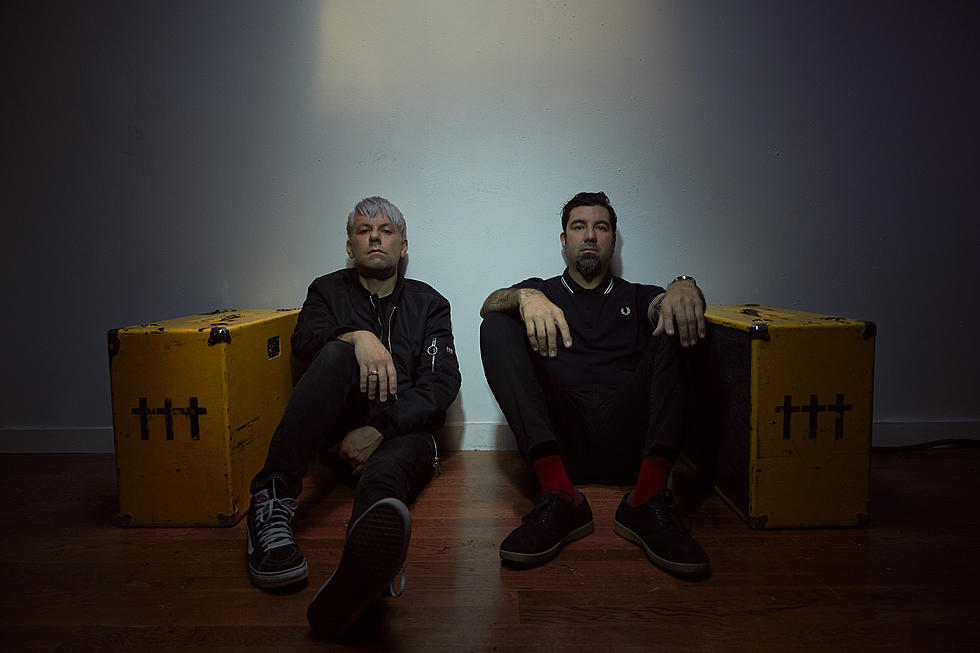 Chino Moreno and Shaun Lopez Discuss New ††† (Crosses) Album – 'This Has Been a Labor of Love For Us'
Jonathan Weiner
A couple of months ago, ††† (Crosses) released the brand-new track, "Invisible Hand," which served as the first taste of their second full-length album, Goodnight, God Bless, I Love U, Delete. On Oct. 13, the album arrived and to celebrate, the band's two members, Chino Moreno and Shaun Lopez, joined Chuck Armstrong on Loudwire Nights.
"This has been a labor of love for us," Moreno admitted to Chuck. "Something that we really enjoy doing when we can. There's not so much pressure — it's been a fun process."
Lopez agreed with his longtime friend, though he also added that it has felt like they've been working on the songs that would eventually become the new album for quite a long time.
"We have a song whiteboard that we kind of [check] the boxes off of lyrics and melodies and where a song is at," Lopez explained. "At some point, earlier this year, it was nice to look at that board and we kind of figured we have a whole album here. It feels good to get it out now."
Why ††† (Crosses) Isn't a Side Project For Moreno and Lopez
††† (Crosses) released their first EP, EP 1, in 2011 and since then have released several more EPs, contributed remixes to various projects and now have two full-lengths in their catalog.
Though they've been doing this for more than a decade, people still want to call the band a side project. While this didn't seem like a major annoyance to Moreno or Lopez, they both tend to view ††† (Crosses) as something more than that.
"People pretty much know me from the band that I've been playing in since I was in high school," Moreno told Chuck about his other band, Deftones.
"It's understandable for sure, but we feel like [we want to] work at creating a name on our own ... It's hard to dodge the fact that people know me from Deftones, but I feel like this music kind of sits in a semi-different space...it's not like a competing rock band."
"We just try to make sure we don't ever say this is a side project," Lopez added. "People are naturally going to say that. It doesn't really bother us. It is what it is."
Working With Dream Special Guests
On Goodnight, God Bless, I Love U, Delete., ††† (Crosses) invited some special guests to help them with two new tracks. Rapper El-P of Run the Jewels is featured on "Big Youth" and The Cure's Robert Smith is on "Girls Float † Boys Cry."
When Chuck asked them if it was difficult to invite "outsiders" to be part of their intimate music, Moreno kind of laughed to himself.
"It would have been difficult if we were trying to get El-P and Robert Smith on the same song," he joked. "Luckily, over the years, we've been able to maintain these insane relationships with other artists who I admire. Both of them are great at what they do — obviously legends in their own spaces."
READ MORE: Here's the Main Reason Why Deftones' Chino Moreno Doesn't Want to Rap Anymore
When Moreno considered other dream special guests he'd want to work with, he was quick to say Smith was actually exactly that.
"I think ["Girls Float † Boys Cry"] is one of the saddest songs on the record, lyrically and melodically," Moreno said.
"When we thought about adding him on the song, it was a no-brainer for me. I felt like he could really highlight the feeling of the tune ... We were just blown away."
What Else Did Chino Moreno and Shaun Lopez of ††† (Crosses) Discuss on Loudwire Nights?
How they got involved with remixing "Dragula" for Rob Zombie's Mondo Sex Head
Why they were surprised at El-P's contribution to "Big Youth"
How the goal of ††† (Crosses) has remained the same since the beginning
Listen to the Full Interview in the Podcast Player Below
Chino Moreno and Shaun Lopez joined Loudwire Nights on Friday, Oct. 13; the show replays online here, and you can tune in live every weeknight at 7PM ET or on the Loudwire app; you can also see if the show is available on your local radio station and listen to interviews on-demand. Stream Goodnight, God Bless, I Love U, Delete. at this location and then check out the full tour schedule for ††† (Crosses).
10 Ways Not to Be an A--hole at Concerts
Because wtf is going on lately?
Gallery Credit: Lauryn Schaffner
LOOK: Controversial songs from the year you were born
Stacker
celebrates history's most boundary-pushing—and thereby controversial—songs from 1930 through today.
Gallery Credit: Stacker