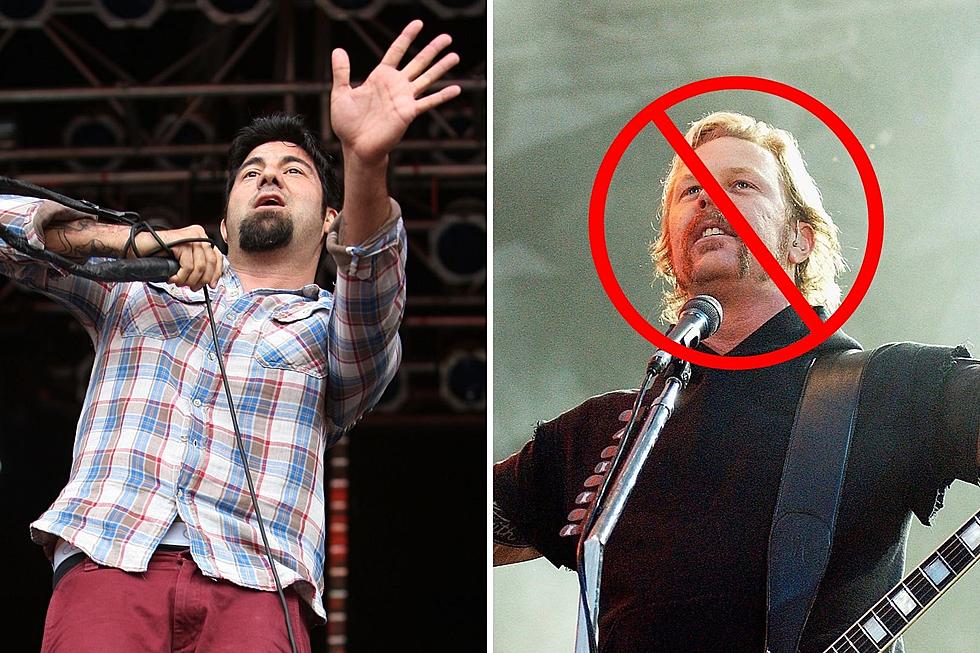 Deftones' Chino Moreno Explains Why He Didn't Want to Do 2003 Metallica Tour
Sandra Mu, Getty Images / ShowBizIreland, Stringer / Canva
In 2003, Deftones' Chino Moreno made some jabbing remarks in an interview that caused contention ahead of Deftones joining Metallica and other nu-metal acts, such as Limp Bizkit, on Metallica's "Summer Sanitarium Tour" that year — including the Deftones lead singer taking a shot at Metallica themselves.
At the time, Moreno didn't want Deftones to do the tour. But he was the only Deftone who thought that way.
READ MORE: Deftones' Chino Moreno Says No One Should Be Embarrased to Like Nu-Metal
Now, in a new Stereogum chat, Moreno explained why he made those comments, giving more context.
He also newly shared why he didn't want to do the tour with Metallica in the first place. For you see, in 2003, Deftones were actively trying to duck the "nu-metal" tag. So, Deftones joining the nu-metal contingent on the Metallica tour didn't sit right with him.
"That sucked," Moreno now says of the fallout from that interview. "I remember when it came out, they used a picture where I'm like making a snarling face. And in that interview, I remember I was mad at that because I really didn't want to do that tour." (via ThePRP)
However, "It wasn't because of Metallica," the Deftones singer continues, in retrospect. "I love Metallica, but at the time, it was Limp Bizkit, and it was also Linkin Park — who I don't despise either. But it was definitely that time where we were still trying to keep all that long distance. And it was basically Metallica with every nu-metal band at the time."
He Didn't Want to Do Metallica Tour
Moreno explains, "So I didn't want to do that tour, and I was the only one in the band that was against doing that tour."
But ultimately, the tour was a "blast" for Deftones, he says.
"But it was one of those hard decisions that I just didn't want to do," he underscores. "I know it probably wasn't the best thing for us as a band at that time where you're playing in a stadium where there's 70,000 people and it's empty, pretty much. … You're so disconnected from people."
Moreno adds, "It's a great opportunity, and I don't want to sound ungrateful, but I didn't want to do it. So when I was asked about it, I just gave my opinion that I just wasn't really into it. And it came off where I was just being a dick."
Want more rock and metal news delivered to you daily? Make sure to sign up for Loudwire's newsletter and download the Loudwire app to stay on top of the latest.
Deftones, "Change (In the House of Flies)" [Music Video]
True or False: Which of These 18 Legendary Rock + Metal Stories Actually Happened?
Rock and metal music is full of legendary stories about certain artists that may or may not have happened, in all actuality. Can you guess which ones are true and which ones are false? Sometimes it's hard to tell, but we all definitely heard these stories out in the schoolyard at some point. Keep scrolling for the legendary rock tales and their corresponding answers, and see how many you get correct.
Gallery Credit: Philip Trapp