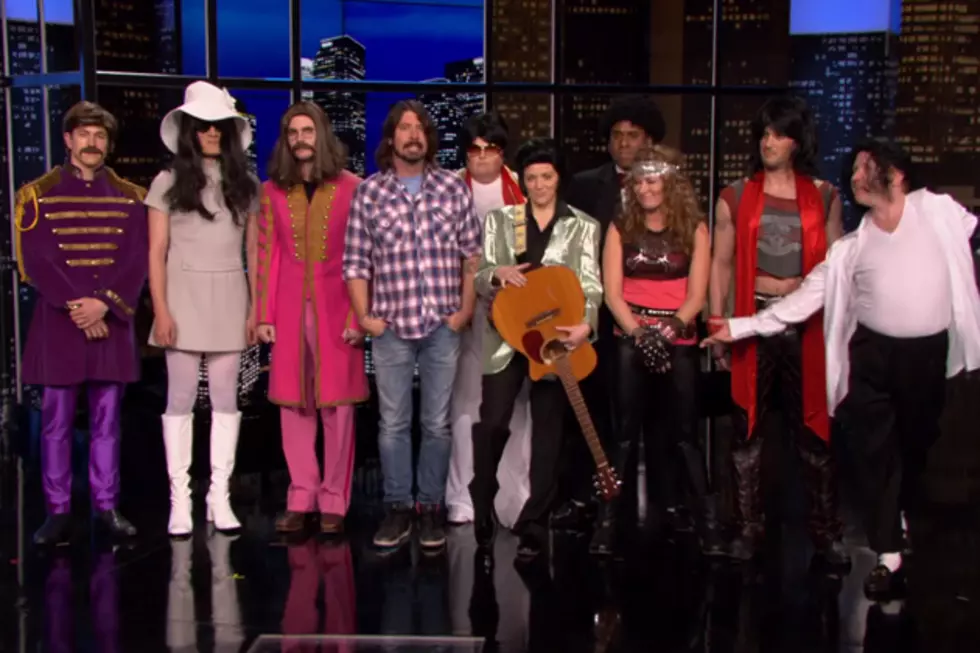 Dave Grohl Explains History of Rock 'n' Roll on 'Chelsea Lately'
YouTube
Foo Fighters frontman Dave Grohl is made the most of his week-long hosting stint on 'Chelsea Lately,' and while he's done a solid job with his interviewing skills, the rock frontman scored big laughs with a sketch on the history of rock 'n' roll.
Grohl put the 'Chelsea Lately' crew to work, dressing them in costumes as he attempted to explain what he did and the world he comes from to the staffers on the show. The sketch introduced key figures from each era -- from Elvis through Deadmau5 -- with the costumes getting increasingly absurd.
The sketch ended with Grohl introducing the "one true original who transcends every genre of every decade and will continue to be the future of music" -- Elton John. The Rock and Roll Hall of Famer was one of Grohl's guests earlier in the week and gave the singer some friendly advice. "For f--- sake, get on with it," John exclaimed.
It was during the 'Chelsea Lately' appearance that Elton John revealed that he had been in the studio with Grohl and the members of Queens of the Stone Age, lending a hand on a track for Queens' upcoming disc.
'Chelsea Lately' can be seen weeknights at 11PM ET/10PM CT on the E! network.
Watch Dave Grohl Explain the History of Rock 'n' Roll